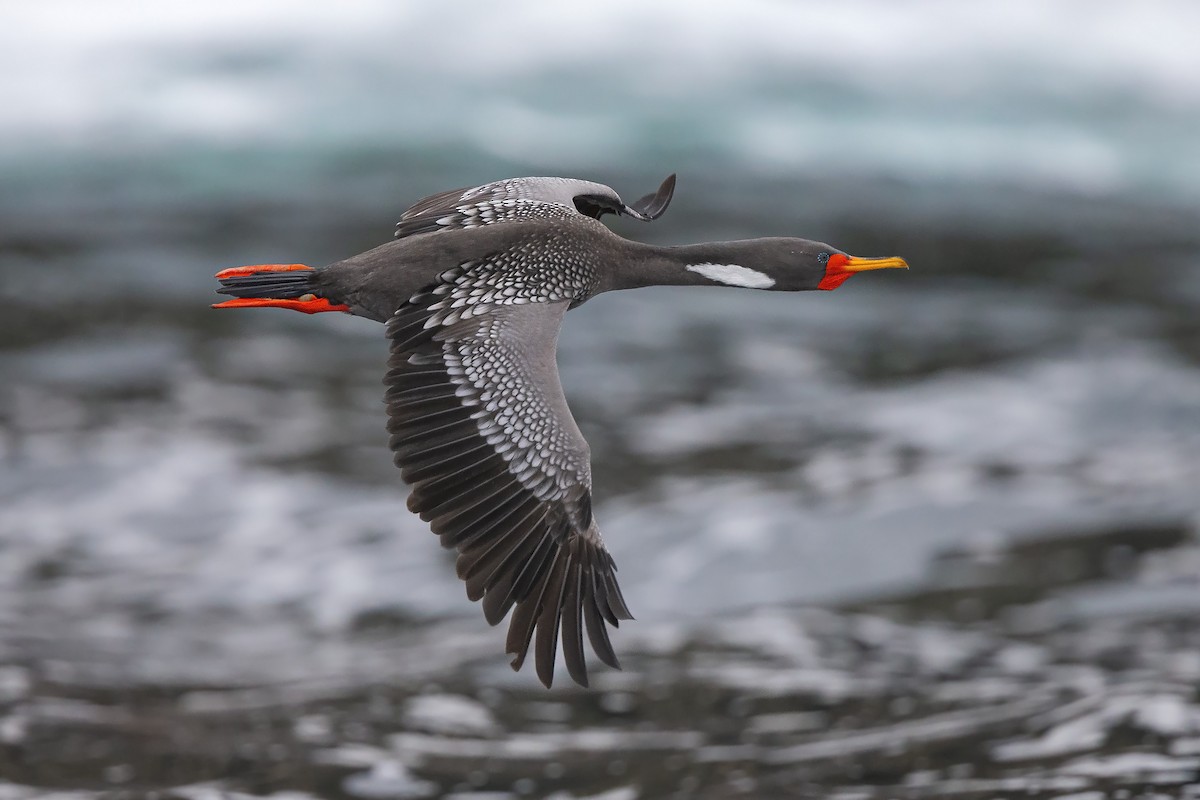 2021 was a year of milestones. From one billion records in eBird, to the transformative launch of Merlin Sound ID, to new conservation decision-making tools powered by eBird Status and Trends visualizations, there's a lot we'll remember from the past twelve months.
This year, millions of people from every country in the world joined us in sharing an appreciation for birds. By being a part of this global endeavor, you make a difference to the hundreds of thousands of people who use the Cornell Lab of Ornithology's resources each year to learn, research, conserve, and educate. To those 116k new eBirders and 2 million new Merlin users who joined us for the first time in 2021, welcome! We also appreciate and thank eBird Supporters who keep eBird and the Cornell Lab moving forward through their monthly contributions.
We'd like to take this time to celebrate the successes from the past year that you have helped to build. Thank you.
From science to action
More than 400 groups downloaded eBird Status and Trends Data Products since August, including various federal agencies, non-governmental organizations, local conservation groups, and over 60 universities worldwide. eBird Status and Trends data are being used to fuel scientific discoveries such as why many warblers sound alike.
The eBird Basic Dataset continues to be a free data resource, accessible via the Data Download page. Nearly 3,000 people downloaded the eBird Basic Dataset for analysis this year, including 1,800 academics and students and 575 employees of nonprofits and government agencies.
Researchers published 140 peer-reviewed publications this year incorporating eBird data—more publications in a single year than ever before—bringing the total number of scientific publications using eBird data to over 550. In 2021, eBird powered multiple scientific advances from studying the potential benefits of reducing light pollution and improving air quality for birds to novel applications for reducing bird-airplane collisions and estimating Bald Eagle populations. Scientists also turned to eBird to study how COVID lockdowns may have altered bird behavior and changed human behavior.
Your eBird observations also help to inform conservation policies to protect birds. Cornell's Land Trust Bird Conservation Initiative works with land trusts to build capacity and facilitate impactful conservation projects on private lands. Many of these land trusts use eBird to support their conservation efforts—providing yet another example of how your bird observations promote good work
Scientists published 73 scientific papers this year using media assets from the Macaulay Library. Audio recordings uploaded to the Macaulay Library powered new and innovative research: revealing previously undocumented behaviors, investigating variation in song characteristics, and even describing brand new species. Meanwhile, photographs uploaded to the Macaulay Library were used this year to better understand why Peregrine Falcons have black markings under their eyes and what the elusive Tiny Hawk eats.
More than 2,000 new subscribers discovered Birds of the World in 2021. This premiere ornithological reference tool—with rich life-history accounts for 10,824 species and 249 families—is now in use by birders, researchers, and conservationists in 123 countries. In addition, the International Contributor Scholarship program provided donor-funded Digital Access Scholarships to more than 200 students and researchers.
With new science content, growing integration with eBird Status and Trends visualizations and BirdLife International range maps, a new science illustrator to help us fill bird illustration gaps, as well as an ever-expanding multimedia collection provided by the Macaulay Library, Birds of the World maintains its status as the definitive science resource for all the world's birds, helping the ornithological community turn scientific knowledge into action.
New tools, features, and resources
Tools for conservation
2021 featured a groundbreaking update to the eBird Status and Trends project, which now provides state-of-the-art visualizations of movement, distribution, and abundance for 1,009 species across their entire global range—all thanks to your eBird checklists.
New habitat regional charts were also released in 2021, highlighting habitat associations for all 1,009 species modeled by the eBird Status and Trends project for every week of the year.
The advanced habitat and abundance models developed by the eBird Status and Trends project were used to develop ShorebirdViz: an interactive tool that provides biologists, conservationists, and decision-makers with fine-scale abundance and population estimates necessary for effective shorebird conservation.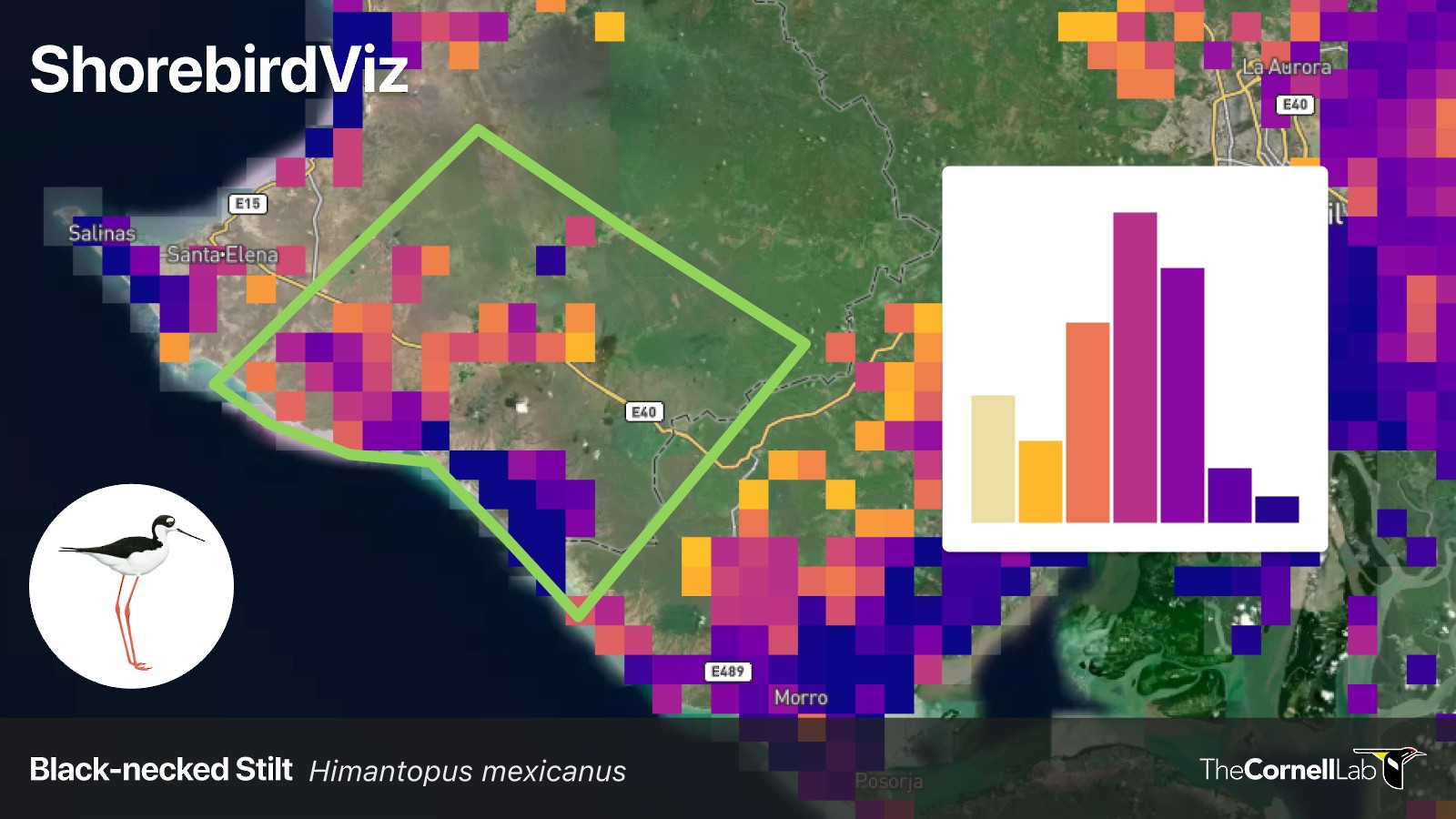 Core infrastructure updates
The Clements Taxonomy lies at the heart of many Cornell Lab projects. Maintaining an up-to-date taxonomy is essential to keep the Lab's content relevant and accessible. During each taxonomy update, all eBird records, Birds of the World species accounts, Macaulay Library media assets, and Merlin Bird ID packs are updated with the most current ornithological knowledge. The 2021 Taxonomy Update resulted in an increase of 103 species—including 17 newly described species—to a global total of 10,824 species in the eBird taxonomy.
Expanded learning resources
Merlin Bird ID can now help you to identify birds by sound thanks to state-of-the-art machine learning tools originally developed for photo identification, and the efforts of 128 volunteer annotators who tagged nearly half a million bird vocalizations in 80,000 recordings from the Macaulay Library.
The Cornell Guide to Bird Sounds: United States and Canada, published last year by the Macaulay Library, was also updated to the latest taxonomy and features 100 new and better quality audio tracks. Merlin Bird ID now incorporates this resource—a major upgrade to the songs and calls included in US and Canada packs.
In addition to numerous back-end improvements and author tools, Birds of the World integrated the Key to Scientific Bird Names, edited by James Jobling. This fascinating resource provides the history or meaning behind the scientific name of every bird in the world. Click the new info icon next to any species name in Birds of the World to access the definition of its scientific name and type locality.
Additional developments:
Exciting milestones and new growth
In May 2021, eBird passed an incredible milestone: one billion bird observations. This represents the cumulative experience of more than 723,000 eBirders from every country in the world. More than 1.1 billion observations have now been entered into eBird, including 192 million observations submitted this year alone. eBird's contributions make up more than 46% of the biodiversity data in the Global Biodiversity Information Facility (GBIF).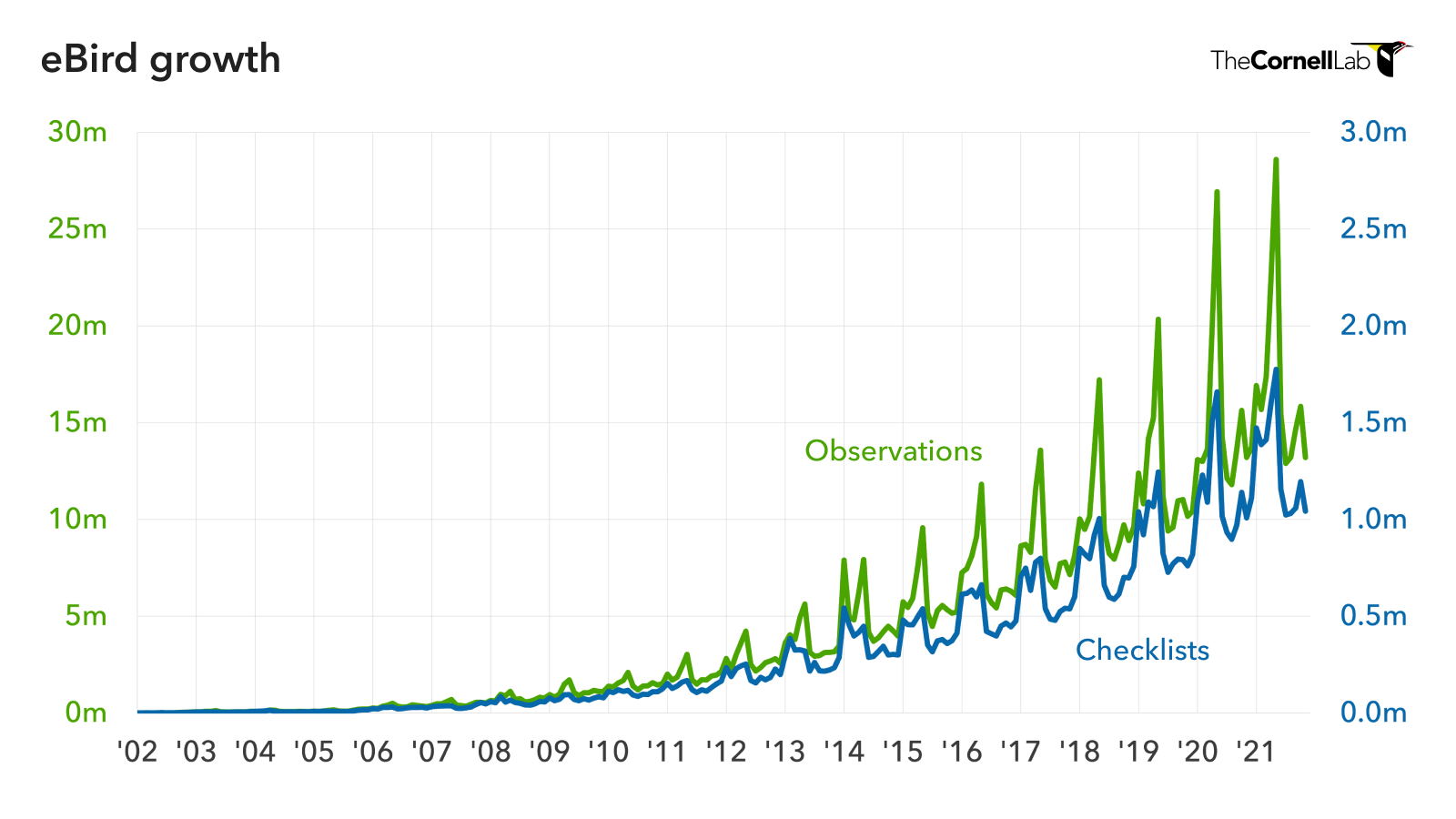 2021 was the first year with more than a million eBird checklists submitted each month.
On Global Big Day a record-setting 52,000 birders reported 7,234 species on 133,000 checklists. Then on October Big Day the global birding community did it again: 33,000 birders reported 7,269 species from 195 countries—more countries birding on a single day than ever before! Mark your calendar for the next Global Big Day: 14 May 2022.
The Macaulay Library passed one million audio recordings in 2021 with this recording of a Blue-headed Vireo by Christopher McPherson. The community of recordists and photographers who archive their media in the Macaulay Library continues to grow at an exciting pace. In 2021:
13,100 recordists contributed more than 325,500 recordings.
68,800 photographers added more than 9.2 million photos.
In May alone, more than 28,000 eBirders submitted just over 1 million photos and 5,000 recordists submitted more than 50,000 recordings.
The Macaulay Library now holds more than 1.2 million recordings of 9,780 bird species and more than 32 million photos of 10,507 bird species. Thank you for helping build the Macaulay Library! Take a look at the top photos and top recordings of 2021.

The top rated audio recording uploaded to the Macaulay Library this year was this recording of a Grasshopper Sparrow by Brad Imhoff.
Merlin Bird ID set a new monthly record with 900,000 active users in the month of July. Over 2 million people used Merlin for the first time in 2021, with an average of roughly 700,000 active users per month. In the past year, 350,000 Merlin users have added more than 4.9 million identifications to their life lists.
Powered by community and collaboration
eBird, Merlin Bird ID, the Macaulay Library, and Birds of the World couldn't be what they are today without the heroic efforts of thousands of contributors, volunteers, partners, and collaborators around the world. Thank you! Below, we highlight some of our partnerships.
Global science collaborations continue to ensure that Birds of the World maintains its status as the definitive scientific resource for all the world's birds. Sixty ornithologists joined the already expansive team of 2,000 collaborators to write and update Birds of the World species accounts. The Birds of the World science team welcomed new associate editors from regions including the Netherlands, Thailand, East Africa, Israel, Mexico, Australia, the UK, Argentina, and Chile. We continue to foster a broad array of content partnerships with ornithological organizations including Aves Argentina, Birds Caribbean, Bird Count India, the Ornithological Society of the Middle East (OSME), American Ornithological Society, among others.
The Oriental Bird Club Image Database, featuring over 175,000 images of birds from Asia, is now hosted as a collection in the Macaulay Library, providing a comprehensive platform for Oriental Bird Club photographers and helping to achieve our shared conservation goals.

This photo of a Tibetan Bunting is one of over 175,000 images from the Oriental Bird Club Image Database, now hosted on the Macaulay Library.
One new eBird Atlas and six new eBird Portals were launched this year:
This brings the total number of eBird Portals to 51, and the number of eBird Atlases to 8!
In 2021, eBird partnered with Black AF in STEM and Birdability to support Black Birders Week, Birdability Week, and other initiatives that promote safe, inclusive, accessible outdoor spaces for all.
eBird also collaborated with Point Blue Conservation Science, Calidris, Manomet, and dozens of other shorebird, bird, and conservation organizations throughout the Americas, co-creating shorebird monitoring protocols to be implemented in eBird for standardized data collection throughout the hemisphere.
More than 2,070 volunteer reviewers and Hotspot editors oversee eBird data quality in 253 countries, territories, or dependencies. These indispensable volunteers reviewed 4.4 million eBird observations in 2021 to ensure that eBird observations are accurate—a critical piece that makes eBird run smoothly. Thank you for your hard work!
Thanks to the efforts of our volunteer translators, we support 17 languages throughout eBird.org and 41 languages in eBird Mobile. We also support bird common names in 89 languages and regional dialects. Merlin released a fully translated Japan pack with the support of the Wild Bird Society of Japan, bringing the total number of languages available in Merlin to 10.
Thanks to the generosity of Carl Zeiss Sports Optics, we were able to award more than 15 eBirders free Zeiss binoculars in 2021. We are excited to continue working with Zeiss on eBirder of the Month awards in 2022 to thank the eBird community for your bird observations.
eBird partners with the Cornell Lab's Bird Academy to offer you exciting educational resources in thanks for your eBirding. More than 115 eBirders won access to free Bird Academy courses this year, including two new courses—The Wonderful World of Owls and Growing Wild: Gardening for Birds—as well as the updated Hawk and Raptor Identification course.
Thank you for making this possible
We can't wait to see what we can do together in 2022. Please stay in touch! Subscribe to our eNews or follow us on social media: