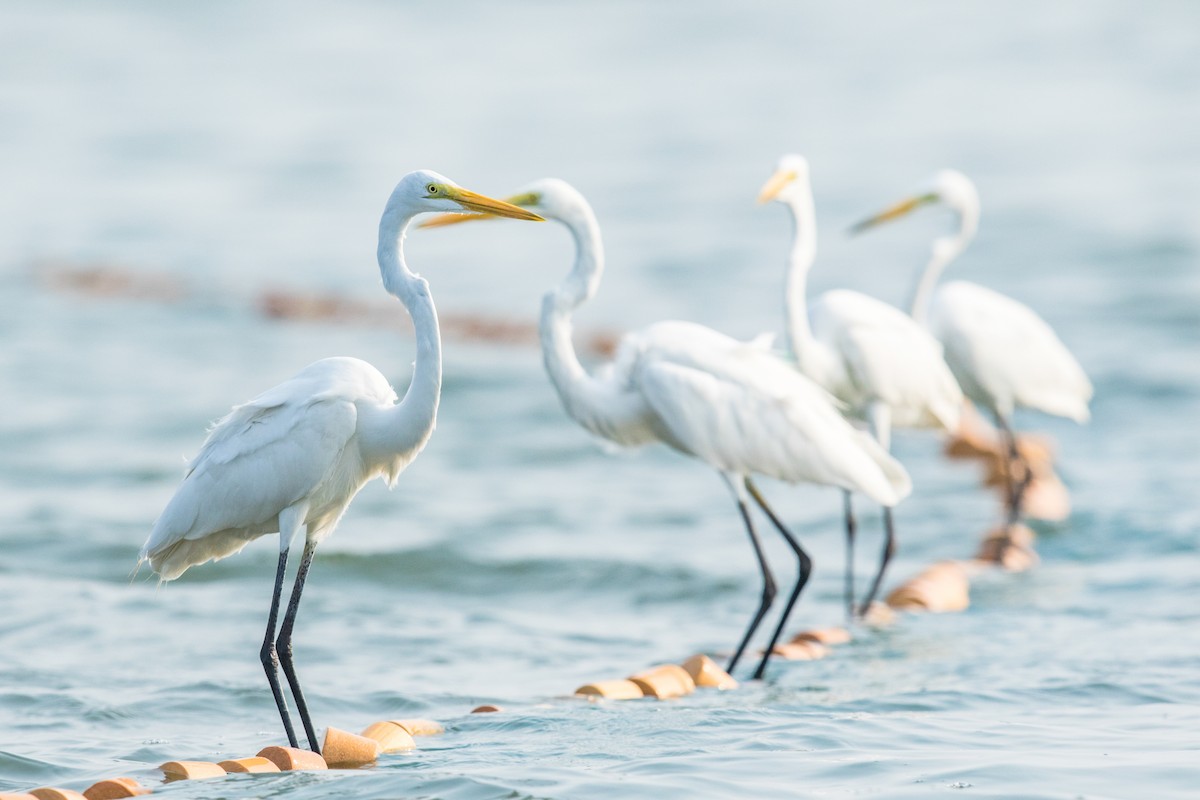 Whether you know Ardea alba as Great Egret, Agró blanc, Velika bijela čaplja, or Sølvhejre, your eBird experience can display bird names in your preferred language. With 7 new options, the Cornell Lab of Ornithology now offers bird common names in 84 languages and regional dialects – including 14 variations of Spanish, six for French, and four for Portuguese!
Newly added languages for common names include Afrikaans, Armenian, Greek, Marathi, and Persian as well as two new regional versions of Portuguese (customized for the Azores and for Madeira); Spanish (HBW) has been retired, since Spanish (Spain) is now a global list. We also now have complete global namesets for German, French, Japanese, Norwegian, Slovak, Spanish (Spain), and Turkish; Dutch, Icelandic, Polish, Russian, Serbian, and Swedish have names for 30-90% of eBird's global taxonomy.
There are regional versions of English too, so you can report Great Northern Divers and Grey Partridges instead of Common Loons and Gray Partridges. See the full list of available languages and learn more about bird common names in eBird.
These updates are available on the eBird website now. Revisions to existing languages are also available on eBird Mobile now; the 7 new languages will be implemented in eBird Mobile in mid-May.
Setting your preferred language for common names
Select your preferred language for common names on the web in your eBird Preferences: https://ebird.org/prefs. These will apply to eBird.org, Macaulay Library, and Birds of the World. Within the eBird Mobile and Merlin Bird ID apps, set your common name preference under Settings and Account. Please note that settings for common names are separate from the language display on the mobile and web interfaces.
Become a volunteer translator
Volunteer translators provide these names and are critical to the success of eBird and other Cornell Lab projects. Many thanks to our network of partners around the world for making more common name options available!
Do you want to help us translate Cornell Lab projects? Please fill out this form: Join the eBird translators team.
An Osprey by any other name… 
To demonstrate the diversity of common names, here are 63 different names for Pandion haliaetus available in eBird, Merlin, the Macaulay Library, and Birds of the World:
| | |
| --- | --- |
| Language | Common name |
| Afrikaans | Visvalk |
| Arabic | عقاب نساري |
| Armenian | Ջրարծիվ |
| Asturleonese | Águila pescadora |
| Azerbaijani | Çay qaraquşu |
| Bulgarian | Орел рибар |
| Catalan | Àguila pescadora |
| Chinese – Mandarin (traditional) | 魚鷹 |
| Chinese, Simple | 鹗 |
| Creole, Haiti | Malfini lanmè |
| Croatian | Bukoč |
| Czech | orlovec říční |
| Danish | Fiskeørn |
| Dutch | Visarend |
| English | Osprey |
| Euskera | Arrano arrantzalea |
| Faroese | Fiskiørn |
| Finnish | sääksi |
| French | Balbuzard pêcheur |
| Galician | Aguia pescadora |
| German | Fischadler |
| Greek | Ψαραετός |
| Hebrew | שלך |
| Hungarian | Halászsas |
| Icelandic | Gjóður |
| Indonesian | Elang Tiram |
| Italian | Falco pescatore |
| Japanese | ミサゴ |
| Korean | 물수리 |
| Latvian | Zivju ērglis |
| Lithuanian | Žuvininkas |
| Malayalam | താലിപ്പരുന്ത് |
| Marathi | कैकर |
| Mongolian | Загасч явлаг |
| Norwegian | fiskeørn |
| Persian | عقاب ماهیگیر |
| Polish | rybołów |
| Portuguese, Brazil | águia-pescadora |
| Portuguese, Portugal | Águia-pesqueira |
| Romanian | Uligan pescar |
| Russian | Скопа |
| Serbian | Ribar |
| Slovak | kršiak rybár |
| Slovenian | Ribji orel |
| Spanish | Águila Pescadora |
| Spanish, Argentina | Aguila Pescadora |
| Spanish, Chile | Águila pescadora |
| Spanish, Costa Rica | Águila Pescadora |
| Spanish, Cuba | Guincho |
| Spanish, Dominican Republic | Guincho |
| Spanish, Ecuador | Águila Pescadora |
| Spanish, Mexico | Águila Pescadora |
| Spanish, Panama | Águila Pescadora |
| Spanish, Paraguay | Águila pescadora |
| Spanish, Peru | Aguila Pescadora |
| Spanish, Puerto Rico | Águila Pescadora |
| Spanish, Spain | Águila pescadora |
| Spanish, Uruguay | Águila Pescadora |
| Spanish, Venezuela | Águila Pescadora |
| Swedish | fiskgjuse/australisk fiskgjuse |
| Thai | เหยี่ยวออสเปร |
| Turkish | Balık kartalı |
| Ukrainian | Скопа |