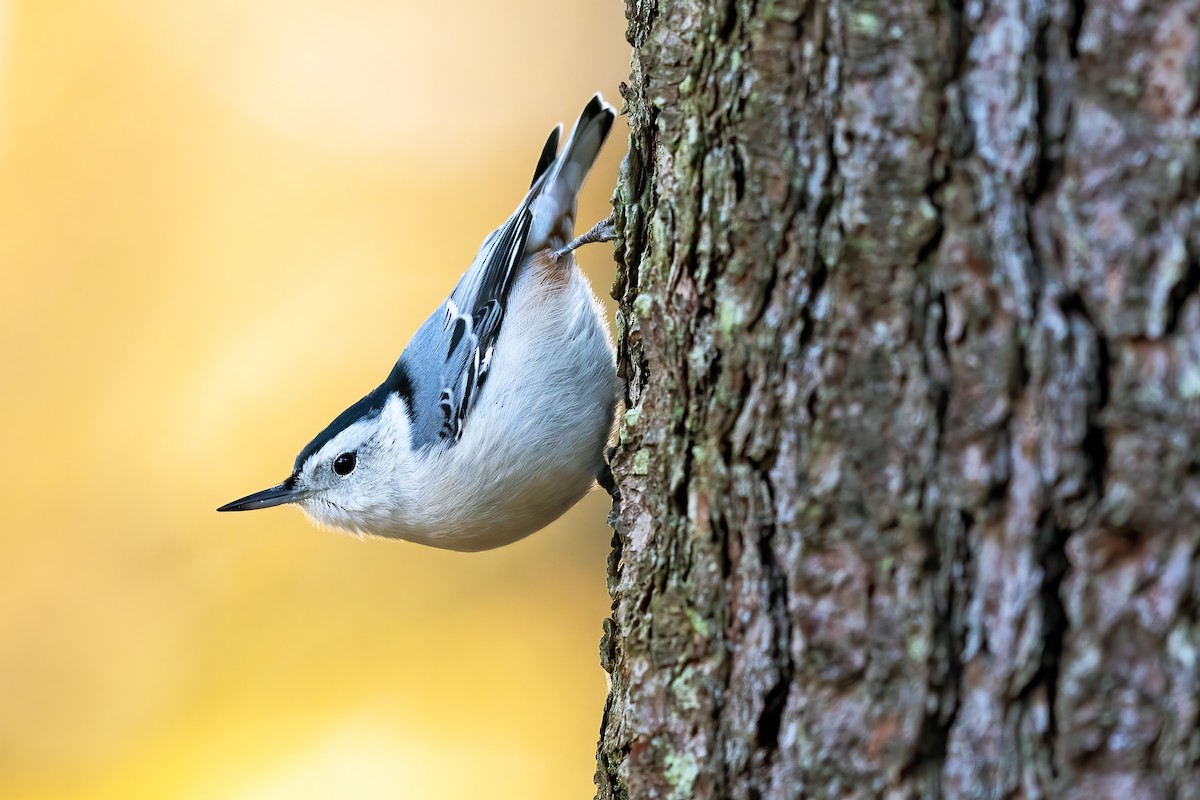 Join eBird and Birdability in celebrating Birdability Week 2021—18-24 October. Launched in 2020, Birdability Week is an annual celebration of birders with disabilities and other health concerns, and is an opportunity to share resources and ideas to help the birding community be accessible, inclusive, and welcoming to everybody and every body!
Birdability Week was inspired by #BlackBirdersWeek, Latino Conservation Week and Let's Go Birding Together and is supported by the National Audubon Society. Birdability Week 2021 promotes inclusion, diversity, equity, and accessibility (IDEA) in the birding community and the outdoors through field trips, online workshops, panels, and interactive activities. Anyone can get involved!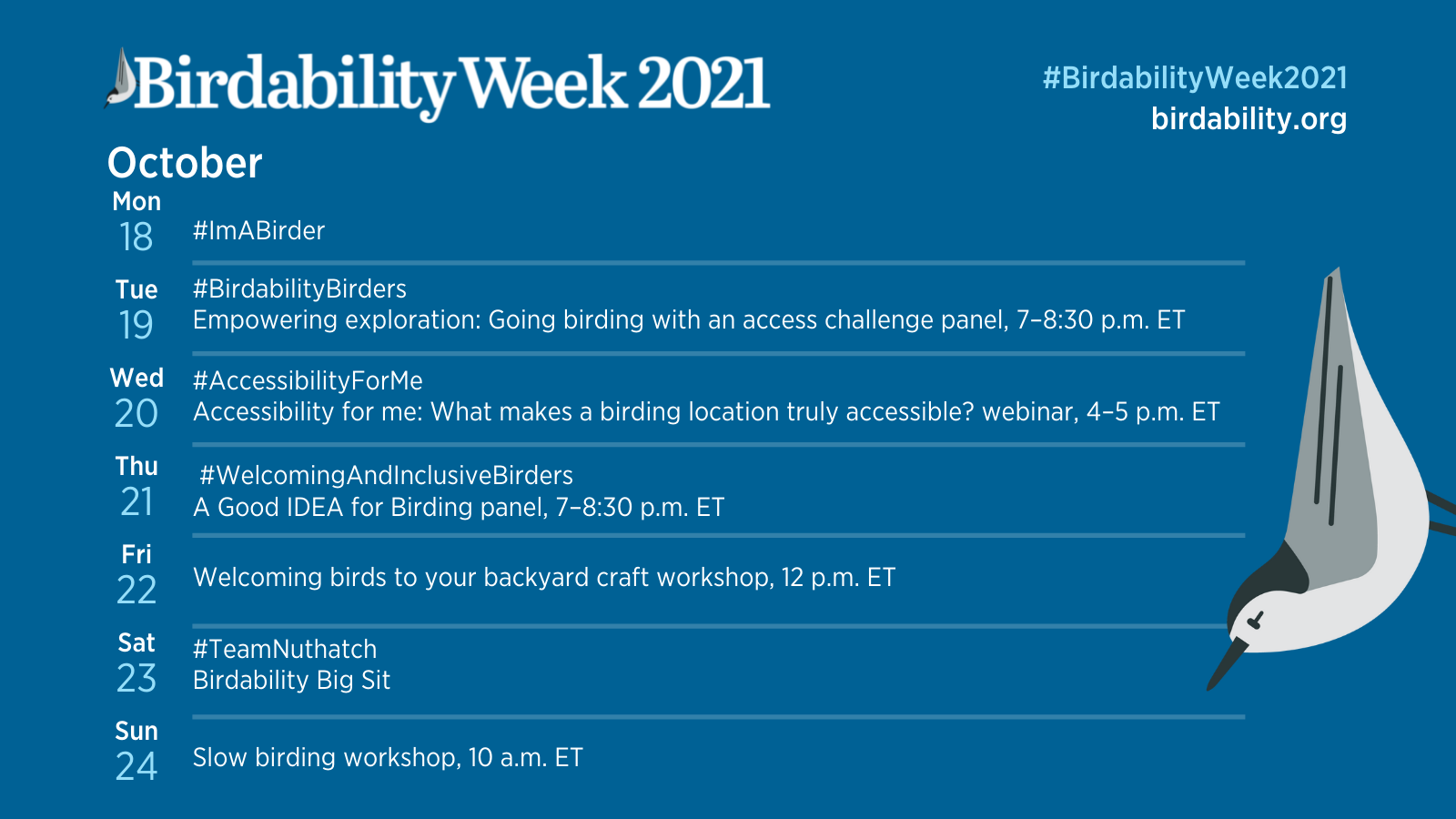 Contribute to the Birdability Map
The Birdability Map is a crowdsourced map which describes the accessibility features of birding locations all over the world. This allows people with accessibility challenges to find out in advance if a birding location is one they would like to visit.
During Birdability Week 2021, we encourage eBirders to identify suitable eBird hotspots in their area for a Birdability Site Review (see tips below for accessibility considerations). Visit the hotspot, submit one or more eBird checklists, and follow the instructions at Contribute to the Birdability Map to complete a site review.
Each completed Birdability Site Review includes a public link that you can paste into your eBird checklist comments and share with others.
What makes an eBird hotspot suitable for a Birdability Site Review?
Not all eBird hotspots are suitable for a Birdability Site Review. Site reviews should be submitted for birding locations that are "reasonably accessible". Some considerations to help you determine if your eBird hotspot is a good candidate for the Birdability Map include:
Is the trail concrete, asphalt or a wooden boardwalk?
Is the trail flat and at least 3 ft (1 m) wide?
Are there signs with tactile (touchable) components, or guide ropes to help folks who are blind or have low vision navigate independently?
If the answer to one or more of the above questions is "Yes" then the eBird hotspot is a good candidate for a Birdability Site Review!
Please avoid submitting Birdability Site Reviews for eBird hotspots that:
Have sections of trail steeper than what you would consider a 'gentle rise'
Involve multiple sections of trail with more than three steps (unless there is an appropriate ramp for each set of steps)
Require any amount of navigating around or over large obstacles, including rocks or large roots.
For additional accessibility considerations and a printable site review checklist, visit: Access considerations for birding locations.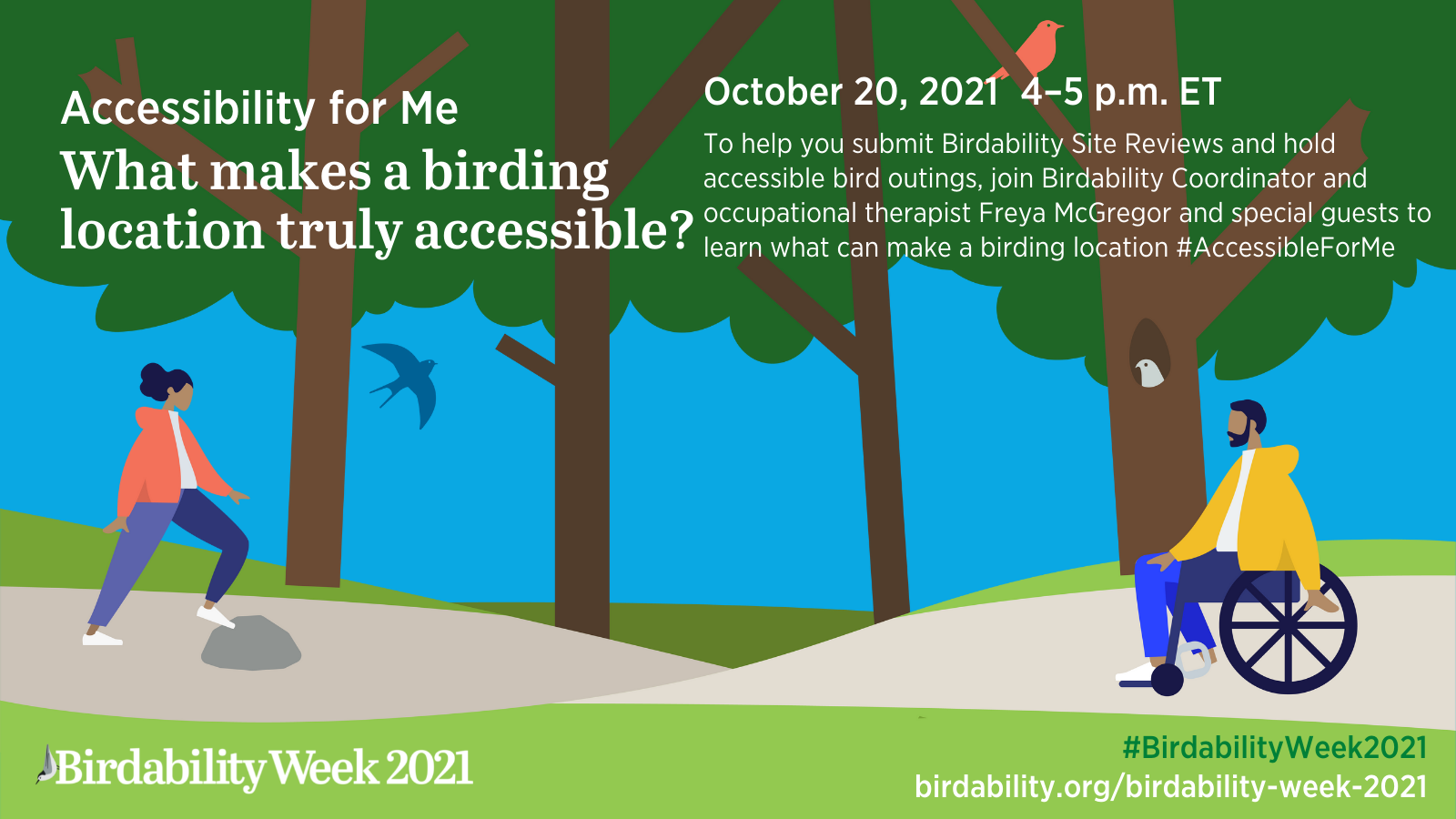 Learn more about what makes a location truly accessible at the Birdability Week webinar on Wednesday, October 20 at 4pm Eastern. Find out more and register here.
Additional resources for Birdability Week 2021:
For more information about the exciting events happening during Birdability Week, and to find or host an accessible bird outing in your area, visit Birdability Week at Birdability.org.