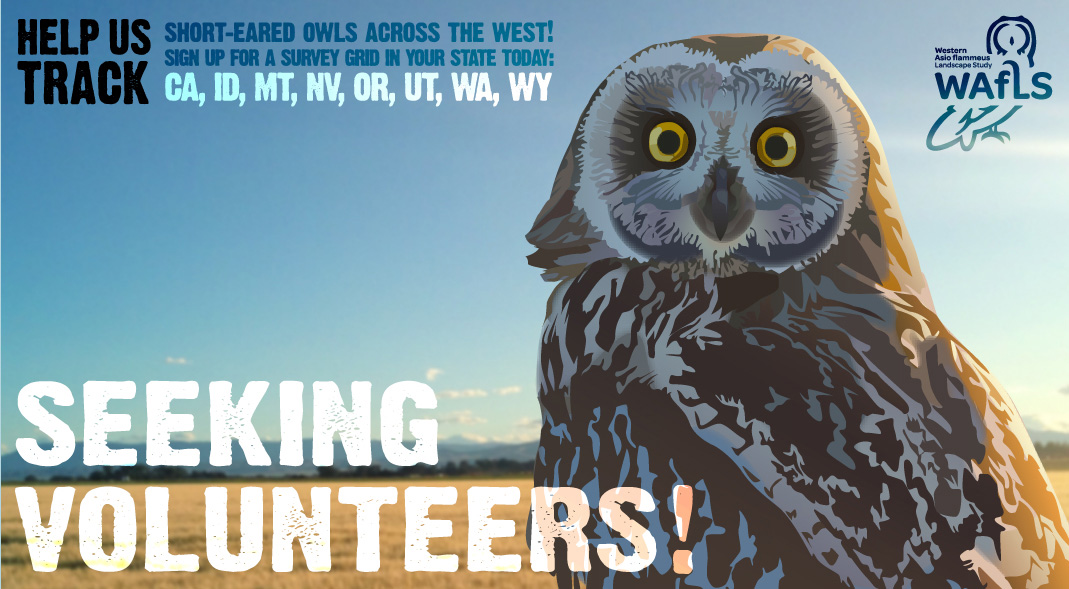 The Western Asio flammeus Landscape Study (WAfLS) is currently seeking volunteers. This community science project, now spanning eight western states, is designed to gather information to better evaluate the population status of the Short-eared Owl. Traditional survey data have indicated that Short-eared Owl populations have declined by more than 60% in the last 40 years. The Short-eared Owl is listed as a Species of Conservation Concern in several states and the National Audubon Society Climate Initiative has identified the species as Climate Endangered. This survey is a critical step to filling information gaps for this species throughout the Western United States. Results will directly inform high-value conservation actions by state and federal agencies. We are looking to recruit a set of dedicated volunteers to help complete this multi-state survey.
See past survey results here.
Volunteers will enjoy a variety of rural landscapes while completing two surveys from March through May. The surveys consist of driving on secondary roads, stopping at 8 to 11 points to complete a five-minute survey. At each point volunteers will record detections of Short-eared Owls as well as some brief habitat information. The survey takes only 90 minutes and is set to coincide with the Short-eared Owls elaborate courtship displays just prior to sunset. See a short video from Neil Paprocki (Hawkwatch International) of their courtship display here.
Training material will be provided and no experience is necessary to volunteer. Anyone who wants to explore beautiful scenery while making an important contribution to conserving this enigmatic species is encouraged to sign up. Participants will need to follow field and data entry protocols, have use of a vehicle, smartphone or GPS device, and be able to identify a Short-eared Owl.
For any questions please contact your state coordinator.
To sign-up and for more information visit the program website and check out our Facebook page.
See what other Community Science projects are happening on eBird Northwest here.