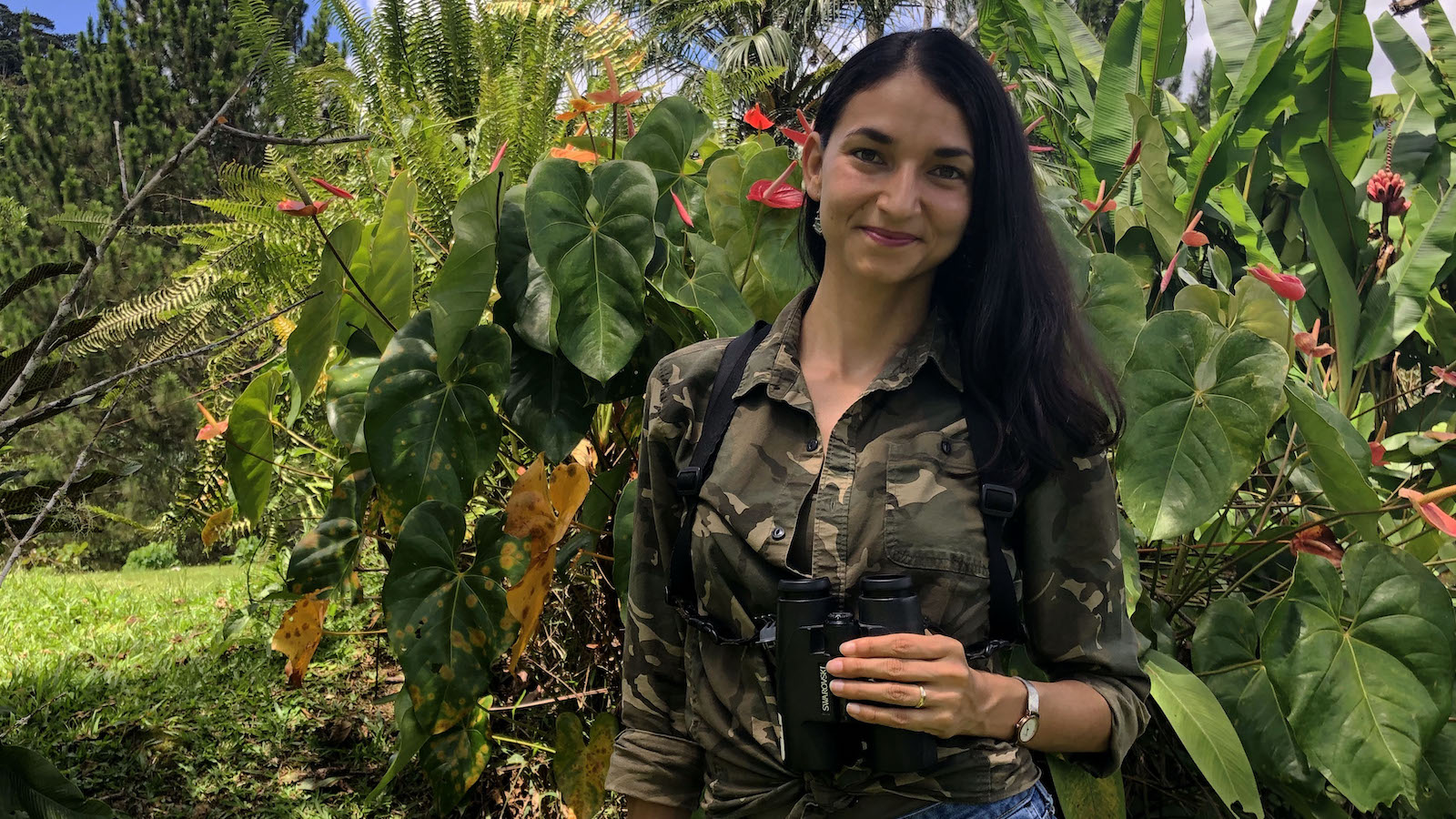 Please join us in congratulating Mercedes Alpízar of Cartago, Costa Rica – winner of the May 2021 eBird Challenge, sponsored by Carl Zeiss Sports Optics. Mercedes' name was drawn randomly from the 7,568 eBirders who submitted at least 5 eligible checklists on Global Big Day. Mercedes will receive a new ZEISS Conquest HD 8×42 binocular for her eBirding efforts. Here's Mercedes' birding story:
I am a costarrican who fell in love with birds 15 years ago, when I first saw the Costa Rican Bird field guide by Stiles and Skutch during an internship in Tortuguero. I was amazed by the quantity of bird species that exists in my country and I was thrill to see how beautiful they were, I wasn't until I reached the motmot family page when I was immediately hooked to birding.
I studied Ecological Tourism and English at the University of Costa Rica, and since 2016 I have worked at Rancho Naturalista as a birdwatching guide. It is a great birding lodge located in Turrialba, Cartago, and it is one of the best hotspots in the country.
In 2018 I was sponsored to travel to the Cornell Lab of Ornithology to participate in the Macaulay Library Sound Recording Workshop. It was a great educational opportunity where I was able to visit the states for the first time and to learn more about the bird acoustics and the best methods to sound record. I will be always immensely grateful to the eBird team and the Cornell Lab for this amazing opportunity!
I'm a very active eBirder, and consider that it is a great tool to keep track of my own bird records, photos and sound recordings, as well as the lodge's record. I love the idea of contributing to citizen science with the data I submit which is used to create incredible distribution maps that help us understand the bird dynamics better. I have recently become an eBird reviewer for 6 regions of the country and this role has opened a different panorama in regarding to the use and better understanding of the platform, it has been a great experience to be able to help other people to increase the quality and accuracy of their reports and create more valuable data.
My main interest is in environmental education, and I was delighted to find out about the project "BirdSleuth" from the Cornell Lab, which has been the basis for my personal environmental education project: Niños y Aves (Children and Birds), which consists of free workshops about birdwatching and the importance of birds and their conservation, in rural schools with limited resources in the region. It is also designed to promote visitation for birdwatching tourism to our highly bird-rich canton of Turrialba.
Many thanks to Carl Zeiss Sports Optics, the Cornell Lab and the eBird team for this opportunity to enjoy birding through Zeiss's high quality lenses, and thanks for all the conservation efforts and support to the birding community.