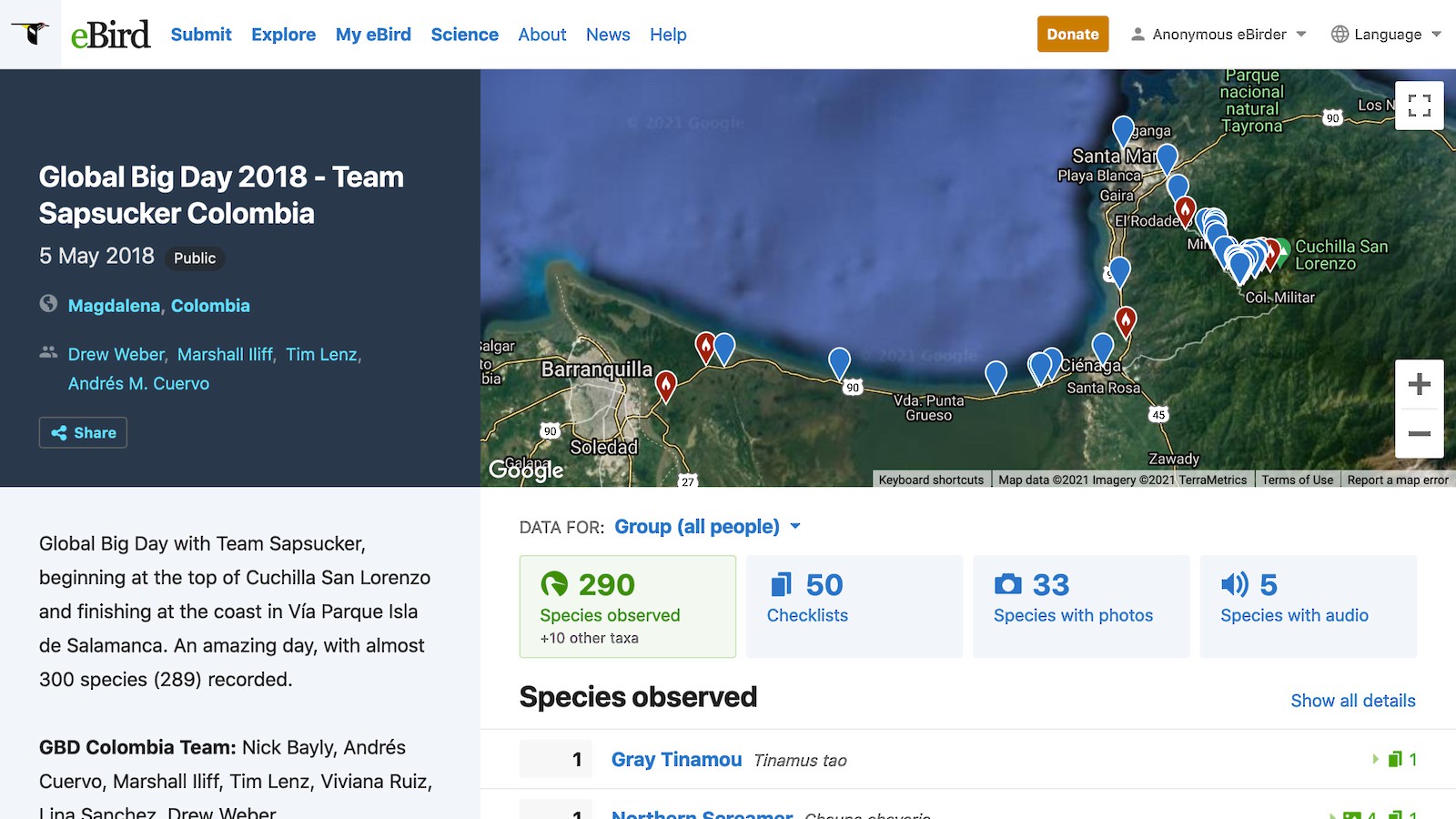 We're thrilled to introduce eBird Trip Reports—an exciting new way to tell your birding story through eBird. eBird Trip Reports bring together your eBird checklists to create a fun summary of where you went and what you found, along with your photos and audio recordings, all in one easy-to-share place. You've never seen your eBirding like this before!
eBird checklist location map
Lifer stats—see which species you observed, photographed, and audio recorded for the first time during the trip
Species totals across all your checklists from the trip
Photo and audio feature views
Quick links to share your trip with friends or on social media
More features to love
Create summaries of your birding adventures for one or multiple days. Trip Reports is a LIVE summary, meaning your report updates automatically as new lists are added from the trip period. If you're going on a birding outing and want to share what you see with your friends, create an eBird Trip Report ahead of time and share the link—as you submit your eBird lists, the report will update.
Use the narrative and comments to share favorite memories and scroll through the species notes to relive the best moments. Each person on a trip can create and share a personalized report by choosing which of their own checklists to include. You can view the "group" version of the report, with everyone's data, or view a personal view that includes only your sightings and media.  Learn more about creating and sharing eBird Trip Reports.
Join us for a free eBird Trip Reports webinar on 17 December from 12-1pm Eastern (US). Members of Team eBird will demonstrate the exciting new features of eBird Trip Reports, plus additional free resources to help you prepare for your next birding adventure.
Register for the free eBird Trip Reports webinar here.
How can you use eBird Trip Reports?
eBird Trip Reports help you create summaries for Big Days, Christmas Bird Counts, special birding trips, and more.
Big Days and Bird-a-thons
eBird Trip Reports are an easy way to summarize one-day birding events like Global Big Day and October Big Day, or record-setting chases like the OR Big Day 2021 and 2021 Georgia Big Day. eBird Trip Reports compile your checklists in real time, so anyone with the link can track your progress throughout the day.
"My siblings and I often get together for a weekend or several days of birding in many different locations and we love being able to keep track of the total number of species we have seen over those days," says Margaret Viens, an eBirder from Maine, "I also hope to be able to use [eBird Trip Reports] this winter for our Birdathon Team. I like that I can go back and create historical reports as well."
Last year, Ontario eBirder Mike Burrell decided to try a "yard" birdathon: Birdathon Spring 2020 (Yard). His report shows how eBird Trip Reports can be useful even when you stay in one place, letting you create multiple lists throughout the day and still have a single summary of your birding.
Birding field trips and workshops
Use eBird Trip Reports to summarize and share organized activities with members of your birding group. Maine Young Birders Club coordinator Nathan Hall says he looks forward to "using this feature when I take young birders out birding. Especially if we cover more than one location."
Adam Betuel, Director of Conservation at Georgia Audubon, says his favorite feature is "being able to easily produce a species list throughout a day or across days," Adam says "I lead birding trips and this is where I expect to use the trip report function the most."
Birding tours
eBird Trip Reports help you revisit past memories or show prospective trip members what they can look forward to. "The lifers for each trip is great," says eBird Spain collaborator Yeray Seminario, "showing the map with all the locations is a great visual tool."
"Combining sightings from multiple stops on a day is a great way to get an overview of the trip. It's always been complicated to view many lists, like on a pelagic trip, and to try to combine all of the species that were seen… this summary view is so great!" says California eBirder Andrea Carpio.
Christmas Bird Counts and Breeding Bird Surveys
eBird Trip Reports are a great tool for birders who participate in annual cooperative survey efforts. Reports can be used to summarize stops along a Breeding Bird Survey route or to compile counts from your area of a Christmas Bird Count.
"I've long wanted something to make it easier for eBirders participating in CBCs to do reasonable-length checklists and then be able to merge them into one report," says Kathy Mihm Dunning, an eBird Reviewer for Colorado, "eBird Trip Reports should work quite nicely for that purpose."