On 14 October, people in 191 countries around the world joined together to celebrate birds for October Big Day. More than 36,000 people contributed 83,735 checklists, setting three new records for the single biggest day in October birding history! Even more impressive, the global birding community reported 7,525 species—an incredible 72 more species than last October Big Day. This remarkable growth is a testament to the power of birds to unite people in a common effort.
October Big Day wouldn't be a global phenomenon without YOU, the global birding community. We're grateful to work with so many amazing partner groups around the world, including the eBird portal collaborator network, who inspire and motivate birders on October Big Day and every day. Huge thanks also to Carl Zeiss Sports Optics for their sponsorship of eBirder of the Month challenge, including an opportunity to win new Zeiss SFL binoculars by participating in October Big Day.
This year's October Big Day was also an opportunity to celebrate World Migratory Bird Day and Global Bird Weekend. Tremendous thanks to Global Birding's Tim Appleton and Penny Robinson, Birdlife International, and Swarovski Optik for making Global Bird Weekend possible, and to the World Migratory Bird Day team for their efforts.
October Big Day by the numbers
376,109 people went birding with eBird and/or Merlin
36,332 eBirders with 83,735 checklists submitted
7,525 species reported
48,749 photos submitted to the Macaulay Library
1,247 recordings submitted to the Macaulay Library
Explore more October Big Day results and mark your calendars for the next Global Big Day—11 May, 2024.
To see the tremendous outpouring of support for October Big Day. The following video highlights just a few of the hundreds of inspiring stories shared during the event.
---
Below, we feature some additional themes and stories shared by you, the global birding team.
First October Big Day
A warm welcome to the 1,665 contributors around the world who eBirded for the first time on October Big Day, including
Ricardo Eslava started birding a year ago. Their first October Big Day included some incredible observations, fun species, and even a lifer—congrats!
Hace un año empezaba en el fascinante mundo de las aves. Me ha enamorado más de los ecosistemas de Colombia y su biodiversidad.
Hoy en mi primer #OctoberBigDay hice unos avistamientos increíbles, un gran #lifer y varias reuniones políticas.#NyctibiusGriseus #OrtalisColumbiana pic.twitter.com/v4eQTJROpD

— RICARDO ESLAVA (@ricardoeslava) October 15, 2023
A year ago I started in the fascinating world of birds. I have fallen more in love with Colombia's ecosystems and its biodiversity. Today on my first #OctoberBigDay I made some incredible sightings, a great #lifer and several diplomatic meetings.
All of the smiling faces during Pitianita's first October Big Day show there's nothing more fun than discovering a new hobby with friends!
Mi primer #OctoberBigDay pic.twitter.com/P4HA49Egg9

— Pitianita (@MarLiliMu) October 14, 2023
Birding For All
Birds bring everyone together and unite us in shared awe of their cross-continental journeys, fascinating behaviors, and admirable determination. Thank you to @yani_visitnatura and @BrooklynBridgeBirds for sharing their October Big Day experiences on Instagram which encouraged "Birding for all". Yanina Maggiotto led a "Birding para todos", birding for all, walk in La Canal de Navarrés, Spain on October 14th during which their group "shared magnificent observations of extraordinary species" including "the majestic Golden Eagle, the strident Iberian Woodpecker, [and] the Colored Kingfisher".
View this post on Instagram
Heather Wolf led a bilingual bird walk in Brooklyn for the New York City Audubon and shared checklists documenting over 100 individuals across 22 species.
View this post on Instagram
No matter your age, everyone is a valuable participant in October Big Day. This year we had many younger participants helping to collect important birding data. The Mindo Birdwatcher's club shared a TikTok in support of the event, and highlighted the importance and significance of submitting eBird checklists. On the 14th, the Galapagos Science Center shared thirteen young birders observed over 10 different species including Yellow Warblers, Finches, Blue-footed Boobies, mockingbirds, frigatebirds, and pelicans. Although these birder's years may be few, their impact is immense with valuable data contributions and excitement on October Big Day.
🐦 #VínculoConLaComunidad | Hemos tenido un sábado fabulosa en el #OctoberBigDay.

🤩 Hoy, durante nuestra salida de observación, recorrimos el Centro de interpretación, Tijeretas y playa Carola, donde tuvimos la oportunidad de avistar 13 especies distintas de aves,

— Galapagos Science Center (@GSCGalapagos) October 14, 2023
Today, during our observation outing, we toured the Interpretation Center, Tijeretas and Carola Beach, where we had the opportunity to see 13 different species of birds.
Community Efforts
October Big Day transcends birding by building connections, strengthening community ties, and fostering an appreciation for nature. It's also an opportunity to support local conservation efforts.
October 14 marked the 6th annual Wild Bird Day in India. Organized by Bird Count India, Wild Bird Day encourages participants to spend time observing birds and submit as many 15-minute complete checklists as they can throughout the day. The goal of is "to generate a snapshot of the distribution and abundance of birds at this time of year". More than 1,110 birders in India (nearly 300 more than last year) submitted 3000 complete eBird checklists during the event. These checklists will be used to develop conservation resources such as the State of India's Birds report.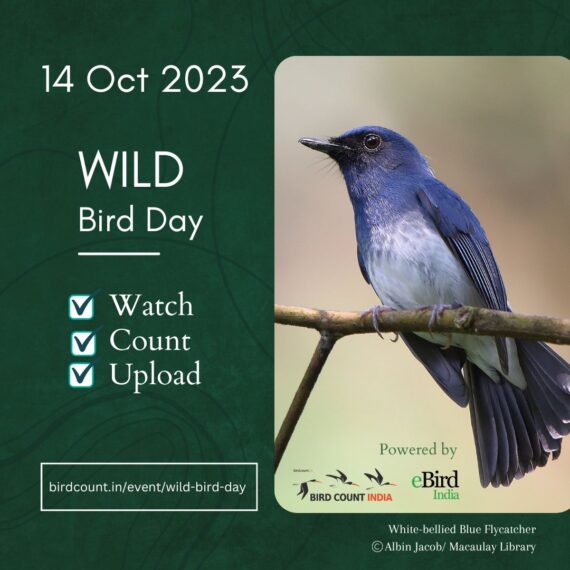 In Ecuador, members of Urban Ornis and their partners picked up an astounding 27 kg (59 lbs) of trash while birding along the San Pedro River. A great example of making the world a better place on October Big Day!
Qué genial poder pajarear en el #OctoberBigDay y al mismo tipo limpiar en minga el río San Pedro junto a nuestro amigos del Colectivo @RioRescate y @owiphototours.

27 kg de basura, 25 especies de aves en menos de 3 horas caminando 850 m.https://t.co/prTlspdaqI pic.twitter.com/NKFOvcC84n

— UrbanOrnis (@UOrnis) October 15, 2023
How great to be able to bird in the #OctoberBigDay and at the same time clean the San Pedro River in Minga with our friends from the Colectivo @RioRescate and @owiphototours. 27 kg of garbage, 25 species of birds in less than 3 hours walking 850 m.

The sounds of October Big Day are often just as important as the sights. Listen to the calls of breeding Hooded Grebes from Laguna La Soñada, Argentina, below. Thank you, Programa Patagonia, for sharing the experience and contributing this critically endangered species to the October Big Day totals.
Desde el Programa Patagonia también participamos de este #GranDía de Observación de Aves🪶

Con 23 Macá Tobiano (Podiceps gallardoi) en la Laguna La Soñada del PN Patagonia en nuestra lista de @eBirdArg.

🔊 Subí el volumen al video y escuchá a los tobianos.

📷 @sosaidae pic.twitter.com/SS7j4HlK3N

— Programa Patagonia (@ProgPatagonia) October 14, 2023
From the Patagonia Program we also participate in this #BigDay of Birdwatching. With 23 Tobiano Macá (Hooded Grebes, Podiceps gallardoi) in Laguna La Soñada of Patagonia NP on our @eBirdArg list. Turn up the volume on the video and listen to the grebes.
Sharing Stories with eBird Trip Reports
One of the best ways to share adventures on October Big Day is through eBird Trip Reports. In Parque Municipal São Francisco Xavier, outside Sao Paolo, eBird Brasil partners SAVE Brasil organized a special event that included morning and afternoon birding, a scientific lecture, and Q&A with local conservation professionals. Gabriela R. França's eBird Trip Report documents the 92 species they found throughout the day.
View this post on Instagram
As Aves de SFX writes, eBird observations "represent a crucial tool for monitoring species and contribute significantly to advancing knowledge about birds, thus strengthening conservation efforts." A huge thank you to everyone who contributed to this event!
Here are a few more highlights from the hundreds of eBird Trip Reports shared by teams and individuals on October Big Day:
Eric Torres-Rivera spent the day visiting sites across western Puerto Rico and found an impressive 124 species on 13 checklists
Ricard Gutiérrez's October Big Day outside Barcelona, Spain included two lifers, plus 82 other species
Georgi Kamov and his son, Simeon, go birding together every Big Day. Even though they only had a few hours this year, they still managed to find 61 species and submit 9 checklists. "Not bad for a leisurely tour around our local village hotspots," writes Georgi. We agree!
Me and my son Simeon only managed to go birding until early afternoon today, but we still saw 61 species – not bad for a leisurely tour around our local village hotspots. Here's our trip report https://t.co/su37T0B5Dz#octoberbigday @Team_eBird @CornellBirds @global_birding pic.twitter.com/WnAcj9QNMd

— Georgi Kamov (@Joko) October 14, 2023
Madhur Upadhyay's October Big Day highlights the many things to love about eBird Trip Reports, summarizing their 20 checklists and 110 species from Uttarakhand, India alongside fun photos and interesting sound recordings. Madhur achieved 15 Photo Lifers and one Sound Lifer (species they had never photographed or recorded before) on October Big Day. Media on eBird checklists improve our understanding of bird appearance, behavior, and can help to inform conservation plans. Great job!
Beyond Birds—Solar Eclipse
Birders from the western United States to Brazil put down their binoculars and picked up their shades to watch an annular solar eclipse last Saturday. Even birders in areas of partial eclipse were able to enjoy the phenomenon. To our knowledge, this is the first time an eclipse and global birding event happened on the same date.
#OctoberBigDay 🐦 y #EclipseSolar 🚀🌒 pic.twitter.com/qjflxT6ubm

— Margaret Sánchez 🍉 (@mastysanchez) October 14, 2023
Thank You!
A massive and heartfelt THANK YOU to everyone who submitted checklists on October Big Day. eBird now contains more than 1.5 billion observations of birds from 923,000 eBirders, all thanks to your efforts. Your observations provide valuable insights into the lives of birds that help us to better understand and protect bird populations.
At eBird, every day can be a big day, a reason to step outside even for just 10 minutes to enjoy birds and share observations for science. Together we can help better understand, conserve, and enjoy birds for many years to come. Thank you for being a part of it.
---
More Results
TOTAL species by country

Peru—1,384
Colombia—1,326
Brazil—1,210
Ecuador—1,097
Bolivia—842
Argentina—776
India—727
Costa Rica—718
Kenya—701
United States—694

TOTAL checklists by country

United States—31,764
Canada—6,424
Colombia—4,103
Chile—3,685
Argentina—3,257
Venezuela–3,057
India—3,039
Brazil—2,789
Costa Rica—2,417
Australia—2,222

INCREASE in number of checklists over 2022

China—146%
Peru—115%
Zimbabwe—105%
Russia—95%
Zambia–89%
Sri Lanka—79%
Cuba—74%
Chile–47%
France—48%
Brazil—44%
TOTAL eBirders by country

United States—17,766
Canada—3,307
Colombia—1,417
India—1,116
Australia—1,039
United Kingdom—887
Brazil—837
Argentina—833
Spain—781
Costa Rica—735

NEW eBirders by country

United States—431
Colombia—136
Peru—117
Chile—84
India—81
Brazil—75
Canada—71
Argentina—70
United Kingdom—66
Costa Rica—43

INCREASE in number of eBirders over 2022

China—77%
Russia—72%
Iceland—62%
Peru—51%
Zimbabwe—42%
Hungary—41%
Cuba—38%
Japan—32%
Netherlands—28%
France—28%