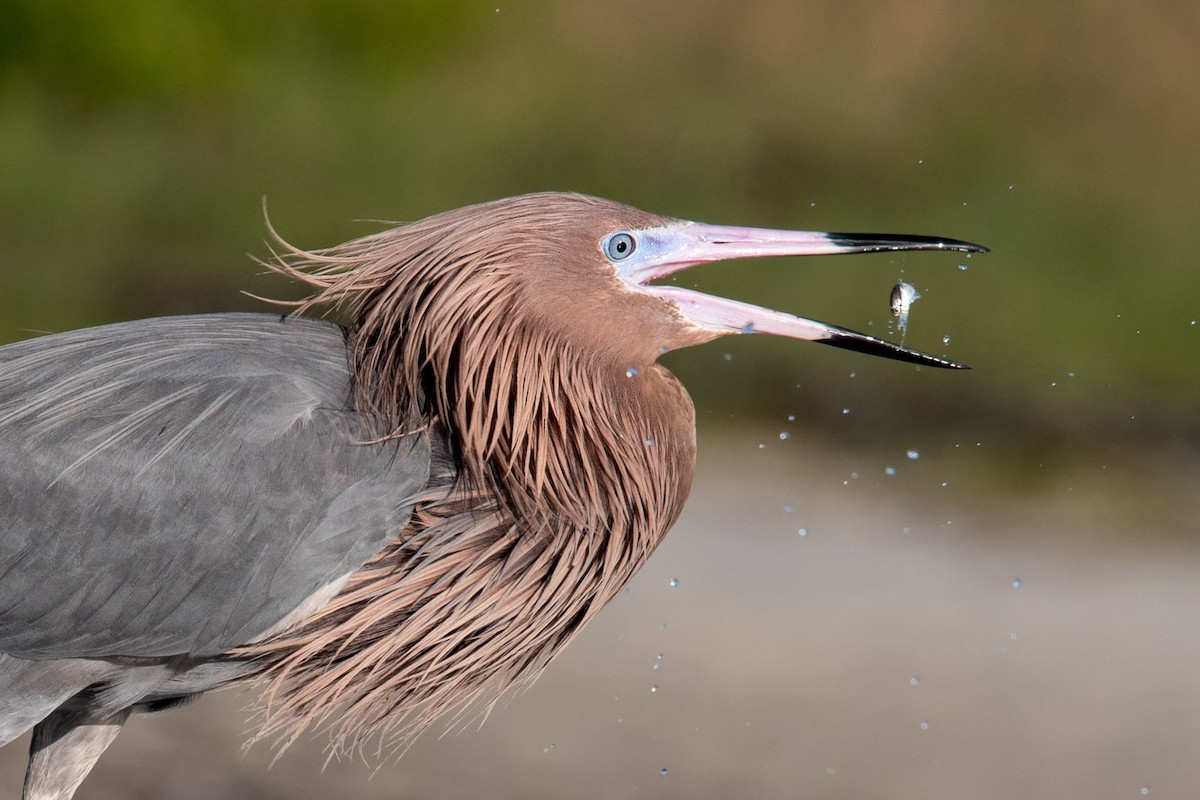 Birds always give us an opportunity to keep looking up. In every corner of the world, on every day of the year, birds are migrating, building nests, raising young, and inspiring people everywhere. This past Saturday, more than 50,000 people around the globe stood up, scanned the skies, watched their gardens, and strolled through their local patch to take pleasure in the joy of birds and birding. This is Global Big Day.
This year's Global Big Day brought more birders together virtually in a single day than ever before in history—more than 50,000 people spent part of the day watching birds and sharing what they saw with eBird and the world—32% more than Global Big Day 2019! This is a new world record for a single day of birding. What's even more amazing is that almost 9,000 people joined eBird for the first time to participate in Global Big Day. Welcome to Team eBird, we couldn't be more excited to have you as a part of the global team.
In addition to the biggest number of birders joining together, we also broke another world record—the most information collected on biodiversity in a single day: eBirders around the world submitted a staggering 120,000 checklists in a single day! These checklists contain more than 2.1 million observations of birds in a single calendar day. Global Big Day 2020 collected more information on birds than the first 2.5 years of eBird's existence!
---
50,072 people went birding
120,000 checklists submitted
6,479 species recorded
62,296 photos were shared with the Macaulay Library
1,922 audio recordings were shared with the Macaulay Library
Explore all Global Big Day stats here. 
Global Big Day 2020 was different from past years. Instead of teaming up with friends, scouting birding spots, and planning big day routes, many people birded individually and close to home. This Global Big Day reminded us just how important the birds in our backyards are, and how important community is. Let's take a tour of Global Big Day from the community.
---
Backyard and neighborhood birding
Many eBirders, new and experienced alike, spent Global Big Day 2020 birding around home. For these participants, 9 May was a chance to share the birds found in their yards and gardens, or even balconies and patios around the world.
This Global Big Day portrait captured all the essential tools of at home birders: field guide, camera, online resources, and of course, the eBird Mobile app!
My mother during #GlobalBigDay pic.twitter.com/aImfxjiXsH

— Mauri (@Mauripopz) May 9, 2020
Mrs. Calland Science spent Global Big Day watching her feeders logging 15 species including Rose-breasted Grosbeaks and Baltimore Orioles, and Darel Heitkakmp was lucky enough to spot a Swallow-tailed Kite from his yard. In New Zealand, Karthic had a lovely view of Dunedin for a bit of birding from home.
Dan Spivak spent Global Big day watching birds within a 2 block radius of his home and found 4 life birds among the 23 species found in Alberta.
I went birdwatching to celebrate #GlobalBigDay. 23 species and 4 lifers within a 2 block radius of my house. The lifers are Eastern Phoebe, Swainson's Thrush, White-throated Sparrow and Gadwall. #albertabirds #birds #birdwatching #alberta #nature #spring pic.twitter.com/8aaKMLO5Yn

— Dan Spivak (@danman222) May 10, 2020
In Colombia, a pair of birders spent the day birding from their balcony and it looks like they had a pretty good time.
#pajareandodesdelaventana #globalbigday pic.twitter.com/eGZmIeMDRM

— Jaguartista (@afgarcialo) May 9, 2020
Isha in India also joined the balcony birder brigade; spotting an Oriental Magpie-Robin was the highlight of her day. Fraser Simpson reported the best day of #balconybirding on Global Big Day with 67 species from his balcony in London
---
Birding on foot and bike
For those that couldn't travel far, Global Big Day was an opportunity to strike out on foot or bicycle to explore a spot nearby. This year more than 100 staff at the Cornell Lab of Ornithology joined Team Sapsucker. The Cornell Lab team stayed within the Finger Lakes region of New york and found over 180 species—mostly on foot or bike—in near white-out conditions; it looked more like a Christmas Bird Count than a day in May!
Team Sapsucker members Chris Sayers and Tristan Herwood counted 97 species on their bikes in a wintry mix of snow and hail: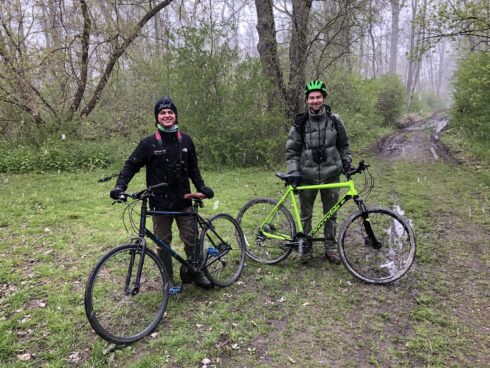 Scott Johnson walked 15 miles through woodlands, wetlands, and prairies in Illinois tallying 100 species in 15 hours.
Another #SpringBirdCount & #GlobalBigDay is in the books. We traversed woodlands, wetlands, prairies, and more.

Total Birds: 1000+ (including this American Kestrel)
Total Species: 100!
Time: 15 hours
Distance Walked: 15 miles
Exhaustion: Yes
Will I be birding tomorrow: Yes pic.twitter.com/ZclyEpNLq5

— Scott Johnson (@biobirdnerd) May 10, 2020
Across the Atlantic, birders in Ireland and Great Britain took to their local trails – many within 5km of their home – and reported garden birds like this Northern Wheatear:
Great day out birdwatching for the @team_ebird #globalbigday yesterday, 65 species in 13 hours and all within the 5km travel restriction. #birdwatching #birdwatchingphotography #gardenbirds #springwatch #wildlifephoto #nature #gardenwatch #irishwildlife #wildlifefrommywindow pic.twitter.com/R3mgy46oqx

— Derek Ó Driscoll (@derekodriscoll1) May 10, 2020
London birder Niall Keogh almost doubled his GBD checklist goal with 19 checklists – great job! One of his final additions was a rare breeding record of a Pochard on a local pond. Niall's observation goes to show that exciting birds can be found everywhere, even close to home:
Finished off #GlobalBigDay here in London with 19 checklists and 73 species. Good going as my original target for the day was 10 checklists / 70 species. Final additions: Kestrel and Red Kite from home and a @ukrbbp breeding record of Pochard from a local park pond. #londonbirds pic.twitter.com/2Ct3CL0amd

— Niall Keogh (@nialltkeogh) May 9, 2020
---
New and young birders
Students all around the world also took part in Global Big Day. Fifth graders from the Green Hill School in Dallas submitted several checklists; some students are now on the top 100 list for eBirders for Dallas! Students in Panama shared their checklists with the help of their parents, and helped vault Panama into the #4 country in the world for checklists on Global Big Day.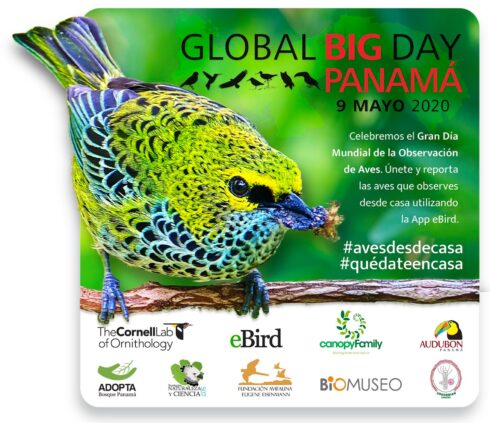 Young birders from South Africa to Honduras and Colombia all shared their enthusiasm and observations on Global Big Day for a truly inspiring event.
#GlobalBigDay is off to a great start & #YoungBirders from across the #African continent are full steam ahead! Here's CF & Angelique enjoying some rather chilly Karoo birding in #SouthAfrica's #EasternCape! #KuzukoLodge #YouthUnleashed @Team_eBird pic.twitter.com/2icDClCbC7

— Youth Africa Birding (@YABirding) May 5, 2018
For her first Global Big Day, eBird user Beanie Jean joined a Zoom birding event with participants from six US states. As Beanie Jean tells us in her video "it's so fun, the networking that birding is." If you can't go birding with your friends, technology lets you bring them along anyway.
---
Community collaboration
Communities around the world banded together like never before to encourage their citizens to go birding safely on Global Big Day. Popular hashtags like #AvesDesdeCasa ("Birds From Home") and #CadaListaCuenta ("Every List Counts") inspired birders in Spanish-speaking countries to participate in Global Big Day while adhering to their local health guidelines. In total, 16 countries banded together to collect more than 1,000 checklists on Global Big Day: New Zealand, Ecuador, Brazil, Spain, Mexico, the United Kingdom, Peru, Australia, Costa Rica, Argentina, Venezuela, India, Panama, Colombia, Canada, and the United States. View all countries here.
A young birder in Colombia created a video to encourage fellow Colombians to watch birds around the house because, as Simón Santos says, it's an opportunity to appreciate the birds that you can see everyday. With over 1,440 species reported on Saturday – the most of any country on Global Big Day – Colombia has a rich diversity of birds to appreciate from home. For the fourth year in a row, Colombia took the #1 spot for species on Global Big Day. Congratulations!
Several countries also upped new birder participation and checklist submission this year. Sixty-three birders (including an 8-year old) in Bulgaria reported 60% of their country's birds in a single day and submitted 193 checklists.
Me and my 8-year old son finished with 100 species for the day! Birding from 7 in the morning to 7 in the evening 🙂#GlobalBigDay#GlobalBigDay2020 @Team_eBird pic.twitter.com/7gzF7Nh9ho

— Georgi Kamov (@Joko) May 10, 2020
Birders across Venezuela joined together to make 9 May their country's biggest birding day this year. Venezuelan eBirders submitted 2343 checklists, nearly 400% more than last year. In fact ⅓ of all of the checklists in Venezuela in 2020 came from Global Big Day!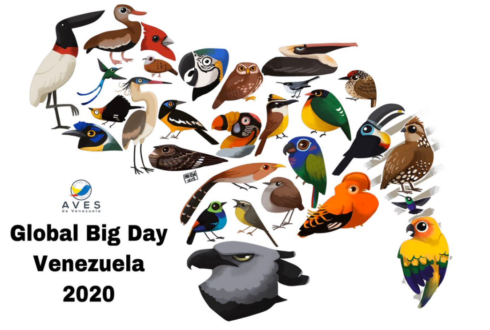 In Honduras, Global Big Day was a nation-wide event thanks to the contributions of many organizations and lots of eBirders.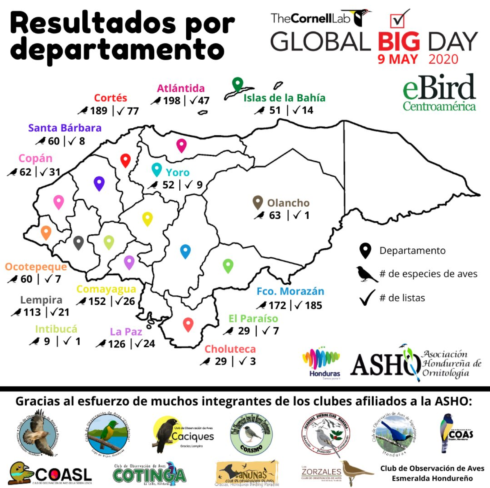 We know that there are surely hundreds of other amazing and inspiring examples of communities and collaboration around the world, the above just scratches the surface of the wonderful birding community.
---
Thank you!
A massive and heartfelt THANK YOU to everyone who submitted one or more checklists on 9 May. eBird now contains more than 810 million observations of birds, all thanks to your efforts over the years. "Those observations provide a whole new way of seeing biodiversity," says Steve Kelling, co-director of the center for Avian Population Studies at the Cornell Lab of Ornithology. Your observations help build an unparalleled window into the full annual cycle of bird populations that will help us better understand and prevent avian population declines.
At eBird, every day can be a big day and a reason to step outside even for just 10 minutes to enjoy the birds around you while sharing your observations for science. Together we can help better understand, conserve, and enjoy birds for many years to come. Thank you for being a part of it.