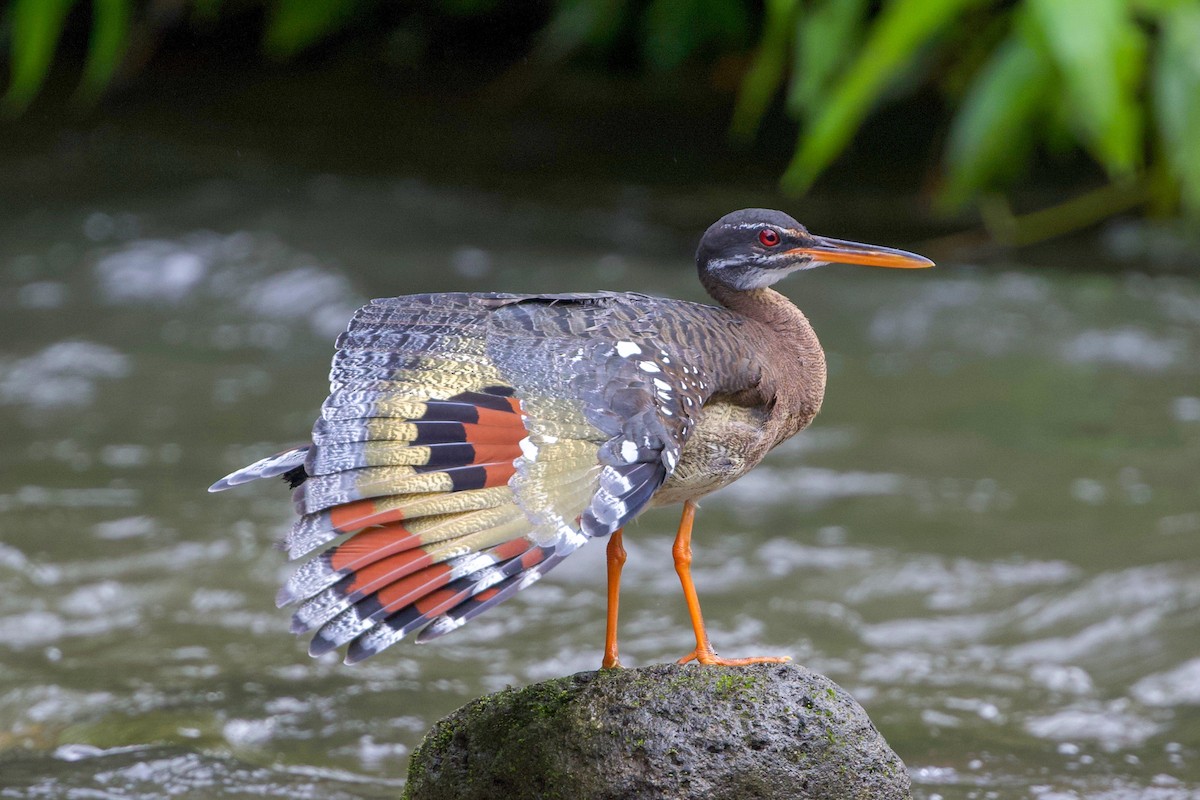 6085 species. 44173 checklists. 14060 people. One Global Big Day. Inspirational. Amazing. Unbelievable. These few words only begin to describe our feelings at watching eBird checklists flood in from the first ever Global Big Day on Saturday, 9 May. Groups worldwide mobilized their friends and contacts via Facebook, Twitter, email, and other outreach efforts to make this day the best day ever in eBird. On behalf of everyone here at the Cornell Lab, everyone in the wider eBird community, and everyone involved with the understanding and protection of birds worldwide, we want to give a huge THANK YOU to everyone who helped make Global Big Day such a resounding success.
The Global Big Day was truly spectacular, and provides a one-day snapshot of the world's birds like never before. When we first envisioned Global Big Day, we hoped it might record 4000 or 4500 species worldwide, but the amount of participation has surged well beyond that. Tens of thousands of people, and hundreds of organizers, are to thank for this effort. To each and every one of you, we offer deep and sincere thanks.
If you're interested in seeing a summary of the day, or following some of the play-by-play throughout the 9th, check out our Global Big Day HQ and Facebook pages. If you really enjoyed the Global Big Day, and want some clothing with Luke Seitz's fabulous artwork on it, check out the eBird Store!
The network of eBirders on the Global Big Day spanned each of the 7 continents, covering over 130 countries to submit a grand total of over 800,000 bird observations. Here are a few interesting statistics from across the world on the Global Big Day:
1298 eBirders submitted their first eBird checklist ever on 9 May, an amazing total that highlights the excitement around this event. We hope that these eBirders—and many more like them—continue to track their sightings in eBird. Only with broad global participation worldwide and throughout the year can eBird accomplish its goals to better understand and protect birds worldwide.
The previous best day for eBird submissions was 15 Feb 2015, on which 3090 species were recorded. Global Big Day nearly doubled that count!
Among the 6085 species, no fewer than 1250 (21%) were found by a single party. This more than anything demonstrates the substantial impact that one person can have when birding in undercovered areas. Thanks to everyone who got out on May 9th to find the special and endemic birds in your region.
Countless local competitions arose organically, as teams of birders within states, countries, counties, or local communities set their sights on specific target numbers or challenged neighboring regions to some good-natured competition.
Brazil, Peru, and Colombia have been jockeying for the top spot for number of species ever since 9 May, with Peru making a late surge on Monday and Tuesday as people returned from remote field sites and got their lists in. The current numbers are Peru 1183; Brazil 1126; Colombia 855. Using eBird's taxonomy, Avibase has the official species lists for Colombia as 1900, for Brazil as 1823, and Peru totaling 1808, so congratulations to the two underdogs for their excellent turnout and high percentage of the country's avifauna that was found!
Our favorite quote came from Brazil: "People in Brazil are just crazy because of the Big Day…they are following the ranking like a final game of the World Cup!" From a Brazilian, we consider that high praise!
Don't forget, eBird accepts sightings from every day of the year! We sincerely believe that every bird sighting has value – any bird, anywhere, anytime. We hope that you continue to submit your sightings to eBird throughout the year, supporting science, conservation, and our understanding of birds and bird populations on a global scale. As part of our Global Big Day development, you can also track the annual progress of all countries via our Location Explorer page. Check out global stats for 2015 (8602 species and counting!). How high can it go in 2015?
The amazing stories from this event are too numerous to recount, but there have been some incredible local efforts across the world that have played a major role in making this day what it became. Many of these can be found below, but we may have forgotten some in our post-GBD excitement – please let us know if that is the case.
While our own Team Sapsucker birded in Panama, our friends at Sociedad Audubon de Panamá rallied teams countrywide to participate. Panama's totals can be seen here, with the country currently posting 623 species and an amazing 723 checklists from 87 different observers. The Canopy Tower Family also rallied a great effort, with guides from its four lodges all participating and contributing to the overall total.
Peru currently tops the leaderboard, with a mind-numbing 1183 species on a single day. CORBIDI rallied a huge effort, with 122 teams around the country, and their effort showed in this remarkable total. With so much diversity from the Amazonian rainforests to the many life zones of the Andes to the Pacific Ocean, Peru is well situated to have a major impact on this and future Global Big Days.
In Brazil, there was possibly more eBirding on this date than in the past three months. It was really great to see Brazilians rally around this event and give Peruvians a run for their money, with 1126 species reported from May 9th. Will they topple the Peruvians from the top of the podium next year? How about for the overall eBird country year list in 2015? Special thanks to SAVE Brasil and Butantan Bird Observatory who reached out across the country via social media and got hundreds of birders out in the field.
Rounding out the species podium, Colombia's efforts were generated by the support of several organizations, including ProAves Colombia, an American Bird Conservancy partner, and Asociación Calidris, both of which did an excellent job getting Colombian birders excited about the Global Big Day.
In Central America, Oliver Komar, Roselvy Juárez, John Van Dort, and others on our eBird Centroamérica team helped to rally the troops in Central America, with all countries posting superlative numbers. More than 236 participants in Central America recorded a remarkable 870 species–more than Colombia and about 73% of the region's avifauna.
In India and nearby countries, with relatively few migrants around, the Global Big Day was rebranded as "Endemic Bird Day". We simply LOVE the initiative shown at Bird Count India to rebrand the count in this way, and we hope other centers of endemism can follow this model in years to come. The main goal is to get out birding on this day! Also, the iconic art following the Global Big Day theme is simply amazing – thanks to Rohan Chakravarty for his original art shown below here.
See the Endemic Bird Day page for more details on all this effort, and also to see the names of each species illustrated here. Our India partner wrote "May is blisteringly hot in most parts of the country. Our ultimate total (570 species) is a bit less than half of all species (1,162 species with >10 documented records) from the country, but if you account for the fact that a large number of migrants are missing in May, we've got well over half of all species that are present during the summer."
Elsewhere in Asia, Taiwanese eBirders got out and located every single one of their island endemics on May 9th. Further south, in Borneo, the Sandakan Borneo Bird Club had several teams of serious birders doing big days across the Sabah region of Malaysia, as well as adjacent Brunei. In Thailand, one heroic eBird reviewer spread the word throughout the country, and birders got out to report many species seen nowhere else on May 9th. 
Across Europe, over 30 countries participated in the Global Big Day. These included efforts spurred by SPEA and PortugalAves eBird in Portugal; substantial participation across Turkey by several groups of birders; and a big day in Italy that almost reached 150 species in just the central part of the country. Over 300 eBirders contributed sightings across the continent, amassing 365 species in their efforts.
Several countries in Africa shone through for Global Big Day birding, including over 300 species in Tanzania alone as part of the Arusha Big Birding Day. The truly impressive effort on this continent was thanks to the efforts of BirdLife Zimbabwe, 100 checklists were submitted from May 9th, making Zimbabwe the country in Africa with the most participation and the most species reported.
Some of the more jaw-dropping checklists included this checklist with over 2500 individual albatrosses from South Georgia; over 280 species reported on foot (!) from Peru in this checklist; and this checklist from Tanzania, with 155 species seen in 4 hours, including an estimated 200,000 Lesser Flamingos. Check out the global species list from May 9th to explore more lists!
Looking back at this outpouring of support and excitement about the Global Big Day, we are truly humbled by the contributions of eBirders worldwide. The inaugural Global Big Day was truly global in the deepest sense of the word, bringing people together across languages, cultures, and political boundaries. It could not have been done without each and every one of you who participated.
We cannot wait to see what next year brings. Thank you.