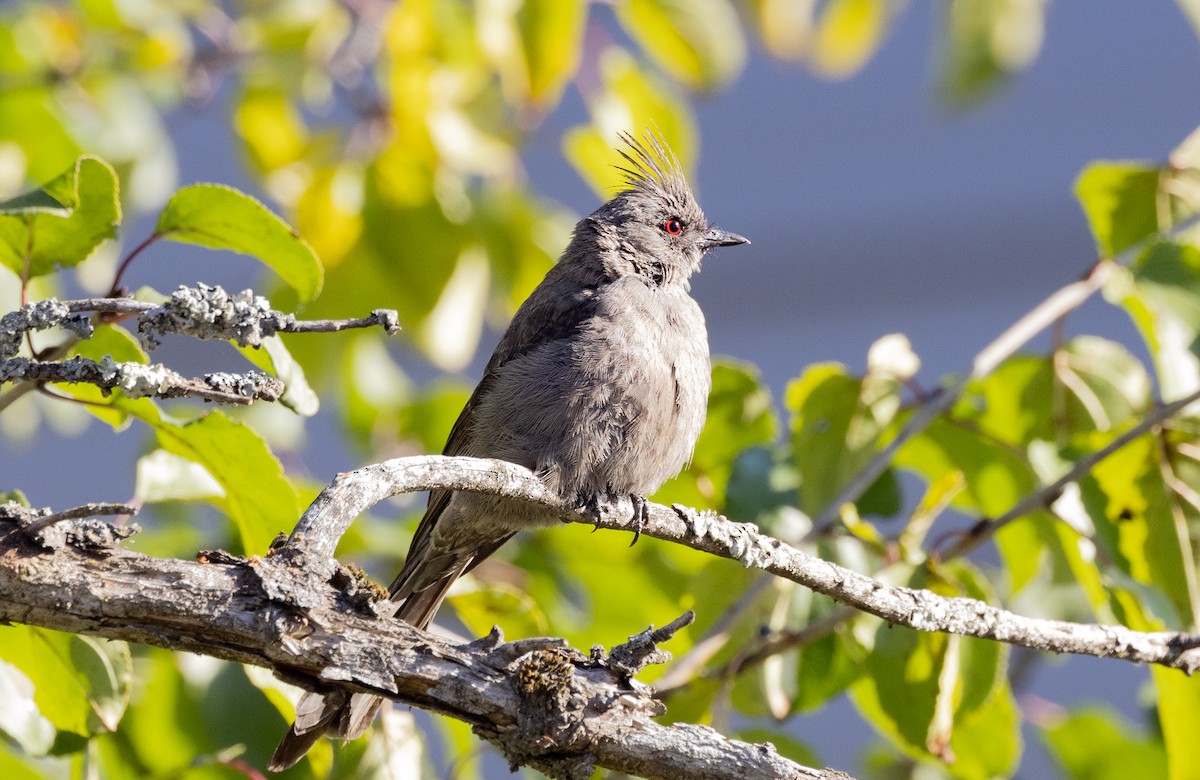 Picking up a first state record for your life list is a significant birding achievement. Prior to 2022, there were 447 species of birds officially recorded in Minnesota and accepted by the Minnesota Ornithologists' Union Records Committee (MOURC). Some years will pass with no potential new species for the state list while other years may bring one, two, or even three new species.  So far in 2022, five new potential state records have been submitted to the MOURC for consideration and further research.  Each of these sightings and a few details about them are shared below.
Abert's Towhees
On June 17, avid Minnesota birder Shawn Conrad was able to photograph and hear vocalizations from a pair of Abert's Towhees (Melozone aberti) in the city of Grand Rapids (Itasca County). These birds were brought to Shawn's attention by a homeowner that did not recognize what type of bird they were.  This dramatic, though drab, pair of birds dazzled bird chasers from all over the state that came to view these seriously out of place birds — their nearest range being the Sonoran Desert of Arizona.
Many questions and theories quickly cropped up on how these birds made their way to Minnesota. It will no doubt be a challenging puzzle for the MOURC to put together, but in the meantime the birds were findable in the city of Grand Rapids from mid-June through at least September 24! For more information on this species see eBird's Abert's Towhee page.
Pacific Golden-Plover
Just a scant couple weeks later, the second candidate for a first state record was a Pacific Golden-Plover (Pluvialis fulva) found by Trey Weaver in Carver County. Identification of this species can be incredibly challenging due to the similarity of the species with the American Golden-Plover that is a regular migrant in Minnesota.
Documentation submitted to the MOURC via a Request for Documentation (RQD) form includes photographs that show a bird that differs enough from an American Golden-Plover to demand further research and consideration. The bird is proof that some birds can hide in plain sight just waiting to be teased out and observed by an eagle-eyed observer. Hopefully the records committee will be able to validate and authenticate the record as Minnesota's first for this species that typically spends most of its vagrancy appearances on the west coast. An interesting side note, this very same location in Carver County (Tacoma Ave Area Fields Hotspot) is also the site of Minnesota's first state record Sharp-tailed Sandpiper found by Pete Hoeger in 2016.  See eBird's Pacific Golden-Plover page for more information on this species.
Broad-billed Hummingbird
On July 23, a bird-loving homeowner in Sherburne County was startled to see the strangest bird they could have imagined visiting their hummingbird feeder. As most will recognize, Minnesota has one regular visitor to sugar water feeders and that is the Ruby-throated Hummingbird. On this date though Jerisa G (ebird profile name) was able to snag a photo of a brief visit from a very different hummingbird.
The Broad-billed Hummingbird (Cynanthus latirostris) is an electric blue and green species with a brilliant red bill.  These hummingbirds are actually pretty good at wandering far from their home ranges as evidenced by the eBird sightings map so it was likely only a matter of time before Minnesota had a first record appear.  For more information on this species see eBird's Broad-billed Hummingbird species page.
Brown Booby
The fourth species on our list comes from the Mississippi River city of Winona. Kellen Wilson, a riverboat captain for many years, first reported this bird on August 14 via social media. A mad dash ensued the following morning as scores of birders flooded into the area to refind the state's possible first Brown Booby (Sula leucogaster).  This large seabird is not a typical interior bird species, but storms (hurricanes) and other factors can result in such birds moving inland.
This dazzling vagrant must have begun following the barge traffic up the river.  At Winona it fell in with the area's Ring-billed Gulls using the parked barges as prime roosting space. As this bird moved up and down the river it was reported in Minnesota mostly on August 14 and 15, however Wisconsin had reports for a Brown Booby from August 12  through August 27.  No matter the bird's story it was a wonderful and exciting glimpse of a southern sea bird in Minnesota.  See eBird's Brown Booby Page to learn more about this species.
Phainopepla
The fifth and last known potential first state record found in 2022 comes from the north shore near McQuade Harbor, just north of the city of Duluth. On October 29, Molly Misfeldt and Michael Sack were birding as part of an annual outing along Lake Superior's north shore when they found a stunning charcoal colored and red-eyed Phainopepla (Phainopepla nitens) from the Southwest.  This wonderful "silky flycatcher" put on a show hawking insects from October 29 through at least November 1.
See this Wikipedia link for details about which birds are considered Silky Flycatchers and why.  As the sightings map from eBird illustrates, the Phainopepla has a small number of vagrant records and often visits the Great Lakes when it travels outside of its normal range. See eBird's Phainopepla Page for more information on the species.
It has been an amazing year for potential first state record birds in Minnesota. Of course many other rare and uncommon birds were found across the state during the year, but it is fun to consider that these five may expand the list of known Minnesota birds to 452 if all of them are accepted by the MOURC.