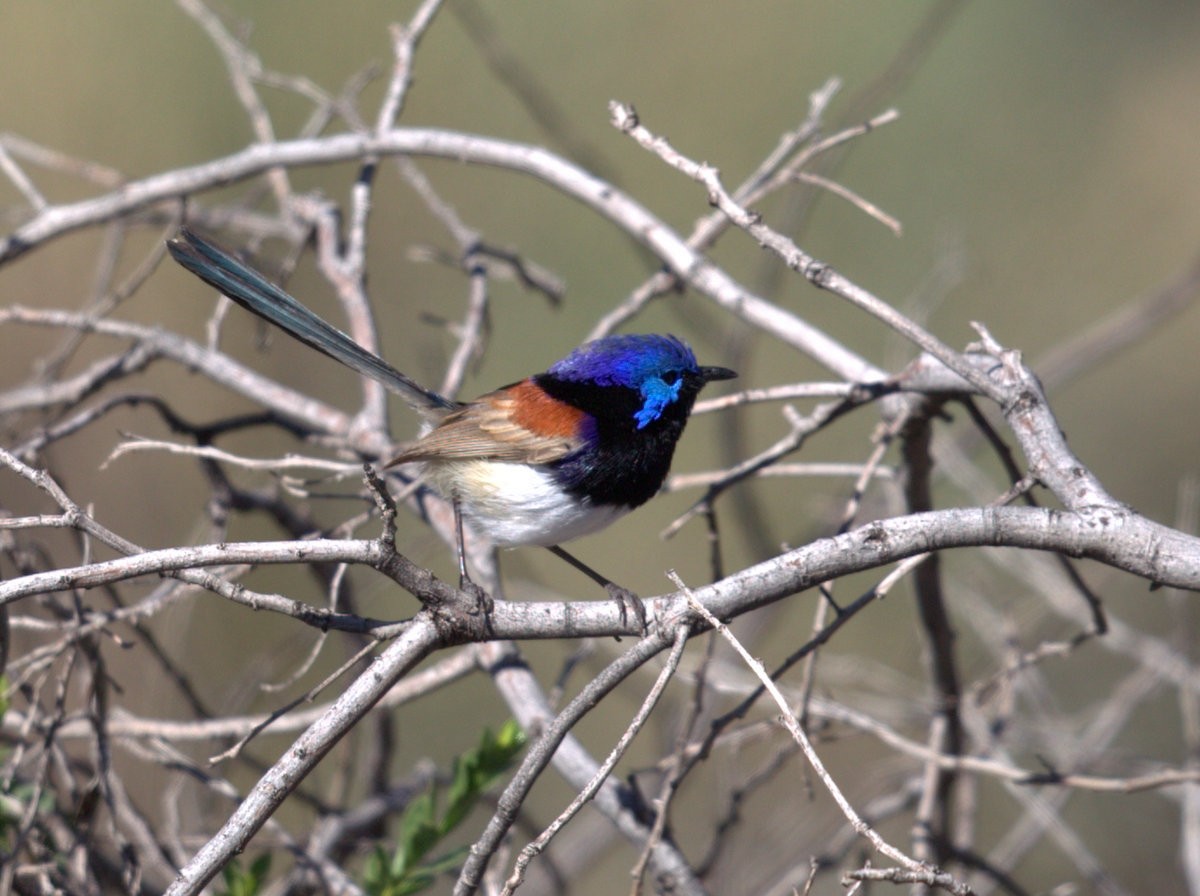 The annual eBird taxonomy update IS NOW UNDERWAY. Work is still going in the background to update existing checklists, update maps etc., but the revised taxonomy should start to appear as you enter new checklists.  It is worth having a look at which Australian species are being treated differently with the latest 2018 update.
NEW SPLIT
Purple-backed Fairywren is split from Variegated Fairywren
Purple-backed Fairywren Malurus assimilis   (WA, NT, SA, VIC, inland QLD and NSW (~west of a line joining Alpha, St George, Moree))

Purple-backed Fairywren (Lavender-flanked) Malurus assimilis dulcis/rogersi
Purple-backed Fairywren (Purple-backed) Malurus assimilis assimilis/bernieri

Variegated Fairywren Malurus lamberti    (coastal SE Australia, mostly east of the dividing range, from Bundaberg southwards)
Identification in parts of SE QLD and NE NSW is less distinct, with a broad intergrade zone (~300km wide).  This slash option will be useful in this area:
Variegated / Purple-backed Fairywren (~intergrade zone between Gladstone-Toowoomba and Goondiwindi-Emerald)
The main feature to focus on in order to identify these species from each other is the colour of the mantle on the brightly coloured males.  In the east-edge of their range, Purple-backed have a "mid violet blue" mantle, compared to the "royal blue" of the Variegated.
NEW SUBSPECIES GROUPS
eBird allows reporting of subspecies groups.  These are often useful with field-identifiable subspecies.  A new option this year includes:
Cape Petrel (Antarctic) Daption capense capense
Cape Petrel (Snares) Daption capense australe
HYBRID OPTIONS
Pacific Black Duck x Grey Teal (hybrid) Anas superciliosa x gracilis
Pacific Black Duck x Chestnut Teal (hybrid) Anas superciliosa x castanea
Grey x Chestnut Teal (hybrid) Anas gracilis x castanea
Grey Teal x Hardhead (hybrid) Anas gracilis x Aythya australis
Little Corella x Sulphur-crested Cockatoo (hybrid) Cacatua sanguinea x galerita
New Holland x White-cheeked Honeyeater (hybrid) Phylidonyris novaehollandiae x niger
Yellow-rumped x Chestnut-breasted Mannikin (hybrid) Lonchura flaviprymna x castaneothorax
SPUH and SLASH OPTIONS
Purple-backed/Variegated Fairywren Malurus assimilis/lamberti
Australian treecreeper sp. Climacteridae sp.
NAME CHANGES
Tooth-billed Bowerbird Change the English name of Scenopoeetes dentirostris from Tooth-billed Catbird to Tooth-billed Bowerbird (Schodde and Mason 1999, Christidis and Boles 2008).
Black-shouldered Kite Change the name for Elanus axillaris from Australian Kite to Black-shouldered Kite. [this will please the eBird reviewers immensely – as the old name caused a lot of confusion]