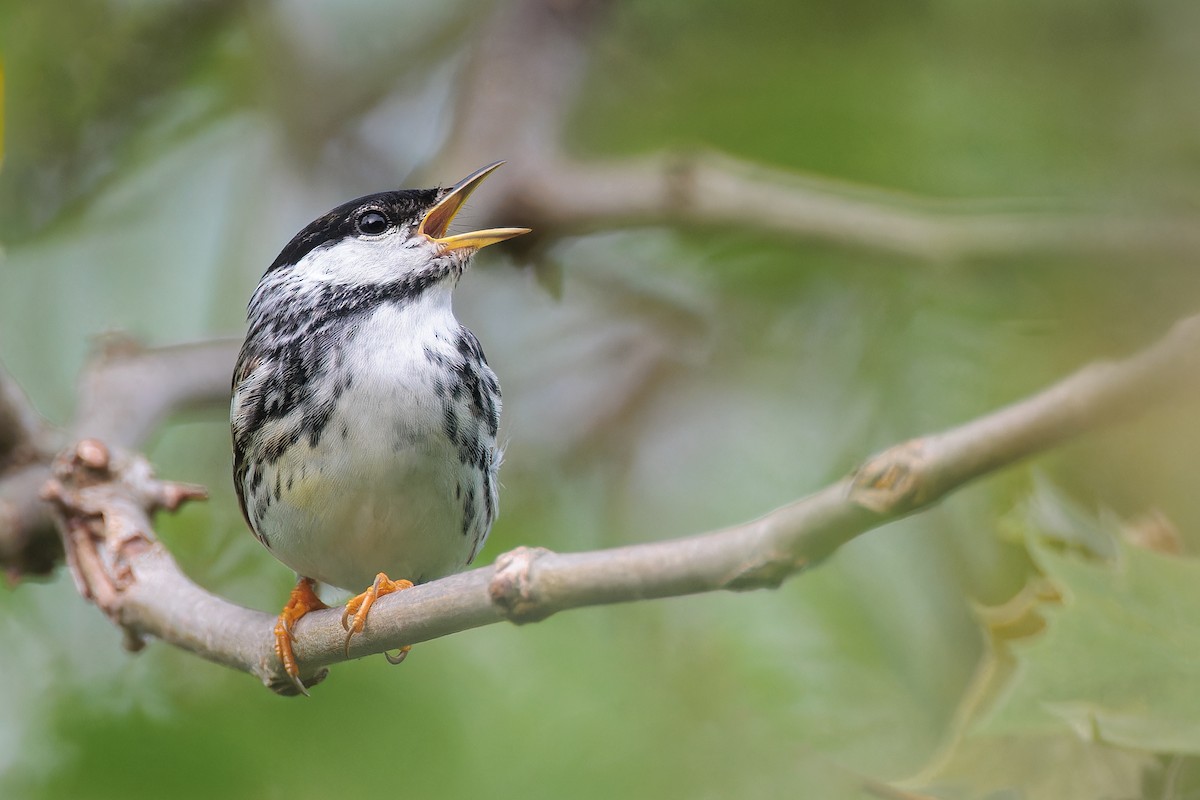 Birds have the power to inspire and unite. Every Global Big Day recognizes our connection to birds, nature, and each other. On Saturday, 13 May, more than 58,700 people joined together to celebrate birds for Global Big Day on World Migratory Bird Day. That's an astounding seven thousand more people who went birding compared to last year's Global Big Day.
Together, the global birding community reported 7,636 species of birds on nearly 150,000 eBird checklists. Almost half of those species were photographed and ten percent had their sounds recorded on Global Big Day. eBirders gathered more than 3.2 million bird sightings on 13 May, which are now freely available to support conservation and research worldwide. Never before has this much information about birds been gathered on a single day. This phenomenal achievement belongs to every single person who took part. Thank you.
These accomplishments are possible thanks, in large part, to the efforts of local and regional conservation groups around the world including the eBird portal collaborator network and the Global Birding team. We appreciate working with these inspiring groups. Thanks also to Carl Zeiss Sports Optics for their continuing sponsorship of eBirder of the Month, including the opportunity to win new Zeiss SFL binoculars by participating in Global Big Day.
Global Big Day by the numbers
647,000 people identified birds with Merlin Bird ID—the most ever in one day
148,270 checklists submitted (16,000 more than 2022)
58,756 eBirders from 199 countries (7,300 more people than 2022)
7,636 species recorded
72,561 photos of 3,667 species shared with the Macaulay Library
3,475 audio recordings of 894 species shared with the Macaulay Library
Explore more Global Big Day results
Our favorite part of Global Big Day is the stories—and, of course, the birds. From amazing travels and unexpected finds to shared moments of joy. Some people spend 5 minutes of birding and others are awake from midnight to midnight. No matter how you bird, we're glad to have you on the team. Here are a few highlights from this year's Global Big Day around the world.
Phenomenal Growth
This year saw a 14% increase in the number of people birding and 12% increase in checklist contributions over Global Big Day 2022. To the thousands of other people who joined eBird for the very first time on Global Big Day, welcome! We're glad to have you on the team.
https://twitter.com/Machinoise/status/1657543328823406597?s=20
We are continually inspired by the tremendous efforts from communities and groups in Colombia and Peru. Both countries continue to lead the way in not just total number of species, but also in community engagement. Efforts ranging from events hosted by local clubs to national-level media coverage got more people outside and birding in Colombia and Peru than ever before. Below are just a few of the many inspiring stories from Colombia and Peru:
https://twitter.com/cienperu/status/1658871645912563714
https://twitter.com/AcueductoBogota/status/1658577134854590464
For many, Global Big Day is an opportunity to try a new activity. One rapidly growing Global Big Day resource is the Sound ID feature in Merlin Bird ID. More than 397,000 people in the US, Canada, and Europe used Merlin Sound ID to help them identify bird songs and calls on Global Big Day, doubling last year's total.
For #GlobalBigDay trying Merlin for the first time from my deck on the very busy street I live on. I think it's very accurate, although I'm not sure I've ever seen a chimney swift. There are many in our area tho.
Lousy weather, but birders now have many ways to tap into birding! pic.twitter.com/Nnx8IOls2I

— Mary Gemignani (@MaryGemignani) May 13, 2023
If Merlin Sound ID is currently available in your area and you haven't tried it yet, start with these tips and best practices. Want to expand Merlin's Sound ID resource to more regions? Start by recording bird songs and calls and uploading them to your eBird checklists.
Exciting Finds
One of the thrills of Global Big Day is the chance of finding something unusual and exciting, either in your own back yard or far afield. Such was the case for Gary Allport and Jan-Erik Nilsen, who encountered Bangladesh's first reported instance of a West Himalayan Bush Warbler (this species is normally found in northern India, Bhutan, and Nepal) on Global Big Day.
Like many dedicated birders, Gary and Jan-Erik awoke well before dawn so that they could reach their first location in time to hear birds singing. "We got up at 2am," recounts Gary. "As soon as we arrived we had to shimmy round a pack of jackals that took a lot of interest in us in the darkness in order to get to the right area of elephant grass just as it got dawn."
In a stroke of luck, they managed to hear the distinctive song of the West Himalayan Bush Warbler within two minutes of their arrival. "I think we were mega lucky as all the warblers in Bangladesh have already departed so this must've been a late wintering bird or migrant," said Gary. "It was giving the full distinctive song and we got nice recordings."
"It was quite the joyous occasion," Gary said. "Thanks to you, as I suspect we probably would not have made the effort if it was not for Big Birding Day." See Gary and Jan-Erik's full checklist here.
Did you have a memorable birding moment on 13 May? Share it on social media with the hashtag #GlobalBigDay
The one that got away… For every lucky birding moment, there's another when you can't seem to find a bird no matter how hard you try. For Maine birders Doug Hitchcox and Ian Carlsen, that species was Killdeer.
We're calling it a day! We ended with 149 species, but not for a lack of effort trying to round it out. (Have you ever driven around city parks playing Killdeer calls at 10PM hoping for a response?) A super fun #GlobalBigDay with @ianalancarlsen! pic.twitter.com/lUBsOgPpJv

— Doug Hitchcox (@dhitchcox) May 14, 2023
We appreciate the dedicated efforts of every birder who continued submitting checklists long after sunset in an effort to find just one more species for the Global Big Day record books.
Shared Joy
Each Global Big Day is an opportunity to share the joy of birds with others. For children and teenagers, local activities on Global Big Day can spark a lifelong passion for birds. It's magical to see and hear the excitement of young people learning about birds and making their discoveries count for science.
#globalbirding #globalbigday2023 #GlobalBigDay
These little ones braved the wet day, 23 species seen at #bushbabylodge forest and farm.
Couldn't be more proud!#childrenoutdoors #childrenoutdoorsuganda https://t.co/WV7gdLSYOMhttps://t.co/KgLnS1rcP8 pic.twitter.com/1t6oPmpeiu

— Birding In Paradise (@BirdingParadise) May 14, 2023
As journalists at the Periódico del Meta put it, "Let's look at the world like these children who made #GlobalBigDay a great day of discoveries…"
Si no me miras así, no quiero nada…

Miremos al mundo como estos niños que hicieron del #GlobalBigDay un gran día de descubrimientos…

Cuando te miren así…ahí es. #FelizSemana pic.twitter.com/SjbhovJhb3

— Periódico del Meta (@PeriodicodMeta) May 15, 2023
Another way to share birds on Global Big Day is through eBird Trip Reports. The Cornell Lab's Team Sapsucker explored important conservation sites in California and Chile, two regions along the Pacific Flyway—a major migration route for more than one billion birds. See the results of their efforts in Team Sapsucker's eBird Trip Report for Global Big Day.
In Chile, Team Sapsucker was joined by partners from the Red de Observadores de Aves y Vida Silvestre de Chile (ROC). ROC's mission is to advance research, education, and greater interest in birds and nature in Latin America. We are grateful for the opportunity to collaborate with the dedicated ornithologists and naturalists at ROC and other conservation organizations who, together, work tirelessly to protect the bird populations we enjoy each Global Big Day.
The Cornell Lab's Team Sapsucker was one of just many teams and individuals around the world who shared their Global Big Day adventures with eBird Trip Reports. We highlight a few of these reports below:
A #GlobalBigDay2023 in northwest Mayo, because ( I suppose?) someone had to. Very pleased with 110 species in 15hrs of birding, with 6 more seen the day before or after. Not much time for pics, but the Corn Crakes were amazing & Purple Sand was a bonus.https://t.co/EPFZRebGcb pic.twitter.com/2YvK8SmHZd

— Mike Hoit (@MikeHoit) May 14, 2023
It's not too late to create and share your own Global Big Day summary. To get started, visit https://ebird.org/mytripreports and create a trip report for 13 May.
Thank You
A massive and heartfelt THANK YOU to everyone who submitted checklists on Global Big Day. eBird contains more than 1.4 billion observations of birds from 880,000 people, all thanks to your efforts. Your observations provide valuable insights into the lives of birds that help us to better understand and protect bird populations.
Global Big Day may be over, but there are lots of reasons to continue eBirding. From now until September, join the Cornell Lab of Ornithology and the New York Times in a project connecting scientists and eBirders around the world. Contribute valuable birding data from less frequently visited locations and share what you learn with the global community.
To get started, simply complete a short, free signup process. You don't need a New York Times subscription to participate. Then, keep birding and eBirding over the next few months until October Big Day—14 October 2023.
At eBird, every day can be a day for birds—a reason to step outside even for just 10 minutes to enjoy birds and share observations for science. Together we can help better understand, conserve, and enjoy birds for many years to come. Thank you for being a part of it.
---
More Results
TOTAL species by country

Colombia—1,530

Peru—1,454

Brazil—1,199

Ecuador—1,070

India—822

Bolivia—820

United States—740

Kenya—726

Venezuela—719

Panama—708

TOTAL checklists by country

United States—76,404

Canada—14,356

Colombia—9,862

India—3,455

Costa Rica—3,231

Peru—3,222

Venezuela—2,819

Chile—2,675

Brazil—2,570

Argentina—2,546

INCREASE in number of checklists over 2022

Dominican Republic—220%

Kazakhstan—175%

Iceland—105%

Sri Lanka—104$

Zambia—92%

Bhutan—91%

Taiwan—76%

South Korea—73%

Japan—66%

Germany—62%
TOTAL eBirders by country

United States—34,179

Canada—6,287

Colombia—2,831

United Kingdom—1,151

India—1,145

Australia—916

Costa Rica—908

Spain—873

Brazil—860

Peru—761

NEW eBirders by country

United States—1,535

Colombia—611

Canada—211

Peru—186

Chile—110

Brazil—103

United Kingdom—101

Costa Rica—89

Panama—82

Ecuador—66

INCREASE in number of eBirders over 2022

Dominican Republic—153%

South Korea—89%

Iceland—71%

Japan—54%

Nepal—51%

Kazakhstan—47%

Finland—46%

Paraguay—45%

Netherlands—44%

China—43%