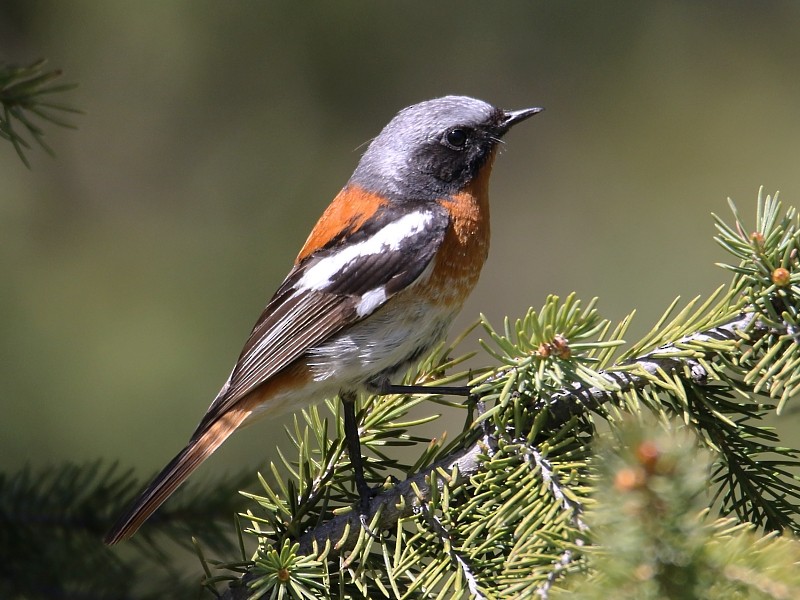 It's been just a little over three years since eBird and Macaulay Library partnered to give eBirders a place to permanently archive their photos and sounds. On 22 January 2019, eBirder and photographer Pavel Parkhaev from Moscow, Russia contributed the 10 millionth photo to the Macaulay Library! This is a huge milestone and a tribute to the fantastic birders and photographers that are adding media to checklists to strengthen records and build tools like Explore Species and Merlin Photo ID.
Parkhaev is an avid bird watcher and photographer who recently started using eBird and has already added photos of more than 250 species to his eBird checklists, many of which are historical checklists in regions with little eBird data. The 10 millionth photo came from an expedition to Kazakhstan in 2017 when he photographed this Rufous-backed Redstart. We sat down with Pavel for a little Q&A; read on to learn more about Pavel Parkhaev.
Q: How did you get interested in bird watching?
A: From my early childhood, I was fascinated by the amazing variety in nature. During my school years, this was expressed in the strong desire to go to the countryside, hike in a forest, or make river excursions. All these activities were usually accompanied by the observation of animals and plants, with collecting of shells, herbaria, minerals, or fossils. Some of these hobbies turned into a profession; I am a paleontologist and study fossil mollusks, their evolution, and systematics. Birds, as a wonderful object of nature, did not escape my childhood attention. In earlier years I was limited to observing larger species such as birds of prey, ravens, woodpeckers, gulls, and terns. Later in my student years, my friend, a biologist, presented me with his binoculars, and this opened up a new wonderful world of smaller birds including warblers, flycatchers, thrushes, and finches.
Q: You have been bird watching in a lot of places, do you have a favorite birding destination or favorite bird?
A: My profession takes me on numerous expeditions and scientific trips to other regions and countries of the world. Whenever possible, I try to combine scientific work and my fascinating hobby—bird watching. I do not have a particular favorite birding destination. I always get excited both by the modest charm of my native East European birds, as well as by the variation in color and shape of subtropical and tropical birds, for instance, in Australia or South Africa.
Q: You submitted checklists from many hard to reach places with few bird watchers. What is it like to watch birds in those places?
A: From time to time I try to participate in special birdwatching trips to remote regions of Eurasia, e.g. in mountains or deserts of Kazakhstan, to the Altai mountains, or East Siberian taiga. Such trips not only bring new bird species to my life list but also usually result in new scientific information about the distribution of species or subspecies, about the time and routes of their migrations, and other ecological data.
Q: Why do you use eBird?
A: From this point of view, eBird is a wonderful tool for sharing this information very rapidly with other birdwatchers and professional ornithologists. Everyone from the huge world community of bird lovers should be thankful to team eBird for their efforts in literally immortalizing their contributions to ornithology.
Q: How has eBird helped you? For example, did it help you connect with other bird watchers or did it help you become a better bird watcher?
A: Of course, the wonderful eBird database works in the opposite direction as well. Every birdwatcher can use the information about species occurrence in the space and time for planning his/her trips or just to get an idea what can be seen in the area that he/she plans to visit tomorrow, next week, or in a year.
Q: What would you say to people who have not used eBird but are thinking about using eBird?
A: Many of my birdwatching friends here in Moscow are now using the eBird website and mobile applications. And for those who still do not use eBird, I would say, "Just try it! And you won't be able to stop using it for your future activities." Definitely, the number of birdwatchers in Russia is growing rapidly and I am sure that in the coming years the information on the birds in the largest country that still have large blank areas will be substantially supplemented, also to a significant extent, thanks to the eBird!
Q: Your photos are amazing. What is your secret to getting amazing shots?
A: Bird photography is a separate field in birdwatching. I think that almost all birders desire to keep a memento that captures the wonder of seeing interesting species or a particularly beautiful bird to share it later with colleagues and friends. On the other hand, photos can be important from the scientific point of view, since sometimes photos can help with the determination of tricky species and plumages, or the photo can prove to be an unusual but important record. Because of that, I usually go birdwatching with my camera equipped with a telephoto lens. I suppose that practice is the most essential thing in getting nice photos. After months and years of photographing birds, a person can learn the camera features and its tuning, optics theory, and usage of light condition to improve the photos. On the other hand, you'll also learn bird behavior, a species favorite habitat, and their tolerance to a human to help you get better shots. A number of books with general hints as well as thorough instructions on how to take photos of birds can be found in bookstores and on the web. So anyone can study the subject to the desired depth. I can only say that patience and endless passion for nature exploration will always ensure a nice result. But please, behave so that you do not become the last person who saw a particular bird in a particular place. Take care that this joy will be possible for others! Happy birding!
Team eBird and the Macaulay Library would like to extend a huge thank you to Pavel for his contributions!