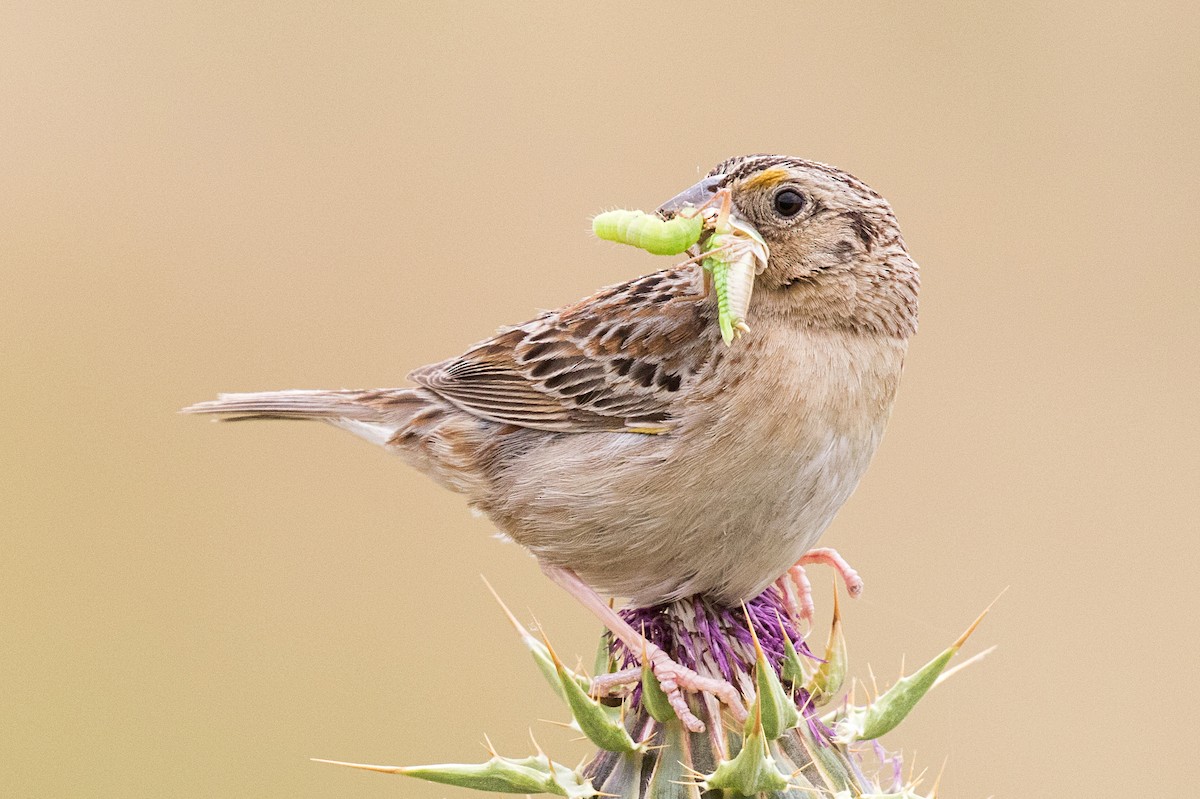 Grasslands make up a small part of New York's landscape, but hold a number of species specific to the habitat—including several that are rare and of conservation concern. This guide is designed to help you find grassland birds while atlasing, providing crucial information for land management and conservation.
Quick Links
---
Planning your grassland atlasing
When you head out atlasing, it can be useful to have a plan, including which grasslands you want to target.
One of the quickest and easiest ways to find a grassland habitat near you is to use the Atlas Species Maps. Go to the Explore section of the NY BBA III and search for a common grassland bird, such as Savannah Sparrow or Bobolink. Locations with reports of these species indicate some kind of grassland potential: often a good spot to look for rarer species!
You can also look at a satellite image to find grasslands. Grassland habitats stand out as rectangular patches of solid green or tan, often together in a patchwork (see map). If you see a house in the middle of a green patch, it's likely to be a lawn and probably doesn't support many birds. Fields near roads are easiest to access (just bird from the road). If they're farther from roads, use a landowner letter to request access.
Grassland habitats vary from grasslands and wild meadows to croplands, pasture, and old fields.
---
Finding grassland birds
Different types of grasslands hold different species—see below for species-by-species summaries of what to look for.
Grassland birds are often very vocal, and atlasing by ear is a great way to initially find species. This is good because they are often hidden out of sight in the vegetation when they aren't busy singing or displaying. Many grassland species also sing at night, sometimes primarily at night. Detecting species at night can be a good way to know that a species is present, especially for species with songs that are harder to hear, like Grasshopper or Henslow's Sparrow. If you detect a bird at night, it's best to return during the day to try and observe other behaviors that indicate breeding.
Because the dense vegetation makes it hard for the birds to see each other, most species perform courtship with elaborate flight displays over the fields where they are not only easily observed by potential mates, but by onlookers as well. Other higher behaviors you are likely to observe include carrying nesting material, carrying food, feeding young, and recently fledged young.
We do not advise trying to find nests. Grassland birds and their habitats are sensitive and it is easy to trample their nests if you go traipsing through the field.
---
Species tips
The below tips cover the majority of grassland-focused species in New York, and focus on optimal habitats, the optimal time of year to search, and what sound(s) and behavior(s) to watch out for. There may be other habitats and behaviors that aren't described, but the below descriptions are effective and efficient approaches for atlasing.
Species that are endangered, threatened, or special concern should be well documented and, optionally, submitted to the NY Natural Heritage Program.
Upland Sandpiper (threatened)
Northern Harrier (threatened)
Barn Owl
Short-eared Owl (endangered)
American Kestrel
Horned Lark (special concern)
Sedge Wren (threatened)
Eastern Bluebird
Grasshopper Sparrow (special concern)
Clay-colored Sparrow
Field Sparrow
Vesper Sparrow (special concern)
Savannah Sparrow
Henslow's Sparrow (threatened)
Bobolink
Eastern Meadowlark
Dickcissel
---
Conserving Grassland Birds
Over the last 60 years, grassland breeding birds have declined throughout North America. Breeding Bird Survey data show that over 90% of grassland bird species in New England have shown negative population trend estimates, while none show positive trend estimates. The 3 Billion Birds Lost report noted a 53% population loss in grassland birds since 1970, more than any other species group. Between the first two New York State Breeding Bird Atlases, the statewide distribution of grassland breeding birds declined, with the distribution of five species declining by over 50 percent. Clearly, grassland birds need our help, and your atlasing helps map grassland birds across the state. Thank you!
Learn More