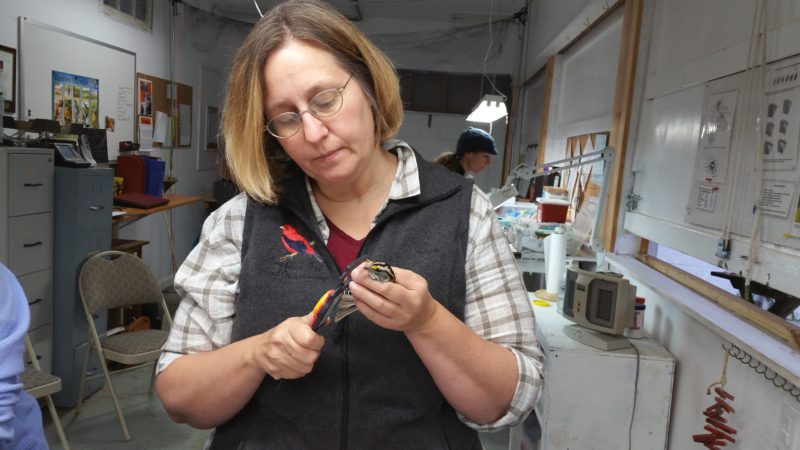 The individuals behind the atlas effort are just as interesting as the birds we're observing. Every atlaser brings a distinct set of talents to the project, and there is no single "type" of person who gets involved. This month's spotlight features Regional Coordinator, Andrea Patterson. You may have met her if you've recently visited the banding station at Braddock Bay Bird Observatory.
Name:
Andrea Patterson
Hometown or county:
Originally from Fargo, ND; now based in Rochester, NY
Role in the atlas:
Regional Coordinator, Western Region
How you started birding:
I've always enjoyed birds, but it wasn't until my daughter showed an interest that I began actively seeking out opportunities for us to learn about birds. We started volunteering at the Braddock Bay Bird Observatory in 2009, where we spent most of our weekend mornings birding "in the hand." It took several more years (and a smartphone with eBird Mobile!) before I really started birding with binoculars on a regular basis.
Favorite birds:
Ugh, I hate this question! Blackpoll Warblers are amazing, and I could watch Black-capped Chickadees all day long. I like listening to Mourning Doves in the country at dusk, and I love young White-throated Sparrows that don't quite know how to sing. I'm obsessed with flycatchers because they molt in weird ways, and Tufted Titmice are just so sassy. But then there are guillemots and turacos and pauraques . . . I don't know how anyone can choose! It's probably most accurate to say that my favorite bird whatever bird I just saw.
Motivation for being a Regional Coordinator:
I'm an organizer at heart, and any day I can get people outside looking at birds is a good day.
Prior atlasing experience:
I'm completely new to atlasing, but I've worked for many years on a summer bird banding program that includes observing and recording breeding bird behaviors.
What you are most excited for in the third atlas:
Getting outside and finding some birds – and encouraging other people to do the same.
A favorite non-bird thing to do:
Quilting, craft cocktails with my birding buddies, table top games (Wingspan, anyone???)