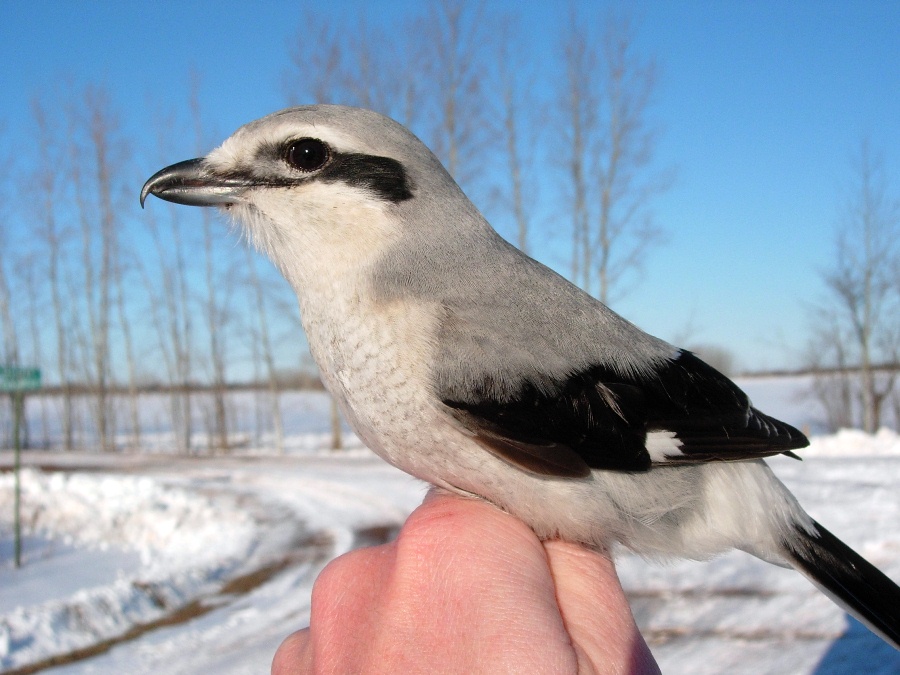 In northern Wisconsin, a female Northern Shrike has returned to its winter territory near Ashland for at least an eighth consecutive year, making her at least 8.5 years old and the oldest Northern Shrike ever known in North America. Read on to experience her unique story, as told by researcher Ryan Brady.
In cooperation with Dr. James Paruk (formerly of Northland College), I have been casually researching winter ecology of Northern Shrikes in the Chequamegon Bay area of Ashland and Bayfield Counties since the winter of 2004-2005. During that time I've trapped and banded 125+ individuals, giving each bird 1-2 color bands in addition to a standard aluminum federal band. These color bands allow for field identification of individual birds without recapture and are invaluable to understanding territory establishment, site fidelity, survivorship, migration phenology, and more.
On 17 March 2006, the second year of our project, Northland College student Justin Walker and I trapped an adult female shrike in vicinity of the Ashland airport, giving her a white band on the left leg and a dark blue band below the metal band on the right leg. Little did we know at the time how special this bird would become! 

The following winter she returned to the same territory where captured and spent at least 4.5 months there. In fall 2007, she returned yet again and, very interestingly, was seen on November 1 closely associating and interacting with a hatch-year bird, perhaps even her own offspring.
In winter 2008-2009, we initiated the first of a two-year radiotelemetry project investigating home range size and movement patterns. On 20 January 2009, I trapped a shrike on the west end of downtown Ashland and was stunned to discover it was this bird, several miles from where she had previously been detected. We deployed a small radiotransmitter and tracked her for about 6 weeks, only to discover she was using a huge area (~6 square miles) that was 3.5 times larger than the average of all birds we monitored and included both her usual territory and urban areas of Ashland. This was probably related to a lack of voles in her usual field haunts coupled with a wealth of irruptive birds (crossbills, siskins, etc.) in town that year.
After a summer in Canada, where her transmitter had fallen off (as designed), I spotted her again on 19 December 2009. She spent the rest of that winter, now at least her fifth here, on her regular territory near the airport with no evidence of frequenting town again. Winter 2010-2011 produced more of the same. By spring she was a record 6.5 years old.
By 2011-2012 I became skeptical of her return but was excited to visit her territory come fall. This time there was little suspense as I found her on the somewhat early date of October 28.
Which brings us to this winter of 2012-2013. After many failed attempts, I found a shrike in the heart of her airport territory on December 27. A look through the spotting scope confirmed an adult female and when the bird refused to enter my enticing trap, this was all the evidence needed to know the bird's identity. Subsequent observations of her bands – still intact after all these years – sealed the deal. She had returned to the same winter territory for at least the eighth consecutive year! Now at least 8 years, 7 months old, she has easily eclipsed the previous longevity record of 3 years, 3 months for this species as maintained by the USGS Bird Banding Laboratory. 
At this point I have come to "know" this bird – her distinctive plumage, favored hunting perches, and overall demeanor. Even without color bands I'm convinced I would know if I saw her. Likewise, I'm guessing she has probably come to know me all too well. On my end, it's a relationship I hope continues for at least a few more years. I can hardly imagine a winter without her!
Text & photos by Ryan Brady, ryanbrady10@hotmail.com
All data, text, and images copyright Ryan Brady 2013. All rights reserved.