eBirder Effort
After an incredible surge in checklist submissions during 2020 —Wisconsin eBirders submitted 40,0000+ checklists more than in 2019 — a dip in submissions was anticipated in 2021.  Surprisingly, the dip did not happen.  In 2021 Wisconsin eBirders submitted 190,000+ checklists, beating the previous high by approximately 20,000 checklists!  Milwaukee and Dane County birders were neck and neck all year long on the species totals front. We ended the year with 283 Milwaukee and 282 Dane species  — either total would have set the all-time county year record if it weren't for incredible 293 mark put up by Dane County birders in 2020.  The 350 species observed in 2021 is the third highest in the eBird era after the 354 reported in 2020 and 2014.  

 The Birds
Birders kicked off the year with 131 species on New Year's Day!  Holdover rarities from 2020 included a surprising number of lingering Spotted Towhees.  A cooperative individual is also present through the end of the year in Brown County.  In a typical year, Wisconsin is lucky to get one or two records of this western species.  
Winter Finches from the fall 2020 super-flight lingered in good numbers throughout the winter.  This included reliable Evening Grosbeaks in the south for the first time in decades.  Take a look at the 2020 year in review for more info on the finch super-flight.  
Eurasian Tree Sparrow continues its steady march north and east from its core range near St. Louis, MO.  
Notice how this species filled out the map in Northwestern Illinois (below).  Good numbers of this species are massing at the border.  In December 2021 one observer found 10 Eurasian Tree Sparrows in Northwestern Winnebago County, IL  — roughly 10 miles from the border.  It seems like only a matter of time before this species is regular in the southern tier counties.  In 2021, Wisconsin had records from Dane, Green (high count of 4), Trempealeau, Ashland, Bayfield, Door, and Clark.   

Perhaps unappreciated as a vagrant trap are the grass and dirt exposed by snowplows following substantial winter snowstorms.  This year one such spot turned up Wisconsin's first photographed Sprague's Pipit.  
Varied Thrush continues as a rare but regular visitor.  This year was a bit above average with birds in Waukesha, Marinette, Marathon, Sheboygan, and Monroe.  
Slaty-backed Gulls continue to be annual visitors to the state.  This Asian gull turned up in Ashland, Dane, Dodge, and Jefferson Counties this year.      
Continuing the trend of above average numbers of western species, Cinnamon Teal were present in six counties this spring. 
Smith's Longspur is found almost annually in Dane Co., but is rarely found anywhere else in the state.   
This year Pacific Loons showed well with records from Waukesha, Douglas, Ashland, and Bayfield Counties.   
Barn Owls were confirmed breeding in La Crosse.   The state's first breeding record since 1999.  This species also bred just across the border in Wabasha, Minnesota.  The Minnesota birds were noted flying into Buffalo Co., WI as well.  Finally, a dead bird was found in Price Co. 
Perhaps the rarest regularly occurring owl in Wisconsin is Burrowing Owl.  One visited Cat Island Causeway (restricted access) in Brown Co. for a few days in late April.  
Ruff are becoming nearly annual with records in every year since 2012 except for 2018 and 2015.  There were two records in 2021.  One at the Horicon Marsh in Dodge Co. and another (below) in Walworth Co. 
Golden-crowned Sparrow observations are on the rise.  Two long staying birds in 2020 were followed this year by a breeding plumaged bird in Chippewa Co.   
Blue Grosbeak's breeding range continues to move north.   Now a rare but regular breeder in Wisconsin with breeding at least possible this year in Sauk, Ozaukee, and Dane (new location).  A vagrant was a pleasant surprise for Bayfield Co. birders in early May.     
Brown Co. birders continued a nice spring run with Black Vulture and Western Sandpiper observed on the same May day.  
Black-throated Gray Warbler is showing well of late with five records in the last three years.  This year's observation came from Milwaukee Co.  
Swainson's Hawk was another western species present in above-average numbers.  Diagnostic pictures were taken of this species in Sauk, Portage, and Burnett (At least 2 birds) Counties — written documentation was submitted from a few others.  
Wisconsin picked up a single first state record in 2021.  An Arctic Loon was located in early June by Bayfield Co. birders and lingered off and on for a few days giving distant looks to a handful of birders.  To get an idea of just how crazy this record is  — take a look at the June eBird Map for Arctic Loon.  The closest records are in Western Alaska and Iceland!     
Townsend's Warbler is another nearly western warbler trending towards annual visits.  This year one was spotted in Dane in early June.    
After Swainson's Hawks in early June, the Crex Meadows area of Burnett Co. hosted a White-tailed Kite from mid-June through late August.  This is the second White-tailed Kite record for Crex Meadows (2021).  After August reports dried up only for the the bird to be relocated in mid-October!  
Herons, egrets, and kites are known for dispersing in mid to late summer after breeding.  This early July Wood Stork in Rusk Co. was certainly on the early edge of post-breeding dispersal.  Wisconsin's record (the northernmost of 2021 in North America ) fit a larger pattern, with records in our area from Minnesota, Michigan, Ohio, and Southern Ontario.  This is one of only a handful of records for the state with most coming from the 1800's.   
July brought Wisconsin's sixth Snowy Plover record.  This bird was found in Milwaukee Co.  
Late summer through fall are typically the best times for pelagic species in Wisconsin.  Rare, but regular is Long-tailed Jaeger.  This bird was found not on Lake Superior, but 10-15 miles south on a small inland lake.    
Late August brought Wisconsin's second Magnificent Frigatebird record along Lake Michigan in Milwaukee Co.  It is worth noting Wisconsin has other frigatebird records, but most could not be identified to species.  
Sabine's Gulls are nearly annual here, but birds are typically in juvenile plumage.  This year birders at Wisconsin Point in Douglas Co. were treated to two adults.  Wisconsin Point is the most reliable location for this species  — less expected was a bird in Dane Co.    
Unusually cooperative was a Pomarine Jaeger at Wisconsin Point.  This species lingered from late September through early November.    
It was a good fall for Black-legged Kittiwake with above average numbers on the Great Lakes.  Wisconsin had records from five different counties.  
Red Phalaropes were observed in Sheboygan and Dane Counties this year.  
The birding highlight of the year for many was a late November Ross's Gull on the Wisconsin-Minnesota border in Pierce Co.  This was Wisconsin's second record.  
In December the rarities continued with a Say's Phoebe in Sauk Co.
The last rarity of the year was Wisconsin's third Tufted Duck–found in late December in Milwaukee Co.  
The Numbers
2021 Species by County
2021 Checklists by County
The Birders
Top County Totals – 2021 Species (Threshold 200):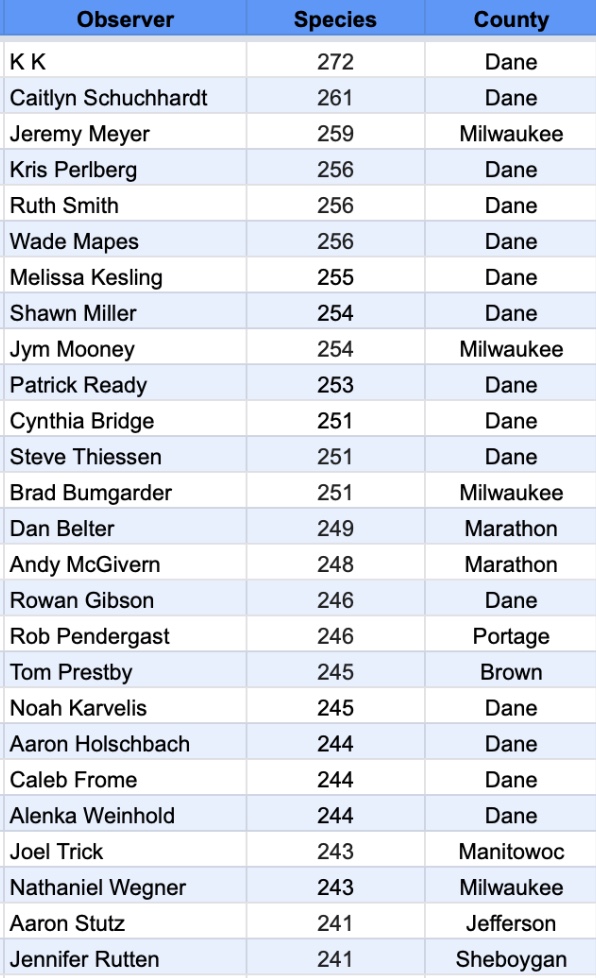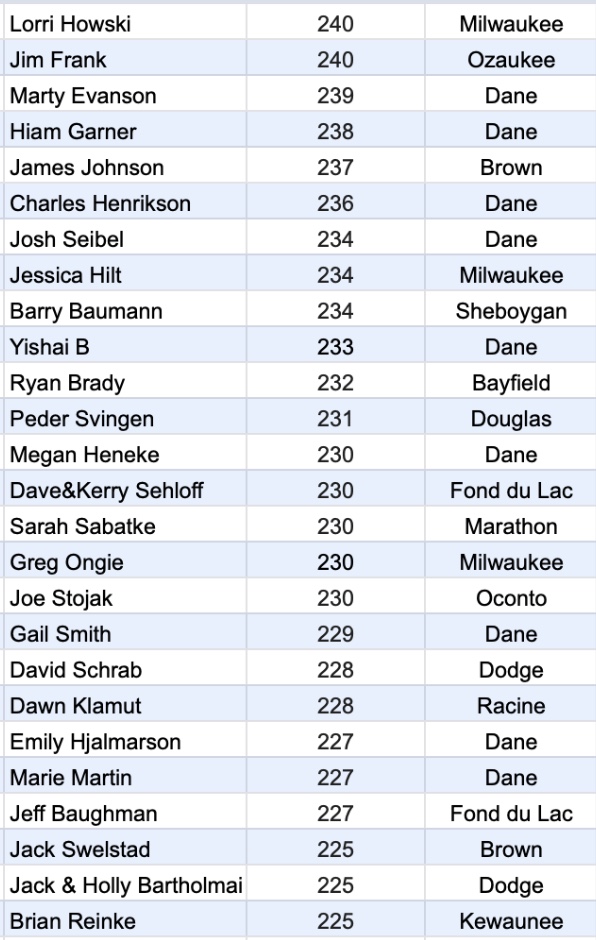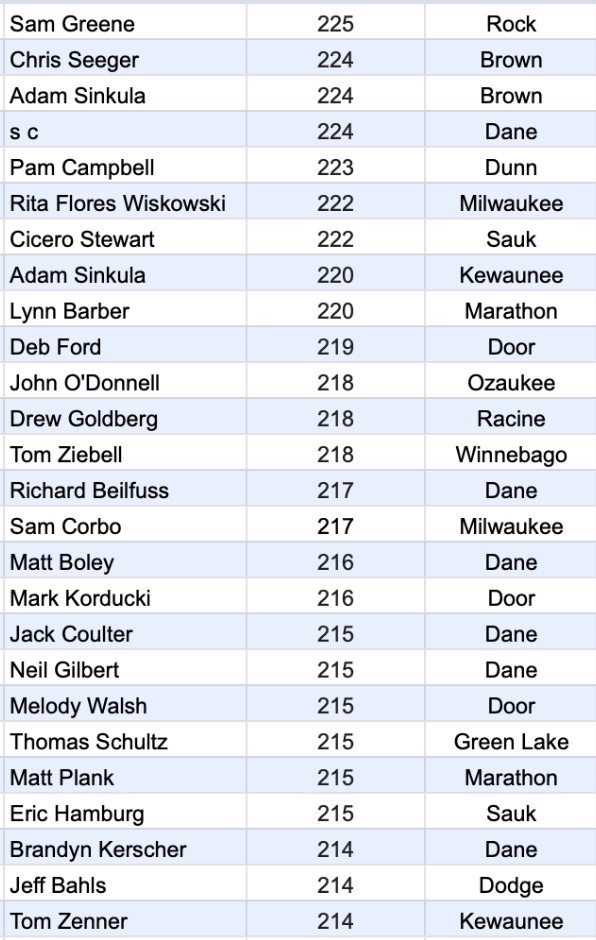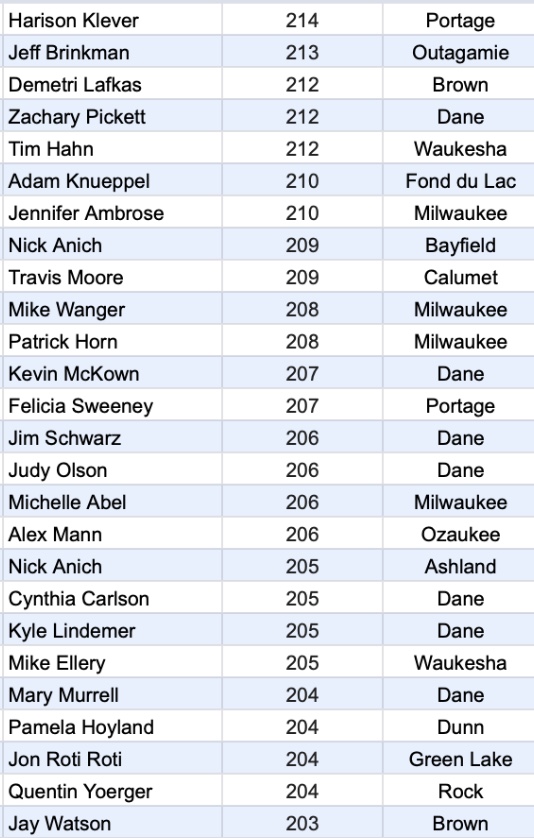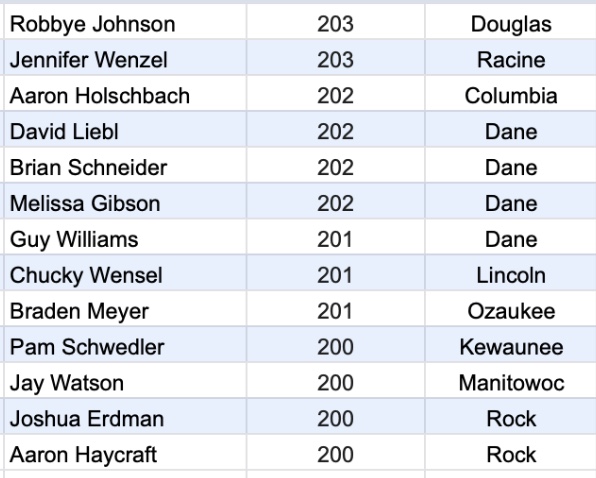 In 2021, 117 birders matched or exceeded the 200 species threshold.  A bit lower than the 128 in 2020 as birders likely traveled more after COVID restrictions were relaxed.  The last two years were significantly higher than 2019 (66) and 2018 (68).  41 of the slots were occupied by birders from the eBirding juggernaut of Dane Co.  The all time high in the eBird era is Neil Gilbert's 286 species in Dane County (2020).  Well done county eBirders and congratulations to K K for topping this year's list!  
The 2021 Wisconsin Local Patch Challenge (WLPC)
In 2021, 12 birders surpassed the 200 species threshold in their home-centered patches.  This is the second highest total in the short history of the Patch challenge (14 in 2020).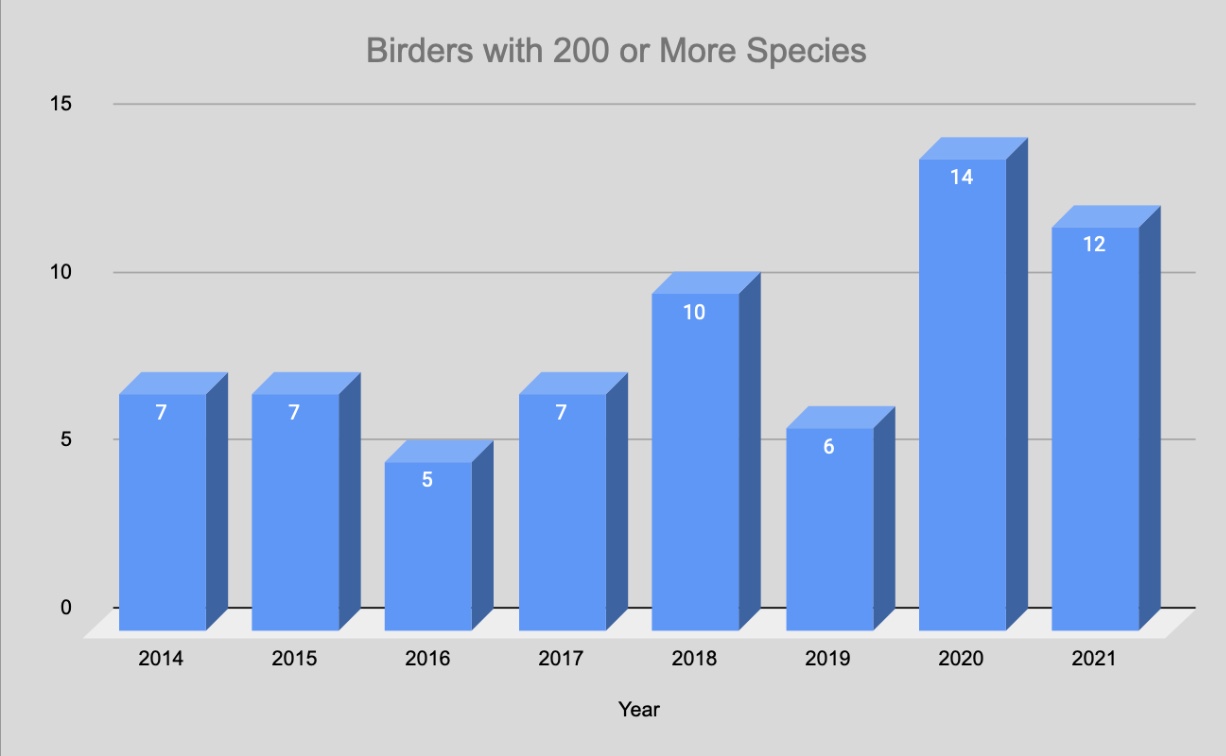 For the uninitiated the Wisconsin Local Patch Challenge is a way to standardize patch birding.  Each patch listed is a 7.5 mile radius circle (or smaller) centered at the birder's home.  Congratulations to Shawn Miller for the year's highest total!  
Below are the 2021 Wisconsin Local Patch Challenge Participants and their year totals (threshold 150 species):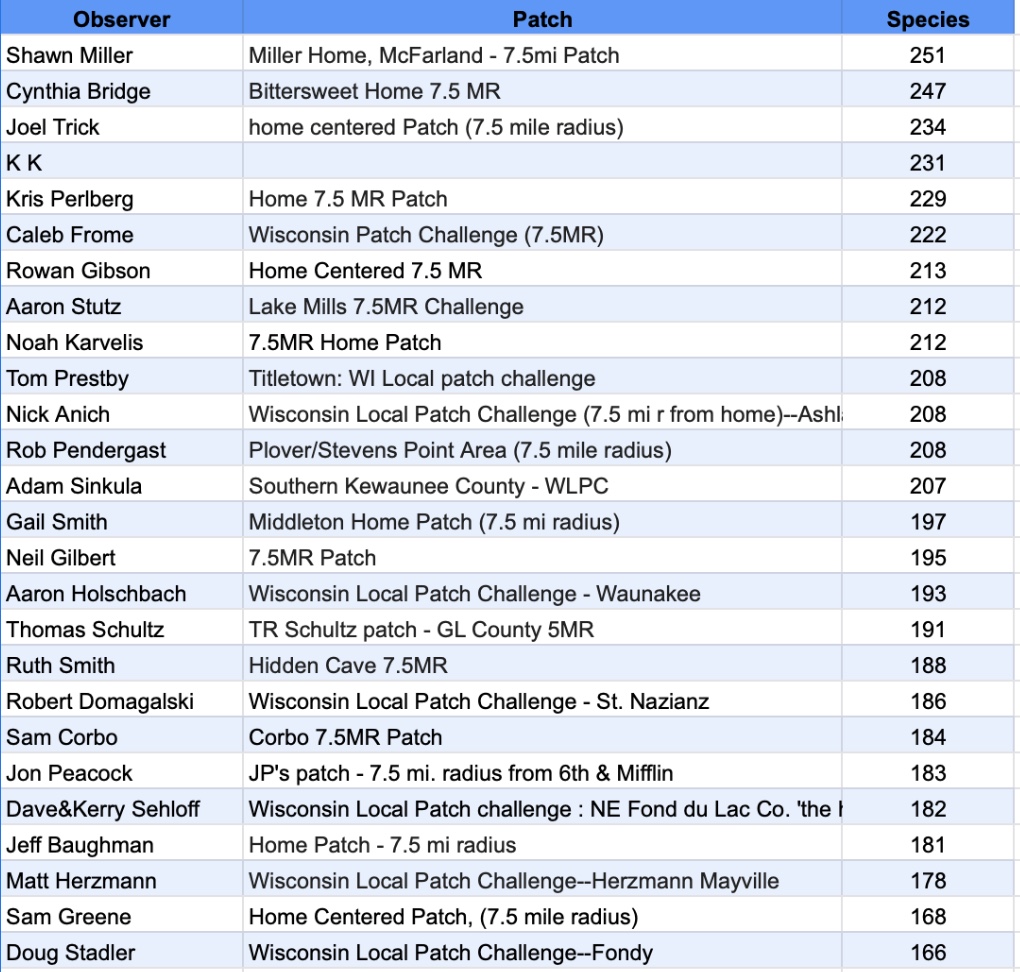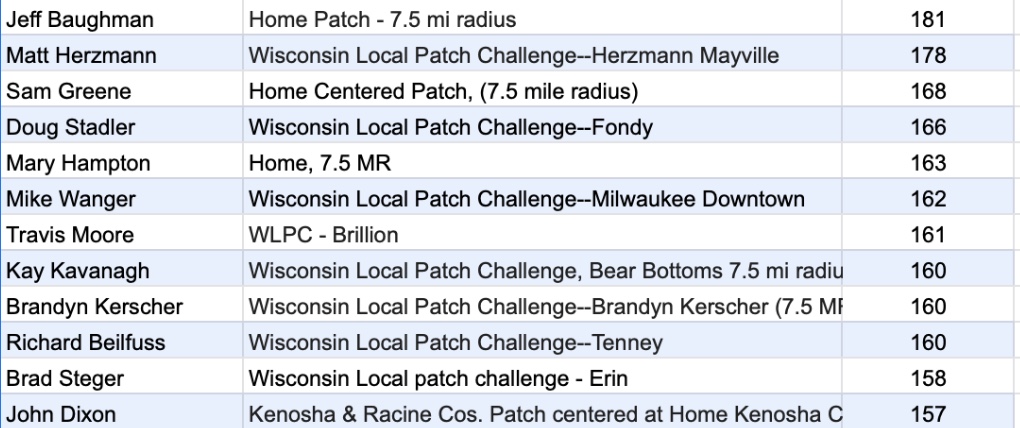 Errors and omissions are unintentional.  Corrections are welcome.  
Aaron Stutz
agstutz@sbcglobal.net