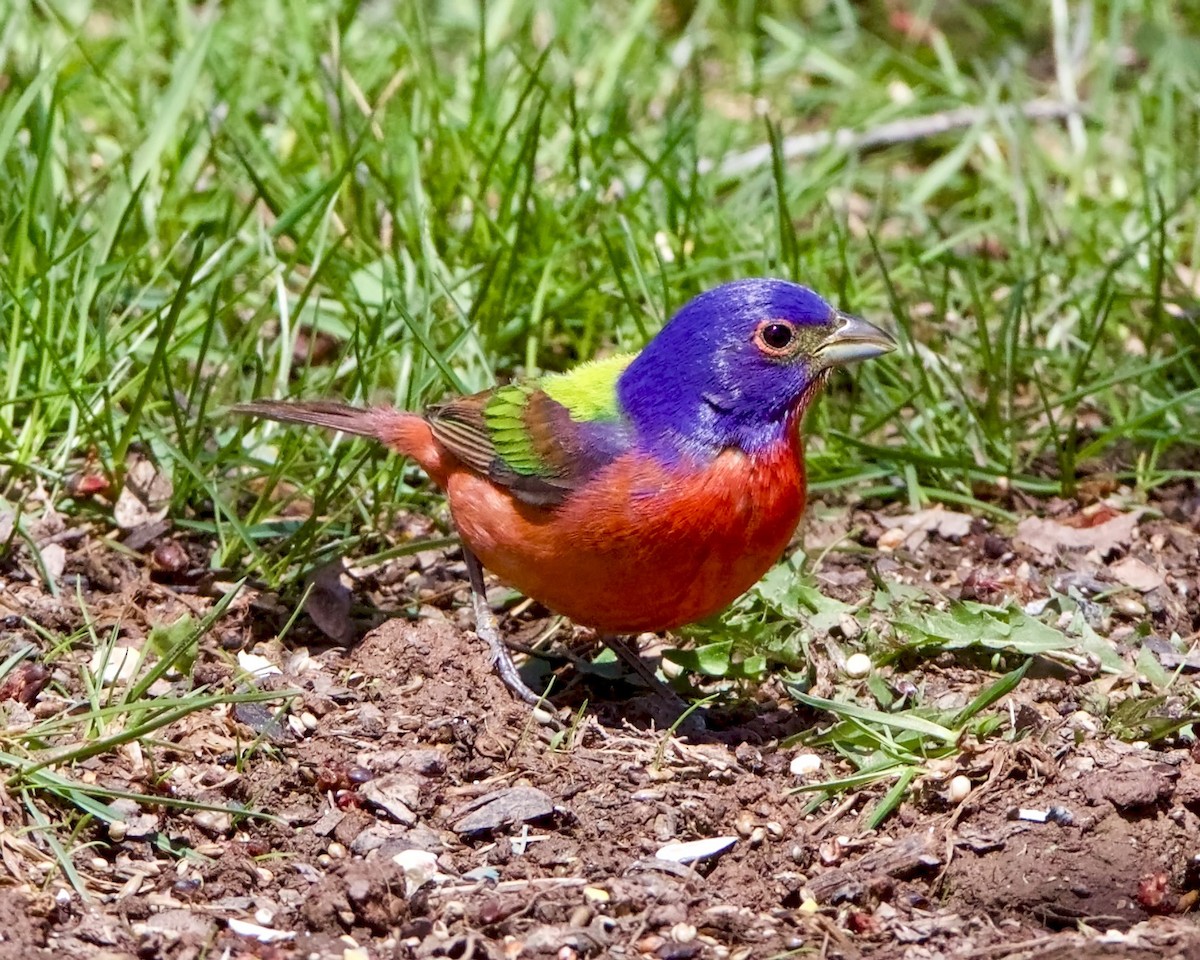 Each year we use this space to summarize the efforts of Wisconsin's eBirders. Continue reading to see some of this year's rarities, species and checklist totals by county, and a list of top county and local patch challenge birders. Enjoy!
eBirder Effort
In 2019, Wisconsin eBirders observed 331 species — a few species may be added after the state's records committee finishes their voting. This is the lowest total since 2010 which also had 331 species. To find a year with fewer species, you have to go back to 2003, which was the second year of eBird. In 2003 the platform had not yet been widely adopted by the state's birders.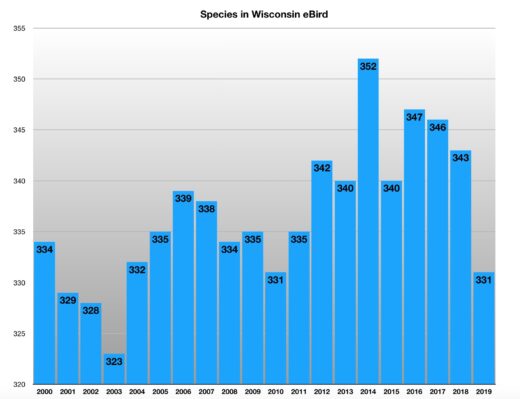 The 126,000+ checklists submitted in 2019 eclipsed the totals from the past two years—113,000 in 2018 and 97,000 in 2017.
The Birds
On January 1st, Wisconsin eBirders ventured out into the field. Collectively they found 116 species including continuing typical rarities like Townsend's Solitaire, Harlequin Duck, and Harris's Sparrow.  Also present was a special holdover from 2018 — the lingering first state record of Hammond's Flycatcher.
As winter took hold rarities were hard to come by. Notable both as a range-expanding rarity and as a possible breeder for the on-going breeding bird atlas, were 4 Eurasian Tree Sparrows along the Illinois border (Lafayette Co.) in February.
This species was also observed in Manitowoc in May, and in Clark Co. in March accompanied by an apparent House x Eurasian Tree Sparrow hybrid.
On this apparent hybrid, eBirder Anne Geraghty noted the "small black chin, white cheeks and white collar like [Eurasian Tree Sparrow], but [diffuse] black spot on cheek [and] crown had the rufous tone and gray center of a [House Sparrow]".
April brought the first Black-bellied Whistling-Ducks of the year.
The second largest flock ever found in Wisconsin was in Outagamie Co. in May (8 birds) and a bird lingered in Dane from September 3–15.
A few records of this species (also expanding its range) are now expected annually, but this was not always the case. Wisconsin's first record came in 1998. What's next for this species? How about breeding in Wisconsin? In mid-September incredible pictures of Black-bellied and Fulvous Whistling-Ducks with young in Monroe Co., IL (near St. Louis) appeared on the ABA Rare Bird Alert Facebook Page. Breeding records in Illinois make records of single birds at Horicon NWR in late July and late August all the more intriguing. Horicon NWR hosted the state's first breeding Black-necked Stilts and Glossy Ibis. Is Black-bellied Whistling-Duck next?
Also notable at Horicon NWR was this Ruff on April 21–22.
Wisconsin's first Scissor-tailed Flycatcher of the year was spotted on April 21 in Racine Co., another was spotted on Washington Island, Door Co. in June, followed by the bird below in Manitowoc Co. in early October.
A Colorful Invasion
In what was arguably the highlight of the birding year, May and early June brought  unprecedented numbers of three eye-popping rarities.
Prior to 2019 Wisconsin had one record of Hooded Oriole (La Crosse Co. in 2004). 2019 had three records — Washington and Bayfield Counties in May and Brown County in early June. It is likely the Bayfield and Washington records were of the same bird—similar undertail and white in the wing. There was a late April bird in Denver, CO, but no other observations foreshadowed this species arrival in Wisconsin.
Before 2019 only 2009 had more than one eBird record of Painted Bunting (2). In 2019 there were six reports in eBird (Rock, Ashland, Washington, St. Croix, Douglas, and Milwaukee Counties).
Lastly 2019 brought Wisconsin eleven Western Tanager records. The previous high was six in 2013 and 2014. Ten of the eleven records were in a narrow window from May 4 to May 11.
Here is the Western Tanager map in a typical year (2018)
Contrast it with 2019:
The 2019 map appears to show eastern birds reorienting to the west—note the birds in Minnesota, North Dakota and southern Manitoba.
A Good Day for Gulls
On May 26 gull expert Amar Ayyash found nine(!) gull species on the Sheboygan Lakefront. Most unusual was this California Gull.  To see all the other species on Amar's checklist click here.
2019 was a good year for California Gull, which can hide in plain sight in flocks of Herring Gulls.  This species was reported in Ozaukee, Sheboygan, Douglas and Pierce Counties.
Atlasing and Island Rarities Revisited
In the 2015 Wisconsin eBird Year in Review we used this space to highlight concentrations of rarities on the Apostle Islands and islands off the Door Peninsula. Not much has changed in subsequent years—as previously mentioned there was a Scissor-tailed Flycatcher on Washington Island in June. While Atlasing this summer Anne Geraghty spotted Piping Plover, Northern Mockingbird, American Pipit, Northern Goshawk, Long-eared Owl, and this White-winged Dove on the Apostle Islands.
LeConte's in Summer
LeConte's Sparrows had a banner year in the northern part of the state.
Most years this species can be difficult to detect.
In 2019 this species was more widespread and numerous.
Wisconsin Breeding Bird Atlas II Complete!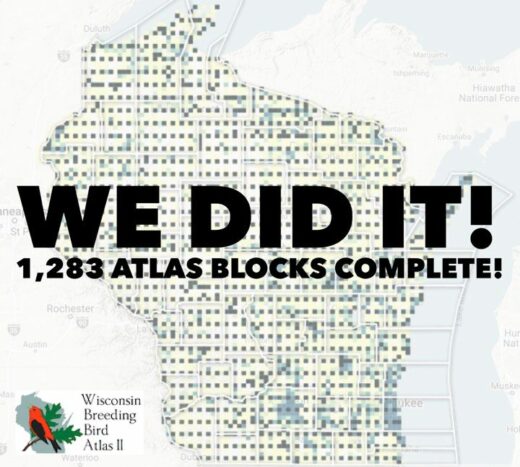 On August 12 the following appeared on the Wisconsin Breeding Bird Atlas Facebook Page:
We started this season with 500 blocks left to finish. But thanks to your energy, dedication, and grit, all 1,283 priority and specialty Atlas blocks in Wisconsin have been marked complete!

We can all be proud of this phenomenal effort, representing the work of more than 2,000 people and five years of data collection. THANK YOU FOR MAKING IT HAPPEN!
Here is a summary of the final season with notes on what comes next.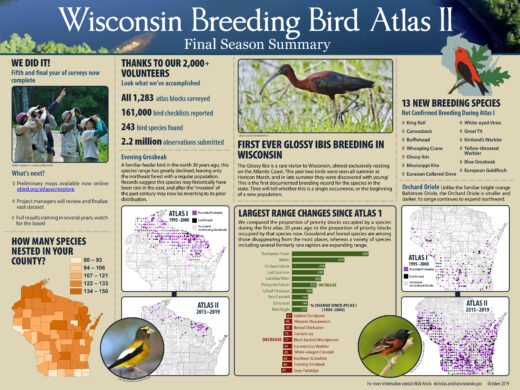 After all blocks were complete eBirders kept atlasing. Aaron Haycraft simultaneously picked up a new breeding confirmation for the state and atlas with this family group of Glossy Ibis at Horicon NWR.
You can explore the data from Atlas I and Atlas II here.
Remember, atlas data collection has now closed, so all your bird checklists from 2020 onward (until we start WBBA III in 2035 [yikes!]) should be submitted in the "regular" portals (www.ebird.org/wi or just www.ebird.org ).
Fall
Wisconsin's low species total for the year is largely due to a slow fall for rarities. A number of vagrants were spotted in nearby states/provinces, but were never found in Wisconsin. Black-throated Sparrows were in spotted Minnesota, Michigan and Ontario. Cassins's Sparrows were observed in Minnesota, Ontario and New Hampshire. Ancient Murrelet, King Eider, and Cassin's Kingbird were all spotted on or near Lake Michigan in Illinois. Lastly a long-standing nemesis for state birders, Yellow-billed Loon was observed in North Dakota, South Dakota, Nebraska, Oklahoma, and Iowa.
That said rarities were not entirely absent this fall.
A Townsend's Warbler was spotted on September 1 in Door.
Townsend's Warbler has a well-established pattern of vagrancy in the east. This year was better than normal—Newfoundland had a unprecedented 18+ records.
Wisconsin has only seven records of Black-throated Gray Warbler—two came in 2019.
One bird was found in Waukesha Co. on September 20, while the other was spotted in May in Ozaukee Co. Incidentally the same Ozaukee Co. yard hosted the state's only record of Buff-bellied Hummingbird in 2017.
Every year the volunteers at the Cedar Grove Ornithological Research Station band and count birds—with a focus on raptors and owls. The volunteers have spotted many rarities over the years—Swallow-tailed Kite, Blue Grosbeak, Prairie Falcon, Black-billed Magpie, Anhinga, Mississippi Kite, Black-legged Kittiwake, and Gray Vireo.
Swainson's Hawks are nearly annual in Wisconsin. On October 14 the CGORS group were fortunate to band a juvenile bird.
On December 2 a Eurasian Wigeon was spotted at the Upper Mississippi River NWR—Shady Maple Overlook in Vernon Co.  
The state gets about 2–5 records of this species annually. This year there were also records from Chippewa and Douglas Counties.
Worth mentioning, on November 24, 2017 a male was spotted at nearby Goose Island — perhaps the same bird.
Tanagers Revisited
Last year we used this space to highlight the counterintuitive nature of tanager distribution in Wisconsin from November through March. Summer is overwhelmingly the most expected species with Western Tanager a distant second.  Prior to 2018 Wisconsin had ZERO Scarlet Tanagers in this window. Fast forward to December 2019 in Milwaukee County, both Summer and Scarlet Tanagers were present. Is this the beginning of a new pattern?  Only time will tell.
The Numbers
2019 Species Data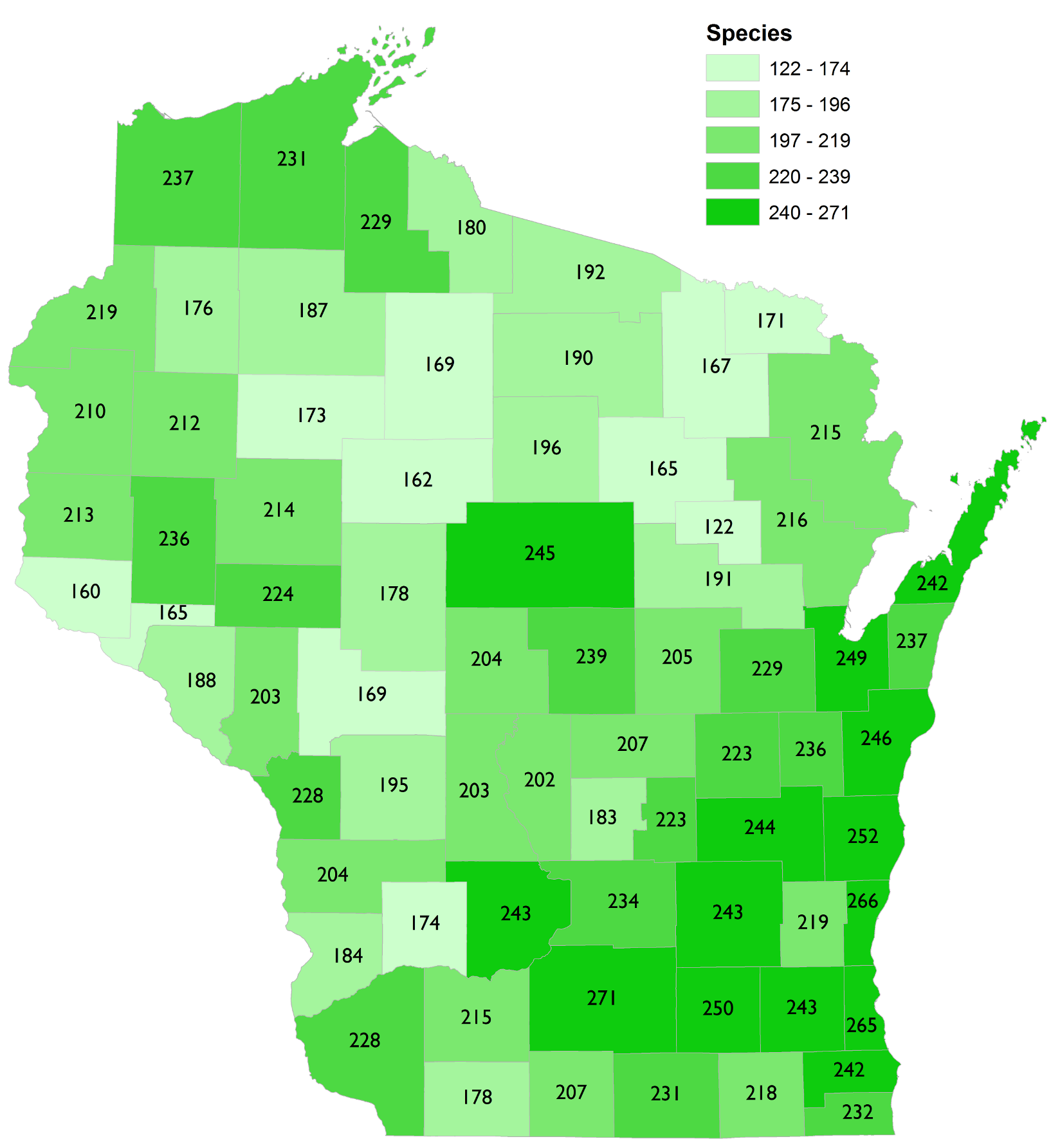 2019 Checklist Data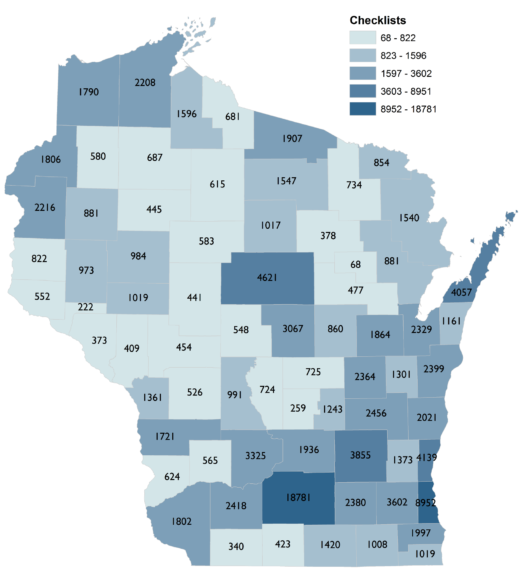 The Birders
Top County Totals – 2019 Species (Threshold 200)
In 2019 66 birders matched or exceeded the 200 species threshold—continuing the trend on the Wisconsin birding scene of birding locally. In 2018 the number was 68. This year's high total of 247 species is one lower than the high from the past two years. Well done county birders!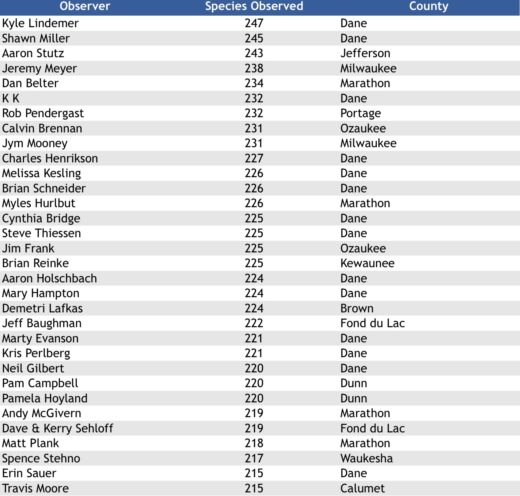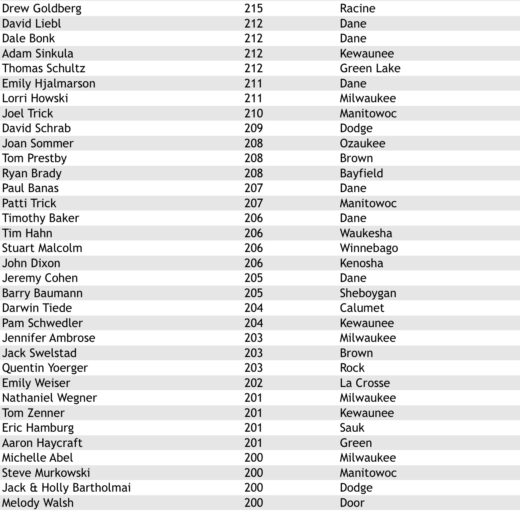 The 2019 Wisconsin Local Patch Challenge (WLPC)
In 2019, 6 birders surpassed 200 species in their patches (versus 10 in 2018, 7 in 2017, 2015, and 2014, and 5 in 2016). For the uninitiated the Wisconsin Local Patch Challenge is a way to standardize patch birding.  Each patch is a 7.5 mile radius circle centered at the birder's home.
Below are the 2019 Wisconsin Local Patch Challenge Participants and their year totals (threshold 150 species):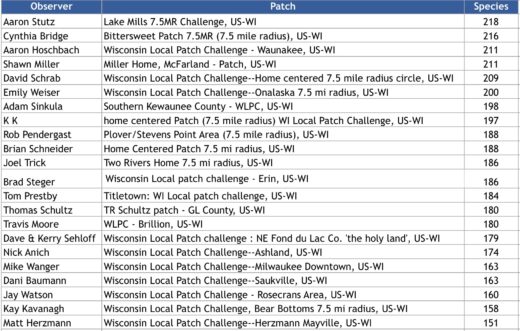 Thank you all for your contributions to Wisconsin eBird! Your contributions continue to deepen our understanding of bird distribution across Wisconsin.
Omissions and errors are unintentional. Corrections are welcome. Please contact:
Aaron Stutz
agstutz@sbcglobal.net