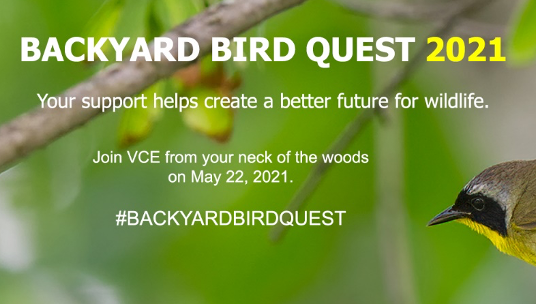 On May 22nd VCE will celebrate the much-awaited spring migration during Backyard Bird Quest 2021, a 24-hour effort to record all the bird species we can find in Vermont. With luck and good weather, our backyards and neighborhoods will yield an impressive diversity of species. We'll certainly need your help to reach our aspirational goals for 325 birders across the state to submit 1,000 Vermont eBird checklists reporting 200 species!
Sounds like fun, right? Participating is easy, from wherever you are in Vermont.
If you can spare at least 10 minutes, go outside and look for birds, then report your observations to Vermont eBird online or with the free eBird Mobile app. If you have more time, submit checklists of birds throughout the day at different times. You never know what you might spot. Your observations help us better understand Vermont bird populations through products like these amazing animated abundance maps brought to you by eBird Science using data collected by bird watchers like you!
How to participate
Vermont Backyard Bird Quest Pro Tips
Birding our backyards engages us in the wonder and diversity right at our fingertips while deepening our connection to place. VCE's Backyard Bird Quest team, the Green Mountain Goatsuckers, are looking forward to the adventure that awaits us right out our front doors, and we hope you'll join us from right out yours. However you choose to participate, have fun and share what you see. In our world, every bird counts.