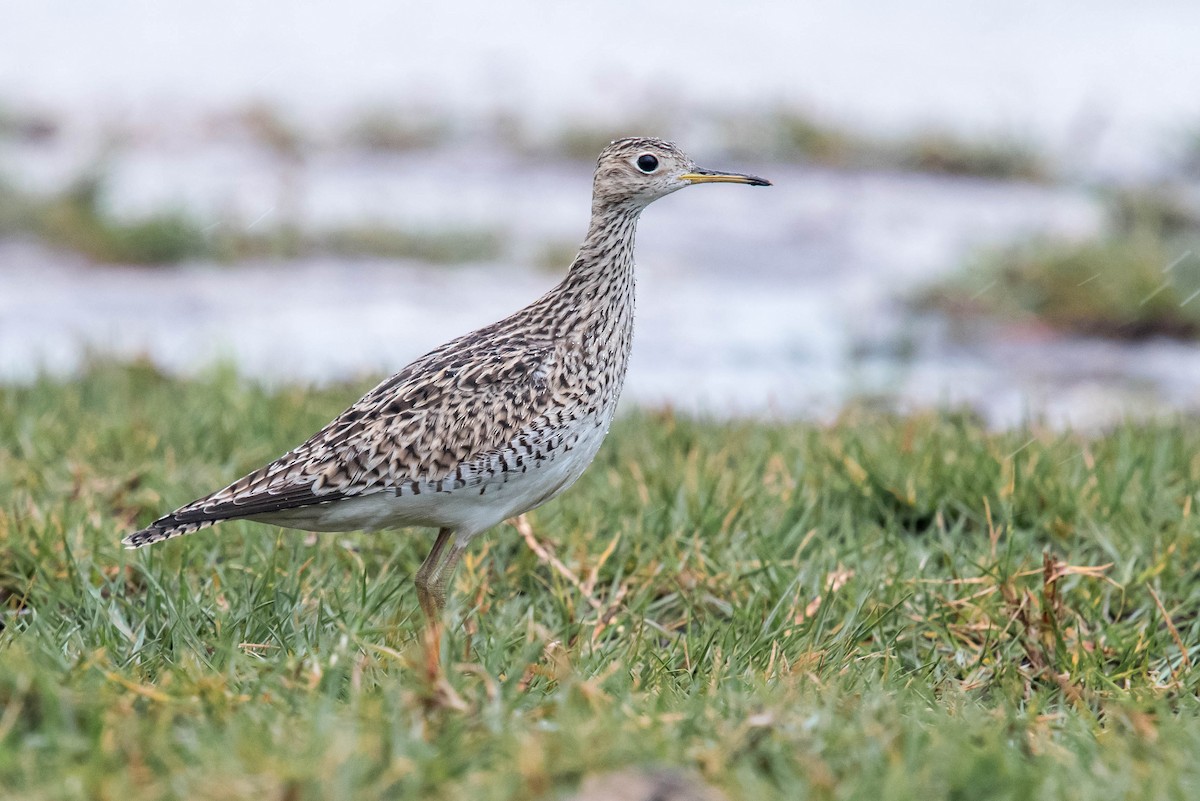 The Washington Department of Fish and Wildlife (WDFW) is preparing a periodic status review for the Upland Sandpiper, and they need your help!  This rare shorebird species has traditionally nested in grasslands (including agricultural areas) in Spokane County, Washington, but there have been few observations in the last decade.  To include the most current information in the periodic status review, WDFW is looking to data from eBird to help determine if and where birders see this species in 2018.  WDFW is also interested in historical records not previously submitted to eBird or WDFW. If you have new or historical records for Upland Sandpipers, please submit them to eBird Northwest.
To view all eBird records for Upland Sandpipers in eastern Washington, click here and then zoom in on the Spokane area for specific locations. The majority of eastern Washington's records come from three general areas in Spokane County: two areas near the Idaho border (Newman Lake, North Idaho Road) and one area to the west of the city of Spokane (West Deno Road) (Figure 1).
Newman Lake. Upland Sandpipers have been recorded within the wetland/agricultural land along North Starr Road, from just north of North Murray Road to the southern end of Newman Lake. Wetlands off the northern end of the lake may also be worth exploring.
North Idaho Road. This area has seen increased development in recent decades, but some grassland/agricultural land extends south along North Idaho Road from Highway 290 about one mile and has supported Upland Sandpiper sightings in the past.
West Deno Road. The most recent observations of this species come from this area. Additional grassland/agricultural land may be accessible from this road network.
Other grasslands may also support Upland Sandpipers. Examples include the grasslands near the Spokane airport, and agricultural areas in western Spokane County and possibly eastern Lincoln County, near Reardan.  If you visit any of these areas, please respect private property.  Do not enter private property unless you have direct permission from the owner.  The county roads mentioned above should provide sufficient access to all areas.
Upland Sandpipers arrive in late April and early May.  Most observation records from Washington come from May, and substantially fewer are from June (Figure 2).  If you are visiting these areas during May or June, please be alert to the possible presence of Upland Sandpipers.  These birds do not gather in flocks on the breeding grounds and are inconspicuous.  They perch on fence posts or ride the wind high above and proclaim their territory or attract mates with their distinctive rising and falling whistled song; their call is also distinctive (https://macaulaylibrary.org/asset/42220).
If you see an Upland Sandpiper, or if you visit grasslands in Spokane County during May and/or June 2018, please contribute your valuable survey data to eBird Northwest.