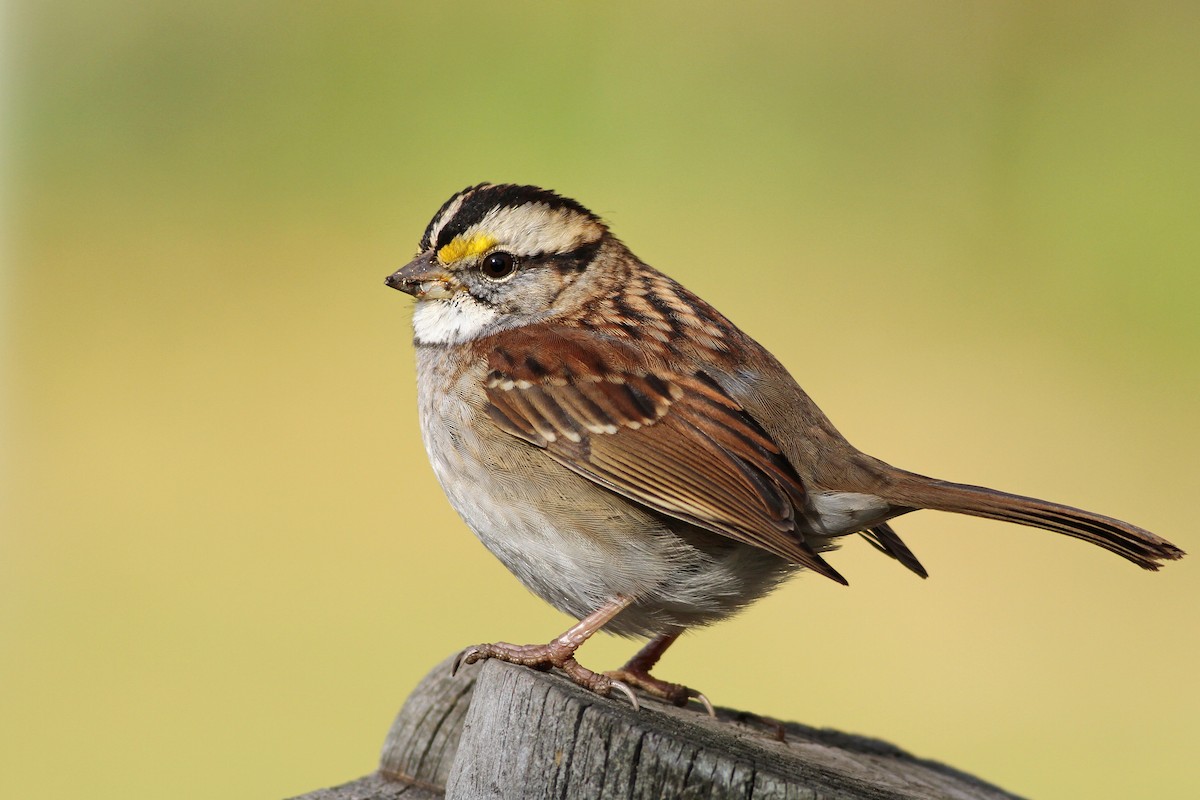 The sweet song of the White-throated Sparrow drifts through forests and meadows all summer long across Canada, the northeastern U.S., and the northern Midwest. Field guides tell us that the song they sing sounds like Oh-sweet-canada-canada-canada or Old-Sam-Peabody-Peabody-Peabody. 
But, Dr. Ken Otter, from the University of Northern British Columbia, Canada, and colleagues recently discovered that some White-throated Sparrows are changing their tune. Now the sparrows are singing Oh-sweet-cana-cana-cana, a new dialect, dropping that extra syllable.
Dr. Scott Ramsay, from Wilfrid Laurier University in Waterloo, Canada, and co-author on the study first heard the shortened song in British Columbia and figured that the song was specific just to that population. But the team was curious if birds from other parts of Canada were singing the shortened, stuttered version of the song, so they set out to record White-throated Sparrows in different regions. To their surprise they found more and more individuals were singing the two-syllable ending in western Canada than before, but even more surprising is that when they recorded birds from eastern Canada, they were also singing the new tune. 
To figure out when and where the new song started popping up, they turned to sound collections like the Macaulay Library. The sound collection in the Macaulay Library has recordings dating back to 1929 providing researchers with an excellent opportunity to track changes over time. They listened to hundreds of songs from across the U.S. and Canada including songs recorded by William Gunn dating back to 1951. From these recordings they began to see when and where the transition to the new song started happening. 
The change in song, Otter and colleagues found, happened over a remarkably short time. In 2000 the two-syllable ending was found only in western Canada, but by 2019 birds as far east as Algonquin Provincial Park in Ontario were all singing the two-syllable ending. Now the three syllable song of the field guides is only heard in the far eastern populations of White-throated Sparrows. 
How did the eastern birds learn this new song? Western sparrows and eastern sparrows overwinter in the same area where young birds learn the new song and bring it back to the breeding grounds. 
Otter and colleagues found that song dialects can change over a period faster than previously thought. This change was observable thanks, in part, to community scientists who archived their recordings with the Macaulay Library. Otter's team used 306 recordings from 150 Macaulay Library contributors. This study also demonstrates the value of sound collections. What other interesting discoveries are waiting to be uncovered in the Macaulay Library? 
Read the paper in Current Biology or read more popular press from the NY Times, The Atlantic, or NPR.
Thank you to all of the recordists who archived their recordings to help make this research possible. 
Aaron Marshall
Alexis Lamek
Amy Swarr
Andrew Sibbald
Anne Armstrong
Anne Mytych
Arthur Allen
August Mirabella
Ben Evans
Benjamin Clock
Blaine Carnes
Bob McGuire
Brad Walker
Brian Collins
Brian Henderson
Brian Shulist
Cameron Eckert
Carey Bergman
Carole Swann
Caroline Biel
Charles Duncan
Charles Shields
Cheryl Ring
Chris Pierce
Christopher Gunn
Chuck Berthoud
Clark Trauterman
Colin Sumrall
Craig Provost
Curtis Marantz
Damon Haan
Daniel Jauvin
Darrell Peterson
David Eberly
David Kazdan
Dennis Mersky
Devin Johnstone
Dominique Bayne
Ed M. Brogie
Elissa Weidaw
Eric Cormier
Eric Michael
François Martin
Fyn Kynd
G & B
Geoffrey Keller
Georges Lachaîne
Glen Chapman
Glenn Hodgkins
Gordon Dimmig
Gordon Green
Guillaume Charette
Gustav Holtz
Gustino Lanese
Guy Babineau
Hendrik Herlyn
Hope Batcheller
Jack Foreman
Jason Parrish
Jay McGowan
Jeff Ellerbusch
Jeff Hullstrung
Jeff Shenot
Jeff Wella
Jeffery Roth
Jeffrey Offermann
Joanna Reuter
Jocelyn Lauzon
Joel Tilley
John Beetham
John Meredig
John Richardson
John Woods
Jon Blumenthal
Julie Tremblay
K Springer
Kai Frueh
Kelly Krechmer
Kent Miller
Kevin Kincaid
Krzysztof Bystrowski
Larry Therrien
Laura Gooch
Laure Neish
Lisa Casler
Lisa Hoffman
Lori McCollister
Louise Venne
Luis Mendes
LynnErla Beegle
Malinda Chapman
Mark Brennan
Mark Dennis
Mark Dennis
Mark Robbins
Martin Wall
Mary McKitrick
Matthew Medler
Matthew Schenck
Michael Andersen
Michael Woodruff
Mickey Ryan
Mike Beck
Mike Russum
Miles Buddy
Nancy/Mike Dowd
Nick Kachala
Nick Tepper
Oliver Hewitt
Oliver Lindhiem
Pamela Ford
Pat Lucas
Paul Droubay
Paul Marvin
Peter Kellogg
Peter Quadarella
Phil Brown
Phil Green
R.O Monaghan
Rachel Hudson
Raphaël Nussbaumer
Reid Rumelt
Richard Littauer
Robert C Stein
Robert Furrow
Robert Gagnon
Robert Robinson
Roy Pilcher
Sam Wijeratne
Sarah Taylor
Scott & Jill Tansowny
Sean O'Brien
Shelly Wa
Steven Biggers
Sunil Thirkannad
Suzanne Filteau
Takayuki Uchida
Thomas Davis
Thomas Koffel
Thomas Mudd
Tim Schadel
Tom Johnson
Tom Nolan
Tom Preston
valerie heemstra
Wilbur Hershberger
Wilcox Family
Will Sweet
William Gunn
William Hull