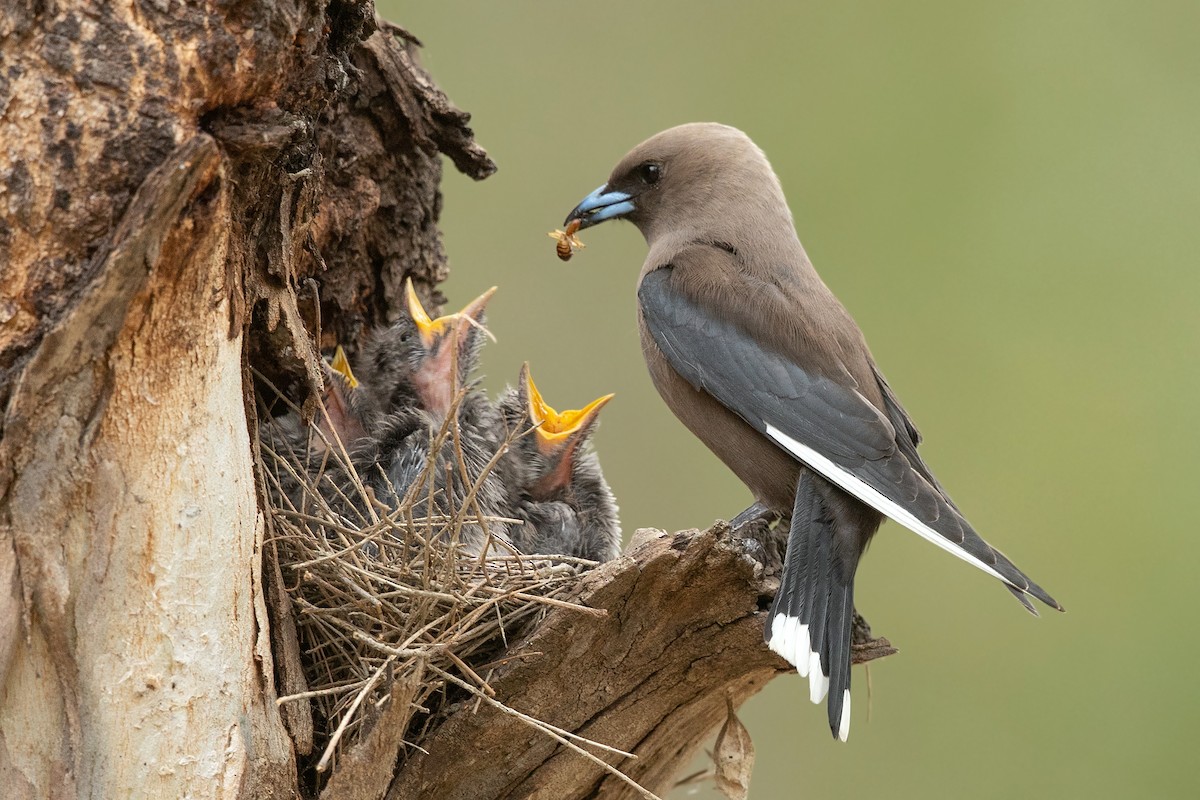 On 17 October more than 32,000 birders from around the world ventured out into backyards and beyond to enjoy birds for October Big Day, joining from 168 countries with more than 460 eBirders in Africa, 1,800 in Asia, 2,300 in Europe, and 3,900 in South America. This global team, united by birds, found an astounding 7,097 species in one day, breaking the world record for the most species reported in a single day.
This year's October Big Day was special in many ways, thanks to unique partnerships around the world. As always, the eBird portal collaborator network inspired and engaged new and vibrant communities, and we're so honored to work with each and every group represented there. Huge thanks also to Carl Zeiss Sports Optics for their sponsorship of eBirder of the Month, including a generous opportunity to win Zeiss SF32s by participating in October Big Day.
This year's October Big Day was also a part of the first-ever Global Bird Weekend: the biggest weekend for birding in history. Tremendous thanks to Global Birding, Birdlife International, and Swarovski Optik for making Global Bird Weekend possible. There is no way that October Big Day could have reached these new heights without the partnership with Global Bird Weekend, and we can't wait to see what future years of collaboration bring. Thank you.
October Big Day's very first checklist was submitted by Dominik Maximilián Ramík at 12:04am in Vanuatu. A Pacific Golden-Plover and a Barn Owl were among the first birds Dominik and his team reported. From then, the checklists started pouring in with reports of Common Ostrich by Team Tanzania, Variable Sunbird by Rwenzel Samuel, Summer Tanager by Andres Herrera Gonzalez— eventually tallying the preliminary result of 7,097 species on a single day from nearly 78,000 checklists contributed by birders worldwide. The day ended with nocturnally calling White Terns and Tristram's Storm-Petrels reported by Jonathan Plissner from Midway Atoll.
https://twitter.com/global_birding/status/1318538038058700800?s=20
By the end of the day, the global birding community had joined together for the biggest day in birding history—surpassing the 7,060 species from Global Big Day 2018!
---
October Big Day by the numbers
32,239 people went birding
77,967 checklists submitted
7,097 species recorded
53,432 photos submitted to the Macaulay Library
1,208 audio recordings submitted to the Macaulay Library
Explore more October Big Day numbers
 Below we've highlighted some fun themes and stories shared by you, the global birding team.
---
First Big Day
For many people October 17th was their first Big Day. 4,434 participants submitted their first eBird checklist on Saturday—please join us in welcoming them to our global birding team.
Mireia Lúa participated in their first Big Day from Spain with 8 checklists and 47 species, including a lifer that brought them more joy.
Kathi Marston submitted her very first checklist on her first ever Big Day. On Instagram Kathi shared, "even though I just walked down to the park by my house, I also got a new-to-me Bird ID a female Blue-winged Teal." Congratulations Kathi.
Day Scott also participated in her first Big Day with perfect fall weather in Wyoming. The highlight of her day was seeing a Ruby-crowned Kinglet.
Vicky Capitano had a lot of fun on her first October Big day on Vancouver Island, and Susan Myrland's first October Big Day was an exhausting but fulfilling day of birding around Palm Springs, California.
My 1st @Team_eBird #OctoberBigDay was fun and exhausting. Started at Whitewater Preserve, then Big Morongo Canyon where I saw this adorable Oak Titmouse, caught a Vermilion Flycatcher in Palm Springs' Demuth Park and wrapped up with 156 Mallards at Palm Desert's Civic Center Park pic.twitter.com/x0xnMgJPFM

— susan myrland (@susanmyrland) October 19, 2020
---
No matter the weather… 
Birding is full of surprises—one thing that always keeps us on our toes is the weather. This year, birders across the 167 countries encountered sub-zero temperatures and fresh snow, fog, and rain, as well as stunning sunrises, beautiful fall foliage, and clear skies.
October Big Day was the wettest October 17th in Quebec since 1996. But 37 mm (1.5 in) of rain didn't deter 35 members of Club des Ornithologues du Bas-St-Laurent from submitting 235 complete eBird checklists—15% of all checklists in Quebec that day.
In often foggy conditions, 74 species were recorded in Iceland today with rarities incl the 3rd Red-eyed Vireo of the autumn and three Yellow-browed Warblers. This pair of Gyr Falcons on a lava stack was as Icelandic as it gets! #GlobalBirdWeekend #Globalbirding #OctoberBigDay pic.twitter.com/hFryh0zHSX

— Birding Iceland (@BirdingIceland) October 17, 2020
Fresh snow and -15 C wind chill greeted me on my #OctoberBigDay. Massive Snow Goose flight across southern Alberta today, along with good numbers of Tundra Swans – including this colour banded individual.#GlobalBirdingWeekend #eBirdCanada https://t.co/vbuLq0DJQP pic.twitter.com/TB1seBiuTO

— Jody Allair (@JodyAllair) October 17, 2020
https://twitter.com/mastysanchez/status/1317532302902251520?s=20
–
---
Birds on the move
October Big Day is a great time to document the amazing spectacle of migration. Long Point Bird Observatory in Ontario, Canada was able to document this impressive gathering of several million migrating Common Grackles and Red-winged Blackbirds. On the opposite side of the world, thousands of Hudsonian Godwits recuperated in Los Lagos,Chile after their long journey from the Arctic.
The River of blackbirds has arrived. This is why we bird #LongPoint. Happy #OctoberBigDay. Up to 10 million Common Grackles and Red-winged Blackbirds stage at Long Point this time of year. pic.twitter.com/00ou02GDs8

— Long Point Bird Obs. (@LongPointBirdOb) October 18, 2020
Birders in New Jersey spent the morning watching hundreds of songbirds begin another day of flying south. While Juan Ordoñez and Ana Leon reported migratory species such as Summer Tanager, Blackburnian Warbler, and Red-eyed Vireo that have already made their way to South America.
It's a compliment when they land on your head, right? Another amazing morning flight at Higbee Beach with 1000s/100s myrtle, blackpoll & palm warblers, siskin, purple finches, sharp-shinned and Cooper's hawks @cmbobirds @NJAudubon @DrBirdCast #OctoberBigDay #GlobalBirdingWeekend pic.twitter.com/Qo9GkYs2kh

— Ian Owens (@ipfo) October 17, 2020
---
Young birders and families
October Big Day is an opportunity for students and young birders to discover the joys of birding together. Members of the Red Jóvenes de Ambiente (Network of Young Environmentalists) in Meta, Colombia partnered with representatives of multiple government agencies to count birds at several locations in their municipality.
https://twitter.com/rnjameta/status/1317648371365142529?s=20
In another region of Colombia, youth birding ambassador and educational committee leader Sofia Valero participated in October Big Day with her family. They reported close to 100 species, providing a great example of how birds bring families together.
https://twitter.com/ColombiaBF/status/1318305708807475201?s=10
Georgi Kamov and his son returned for their second successful Big Day and helped Bulgaria beat its 2020 Global Big Day checklist total by nearly 100 checklists! While other father-son teams in Quito, Ecuador, and Hong Kong helped inspire the next generation of birders.
Hoy es un gran día para compartir en familia y participar en el #OctoberBigDay, disfruta observando las aves con las que convives a diario, conéctate con tu entorno y no te olvides de subir tus registros a eBird#CadaAveCuenta pic.twitter.com/Db3CbsxTtG

— Jardinesilvestres (@JardinesQuito) October 17, 2020
---
More birds from home 
In many parts of the world, leaving home or going far afield wasn't possible this year. As birders, we of course made the best of it and found some amazing things from home. Counting birds in your backyard is actually very valuable, because only you can count birds in your yard!
George Swan in Chile finished with 45 species from the garden—the best bird was a Greater Yellowlegs heard calling overhead. Fraser Simpson stuck to his balcony in London where they counted birds for 10 ½ hours and spotted 65 species. Rafael Gianni in Venezuela also stayed close to home where they spotted a Yellow-headed Caracara perched in a tree outside and may have even discovered a Lesser Goldfinch nest (or at least a territorial male).
Difficult to do an #OctoberBigDay during a covid lockdown so stuck to 'yard listing'. Finished on 45 spp. in, or from, the garden. Greater yellowlegs overhead calling was my bird of the day. #birding pic.twitter.com/ywkjUgPhQ4

— George Swan (@GJFSwan) October 18, 2020
Others watched birds from the comfort of home, like this four-pawed birder named Earl who couldn't leave the house, but he still had a great October Big Day watching birds out the back door with his mom.
I've had a fab day bird watching with mum! We sat inside behind the storm door with a blankie & binoculars! I don't know what binoculars are but we saw a gazillion birds! #GlobalBirdWeekend #OctoberBigDay #birds #birdwatching #FridayFun #FridayFeeling pic.twitter.com/2GqIhdRMa6

— Earl (@RC_EARL) October 17, 2020
Around the world, Covid-19 has left many local birding guides with less work than usual. However, this hasn't stopped the incredible birding community—a great example of this tenacity is the Tapasco family from the Montezuma Rainforest Ecolodge, who headed out on foot instead of by car, spotting an incredible 270 species on October Big Day. It's stories like this that inspire and remind us of how amazing birders are. Thank you.
---
The prepared birder brings… snacks!
Almost nothing is more important to the prepared birder than snacks. We asked the birding community how they prepare for big days and we heard that besides charging up your batteries and planning the route the next most important things are snacks. La Rana in Colombia, lays out their gear the night before including packs of peanuts, fruit, chips, and juice.
#Colombia 4:40 am , listos para el #OctoberBigDay , #FómequeTerritorioDeAves pic.twitter.com/TSqjNqKr7r

— La Rana (@SantuarioLaRana) October 17, 2020
Zheljko Stanimirovic in Serbia loves to take Bananica when out birding. Andy in the UK packed up some delicious Cornish pasties the night before. Muhamya Pius in Uganda likes to take along boiled cassava and bushera (a sorghum grain drink). Karthik Trick D. Eerie in the Czech Republic packs bread, cheese, and fruit to get through the day.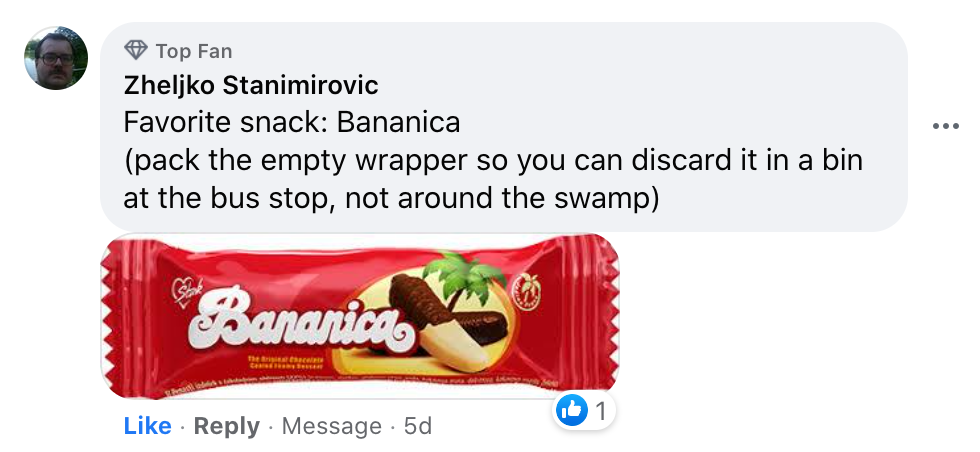 ---
Community collaboration
Every year we are blown away by the number of volunteers around the world that encourage their communities to rally around birds. October Big Day was no different. From Taiwan to Argentina communities banded together—united for the birds. Thanks again to the tremendous network of eBird collaborators around the world: these events are for you, and we can't appreciate you enough.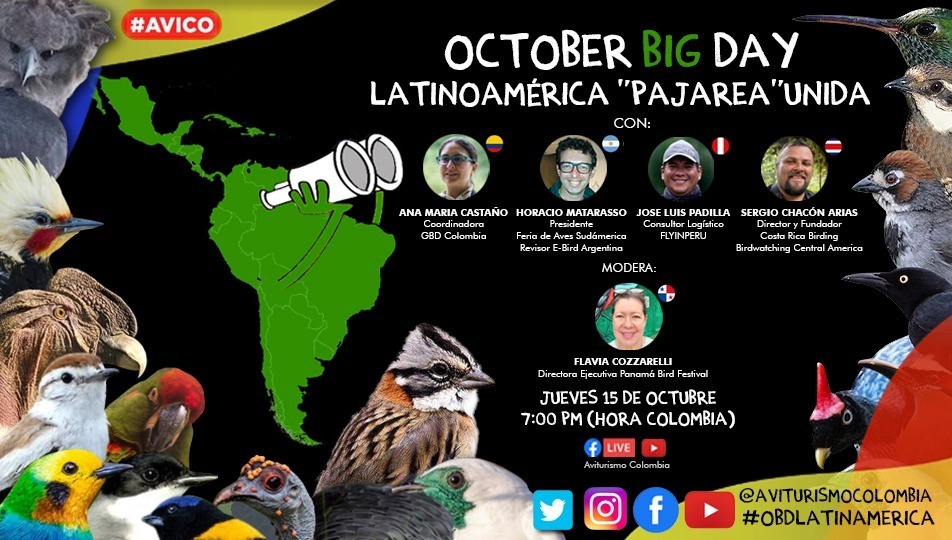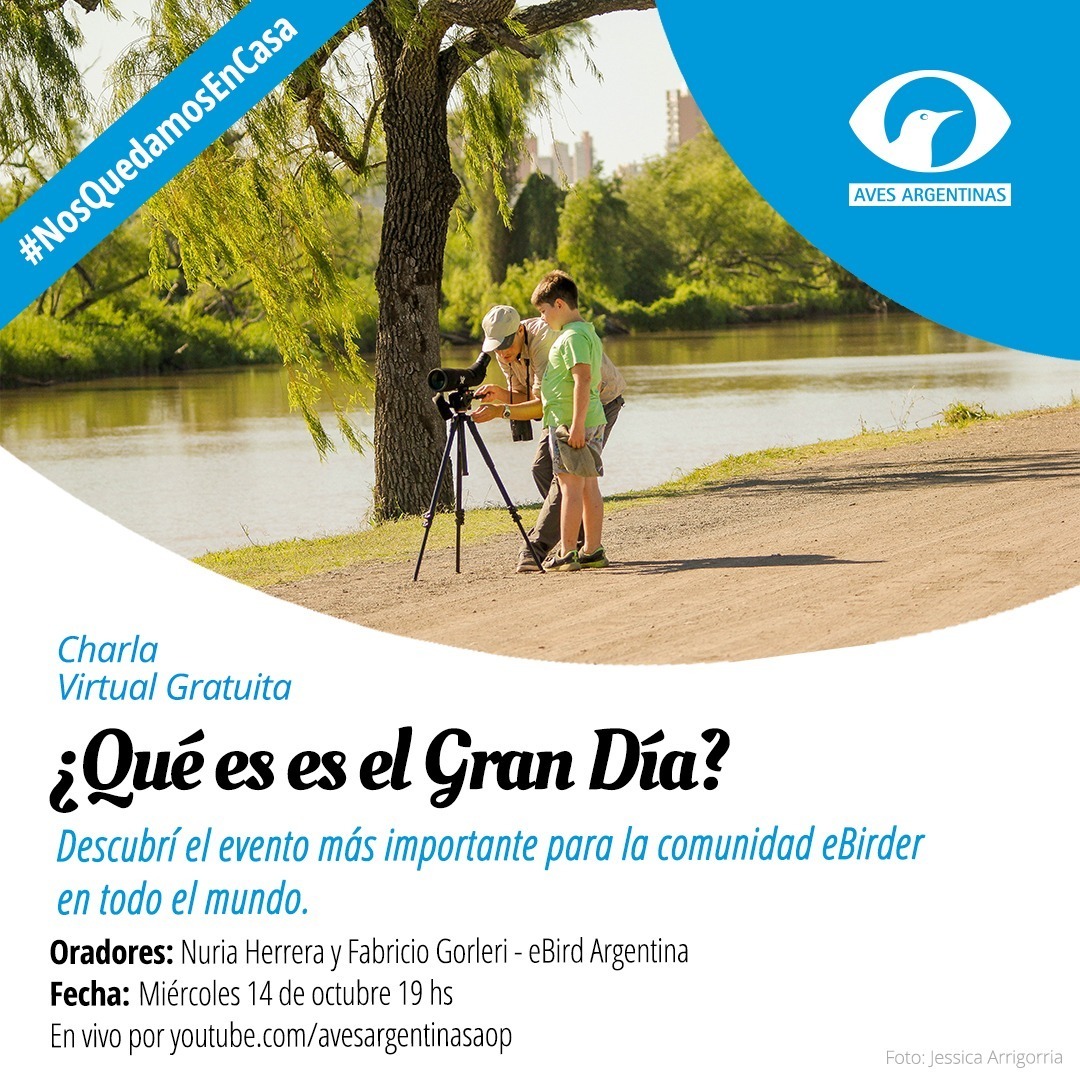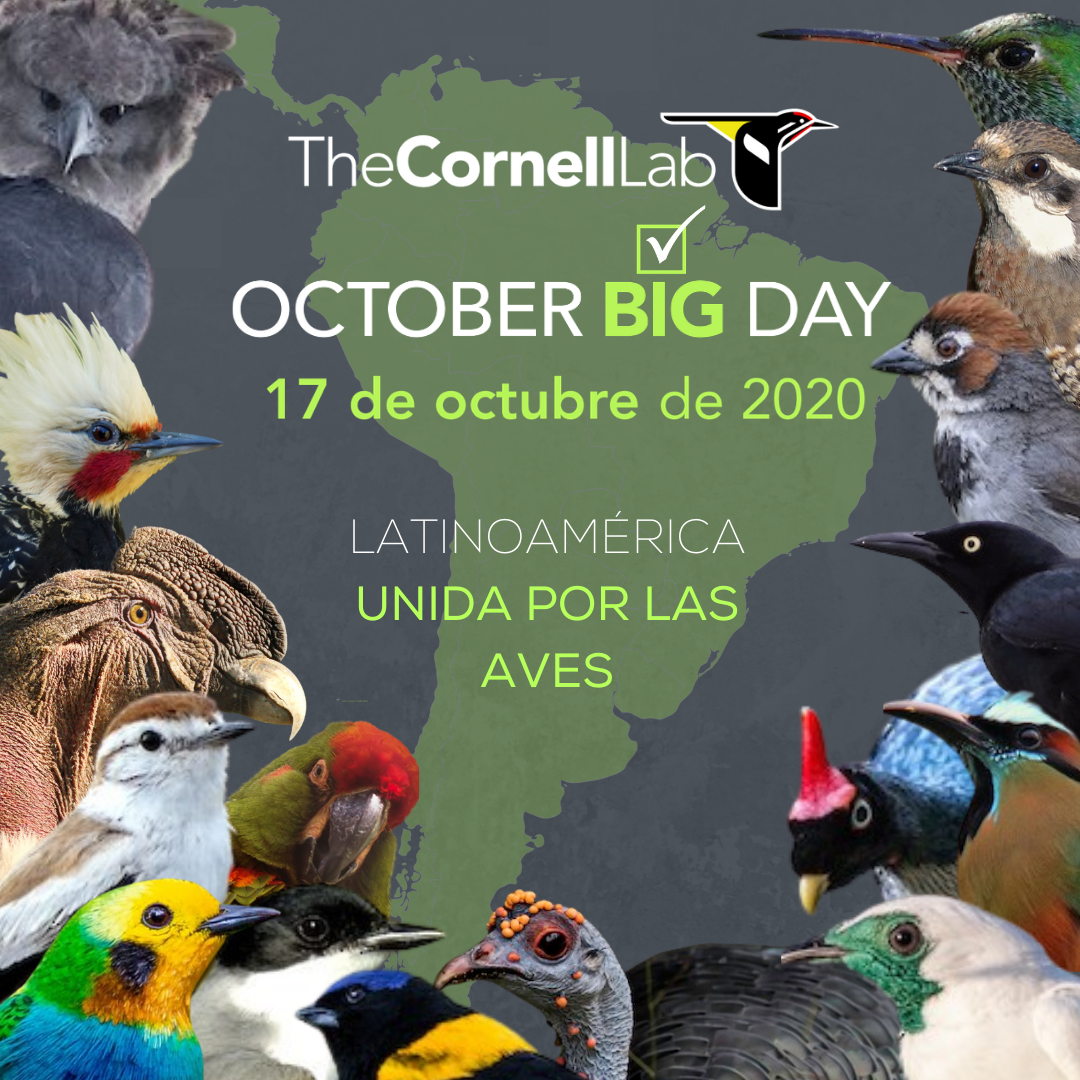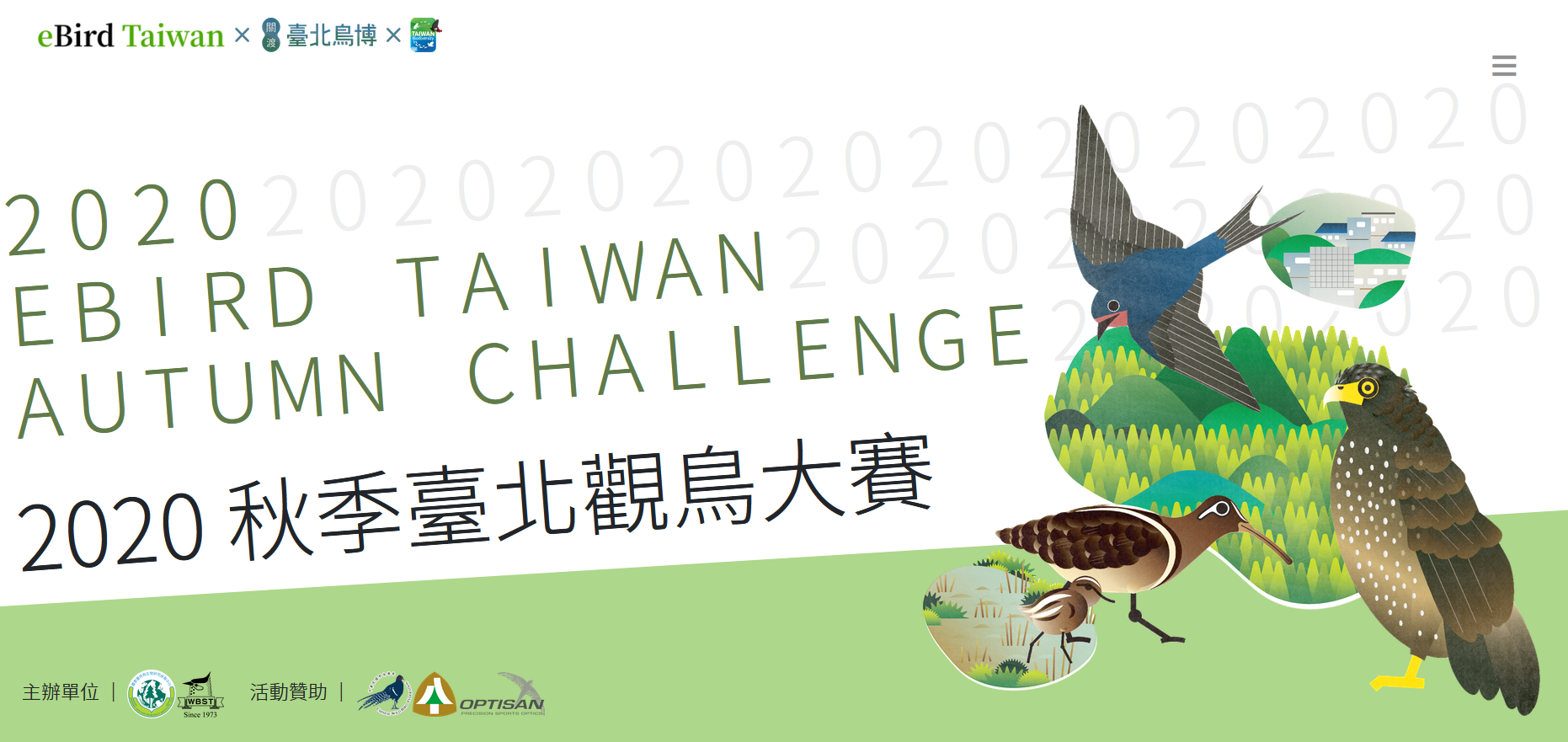 ---
THANK YOU!
A massive and heartfelt THANK YOU to everyone who submitted checklists on October Big Day. eBird contains more than 870 million observations of birds from over 600,000 participants, all thanks to your efforts. Your observations help build an unparalleled window into the full annual cycle of bird populations that will help us better understand and prevent avian population declines.
At eBird, every day can be a big day, a reason to step outside even for just 10 minutes to enjoy birds and share observations for science. Together we can help better understand, conserve, and enjoy birds for many years to come. Thank you for being a part of it.
---
More Results
TOTAL species by country

Colombia—1,285
Peru—1,152
Ecuador—1,105
Brazil—1,101
Bolivia—816
Kenya—810
Argentina—799
Costa Rica—741
India—721
 Mexico—705

TOTAL checklists by country

United States—34,895
Canada—6,861
Argentina—3,060
India— 2,746
Colombia—2,682
Costa Rica— 2,131
Venezuela—1,886
Brazil—1,718
Australia —1,575
United Kingdom—1,556

INCREASE in number of checklists over 2019

Venezuela—713%
Bulgaria—494%
Kenya—357%
Nicaragua—295%
United Kingdom—275%
Ecuador—242%
Colombia—233%
Panama— 232%
Paraguay—222%
Peru—204%
TOTAL eBirders by country

United States—17384
Canada—3044
Colombia—1063
India—863
Argentina—817
United Kingdom—651
Australia—646
Spain—636
Costa Rica—604
Brazil—554

NEW eBirders by country

United States—2265
Canada—273
United Kingdom—216
Colombia—139
Argentina—137
India—117
Australia—87
Chile—85
Brazil—85
South Africa—84

INCREASE in number of eBirders over 2019

Kenya—505%
Bulgaria—294
Paraguay—241
United Kingdom—226
Ecuador—182
Colombia—167
Germany—150
Peru—144
Nicaragua—132
Italy—130