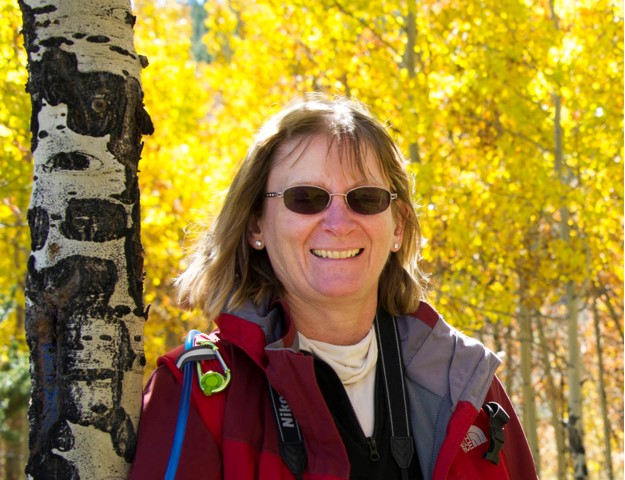 Please join us in congratulating Jan Gorski of Highlands Ranch, Colorado – winner of the June 2021 eBird Challenge, sponsored by Carl Zeiss Sports Optics. Jan's name was drawn randomly from the 5,721 eBirders who submitted at least 20 eligible checklists with eBird Mobile 'tracks' less than 3 miles (5 km) long. Jan will receive a new ZEISS Conquest HD 8×42 binocular for her eBirding efforts. Here's Jan's birding story:
I started birding casually in 1993, as one of many volunteer photographers, on a trip to Africa to promote tourism. That opportunity resulted in publication of my photo of a Little Egret (Egretta garzetta), as well as a few other photos in a coffee table book titled "Focus on Africa – Wildlife, Conservation and Man."  I was amazed at the variety and rainbow of colors of the birds of Kenya and Tanzania. It was on this trip that I met Jay, who would introduce me to a soon to be great friend and fellow traveler (Joan) who was an avid birder. After our introduction in Seattle, Joan and I traveled to many countries, in search of birds, culture, wildlife and nature. I've been fortunate to bird on all seven continents, but have many birds that I would still like to see!
When my photo of a Brazilian Rufous-tailed Jacamar (Galbula ruficauda), with a butterfly in its bill, was selected for Volume 7 of the Handbook of the Birds of the World, I started to get more serious about bird photography and identification. At some point in time, I realized that I probably saw and knew more about international birds, than birds in my homeland, so once I retired from my Systems Engineering career, I started joining local birding organizations to participate in their field trips and conventions to learn about the birds that visit or live in our area. I was introduced to eBird on the field trips, and am very grateful for such a fantastic Citizen Science project and the fellow birders who have helped me learn how to use eBird. I quite often volunteer to record our group sightings for the field trips and hope to enter all my paper notes into eBird sometime soon, as I'm curious to know just how many bird species I have seen over the years!
I continually learn from the birders around me, as well as by exploring the eBird database and attending a variety of the educational meetings offered by the birding community! I took the challenge in 2021 to submit at least one eBird checklist daily, and have really enjoyed studying the local population of birds near my home, as well as in parks and preserves around the world. I'm especially excited to continue to expand my birding by ear knowledge with the new Sound ID capability in Merlin. I'm almost finished with my Audubon Naturalist Certification and am happily sharing the birding world with new enthusiasts.
Thanks so much to Cornell Lab Ornithology and to Zeiss for providing so many fantastic tools to help us all understand more about the birds, their behaviors and habitats. I'm hoping that this data and the studies it supports, will help us find a way to protect our avian populations from the many changes happening in the world these days. Thanks to all of the contributors and creators, and for this very wonderful opportunity to be able to use/own the latest technology in Zeiss binoculars! I'm thrilled that I was randomly chosen for June and thank all of the other birders who were also in the running for this special honor!