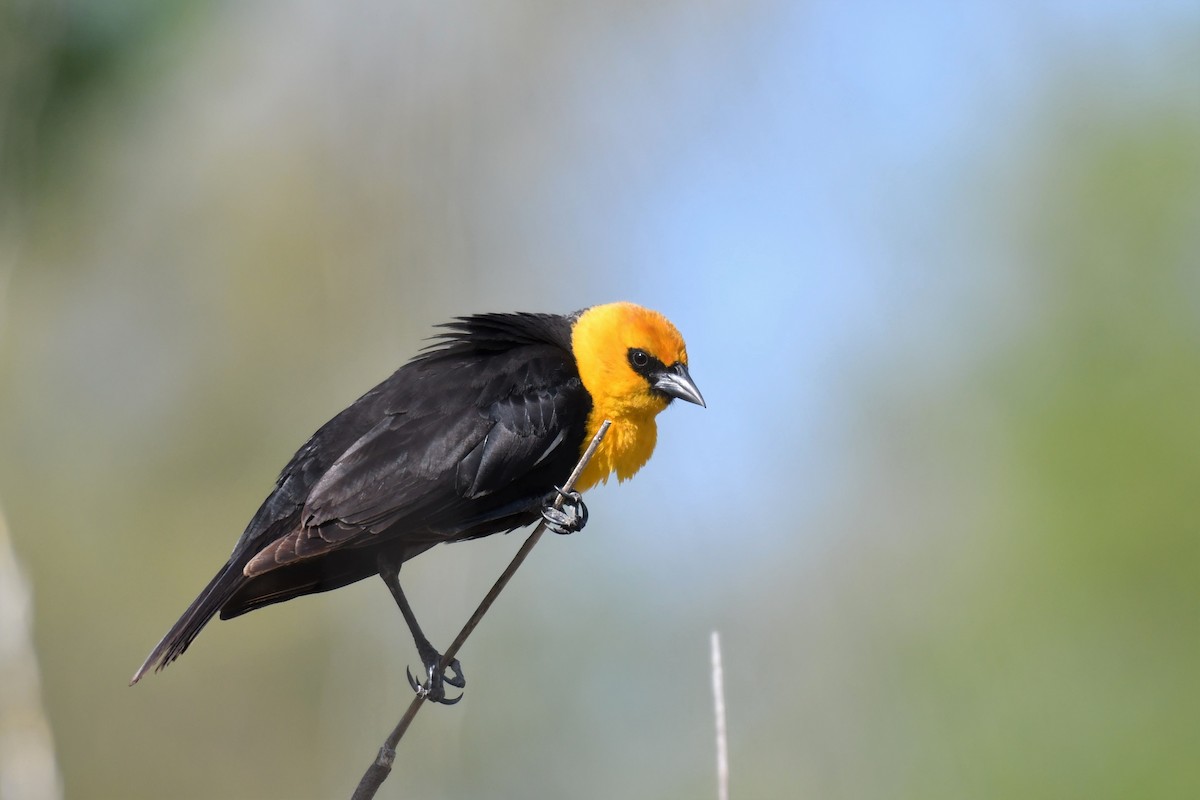 The power of birds is amazing. Their uniqueness, diversity, and wonder have inspired people forever. We are continually humbled at this global passion for birds—a passion that is no-better-represented than on Global Big Day. On 4 May, 34,000 people ventured outside in 173 countries, finding 6,816 species: 2/3rds of the world's bird species in a single day. This is a new world record for the number of people birding on a single day. Incredibly, 684 of the total species reported were observed by only one eBirder of the day, showing the difference that a single person can make. Whether you submitted one bird or 100, Global Big Day's success belongs to you. Thank you, and congratulations.
Importantly, this incredibly fun event also provides valuable information to help the birds we all care about. eBirders gathered more than 1.85 million bird sightings on 4 May, which are now freely available to researchers, conservationists, and fellow birders. As a global birding team, together we can gather information on where, when, and how birds make use of the landscape—and use that information to aid conservation and research that can help keep birds in our fields and forests. And the best part? We can all have a blast doing it.
Our favorite part of Global Big Day is the stories: hearing more than 30,000 perspectives on a single day of birding. There are people who have been scouting and planning their route for a year, alongside people for whom this is their first time ever watching birds. There are researchers in Antarctica; local guides in Uganda; birding tourists in China; dedicated bird photographers in Brazil; and community monitors in Mexico. Some people grab 5 minutes of birding between other obligations, and others are awake from midnight to midnight. No matter how you bird, you're a part of the team. Explore all of Global Big Day's birds here: https://ebird.org/globalbigday.
For the third year in a row, Colombia led the world in bird species on Global Big Day. The unbelievable efforts of the Colombian birding community found an unfathomable 1,590 species in one country in one day. Absolutely spectacular work—congratulations. Colombia's Global Big Day reached from local communities all the way to the Colombian Air Force! An incredible national team of more than 2,300 birders submitted 6,400 checklists, a truly amazing one-day snapshot of birds in the world's most bird-diverse country. A million thanks and congratulations to the partners behind eBird Colombia and Global Big Day Colombia for their massive success again this year. Right on Colombia's heels was the superb coverage in Peru, where 1,516 species were reported: 26 more than last year, and an incredible achievement that highlights the value of these Andean countries to global biodiversity.
The Cornell Lab's Team Sapsucker split into three groups, traveling to Florida, Alabama, and Texas to highlight the region's incredible importance to migrating birds: more than 2.1 billion birds pass through the Gulf Coast each spring. In each state the team chose a single county to cover on 4 May: limiting to one county to minimize the environmental impact of the big day, and also highlighting how learning a local area very well can result in lots of birds. The combined team total was 242 species. Read more about Team Sapsucker's day here.
There are so many other exciting stories and results from around the world. We know we'll never be able to do them all justice, but we've worked to highlight some below. Thank you for being a part of Global Big Day.
---
For much of the continental United States, Global Big Day was one of the first days where migrant birds had returned—good timing! A weather system moving through the southeastern US also brought migrant birds to many regions. The final US tally was 715, with the top species totals coming from Texas (400), California (361), and Arizona (287). 19 states submitted over 1,000 eBird checklists on 4 May! US eBirders also documented 584 species with photographs in their eBird checklists, and 190 with audio—quite impressive!
Canadian birding teams found 371 species, with Ontario and British Colombia neck-and-neck for species, with 243 in BC and 239 for Ontario. Edged out slightly by species again, Ontario eBirders more than made up for the difference with an incredible total of 3,552 checklists on the day! Quebec beat out BC for the #2 spot for checklists, with 1,544.
---
Latin America takes Global Big Day to a level unlike anywhere else. In Central America, over 1,000 species were reported, including over 500 species from Guatemala (534), Costa Rica (683) and Panama (731). This year Mexico topped the species tally for this section, with 765 species reported on an excellent 1,165 checklists.
Our favorite part of Central American Global Big Days is the local excitement and passion. Teams made up of young birders, community monitors, birding guides, lodge and park staff, and so much more. It is magical to watch and hear the excitement of people making their birds count. You needed almost 150 species to make it on the Top 100 for Global Big Day in Central America!
---
From the jungles of the Amazon to the towering peaks of the Andes, nowhere in the world compares to South America's bird diversity. It is truly the Bird Continent. On 4 May, 43% of Global Big Day's species came from South America. Two countries had more than 1,500 species. Four over 1,000. Seven out of the top 10 in the world. This incredible diversity doesn't stop at the birds: the communities that enjoy birds in South America have to be some of the most dedicated in the world. We discussed Colombia's successes above, but the story doesn't stop there. Peru's 469 eBirders reported nearly 15% of the world's birds in a single day from one country. Argentina was 4th in the world for checklist contributions, behind only the US, Canada, and Colombia.
Ecuador's total of 1,143 species placed third worldwide, thanks to the mobilization of 240 birders across the country. Brazil's excellent total of 1,018 rounded out the 'thousand club', and contained hundreds of rare, endangered, and unique species. Bolivia added more than 200 species to their previous best year, and are knocking on the door of 1,000 with their total of 908. Will we see a new 'thousand club' country in 2020?
There is always so much to talk about in South America that it is impossible to do it justice. There are innumerable exciting local stories of triumph and discovery, and we thank all of you for sharing them with us.
---
With so many endemic birds, the West Indies are critically important during Global Big Day. Check out the list of species reported and you'll be wanting to plan an island getaway! The Bahamas and Puerto Rico were shoulder to shoulder for the top species tallies, with the Bahamas' 138 topping PR's 132. 19 other island nations also made an impact, thanks to help from BirdsCaribbean, SOPI, and many other great groups working on birds in the region.
---
Africa's numerous and unique species were critical to the Global Big Day tally, and this year included record contributions from many countries. Senegal had 125 species, up from 0 last year. Rwanda's 203 species came from 27 eBirders—a monumental jump from last year's 75 species. Kenya and South Africa topped the African countries again (434, 415), and this year were rounded out by the excellent 327 species reported from Zambia! Very nicely done.
Records from undercovered places like Sudan, Niger, Burundi, and Liberia also contributed some rarely-seen species, and unique species from Madagascar and São Tomé and Príncipe contributed some excellent island endemic species. The key to higher future totals of Global Big Day will largely rest on contributions from Africa.
---
India continued their #1 tradition for species in Asia on Global Big Day, clocking in with 545 thanks to BirdCount India and the excellent Indian eBirding community. China's total of 452 got the silver medal spot, and Malaysia's 380 rounded out the top three.
In southeast Asia, Bird Conservation Society of Thailand's 'Campus Big Day' got university students out across Thailand in a campus-versus-campus competition—helping get 65 eBirders out across Thailand on 4 May. Taiwanese eBirders contributed a fantastic 823 checklists, making sure that all of the key island species were a part of the global tally.
---
May is a great month to be birding in Europe, and the 40 countries that contributed to Global Big Day made that very clear. Spain set a new Global Big Day record for the country with an excellent 311 species: the only European country to break the 300 barrier. 60 different European eBirders reported more than 100 species on the day, including an excellent 125 species from Ireland by Niall and Noel Keogh and João Brito—an apparent new country big day record. Rob Martin had the biggest total in the UK for the third year running, with 137 species this year.
Portugal (225), the UK (222), France (222), and Germany (211) all came in over 200. Finland (171) was right behind Sweden's 179 this year—will 2020 finally bring them the #1 tally in Scandinavia?. See all 449 European species here.
---
Australia's very diverse and unique birds make good turnout here essential to Global Big Day's success. The work by the eBird Australia team never fails to make sure that the island continent is well-represented despite the early winter season. This year's 476 species came from 433 different eBirders—will 2020 be the year to crack the 500 species mark?! The single-team record this year was from a group in Queensland, including Braden McDonald, Brad Woodworth, Louis Backstrom, Alec Hopping, and Richard Fuller—with a single-day group total of 184!
---
And there you have it—another birding world record in the books! Never before have so many birders gone out in this many countries and reported birds in a single day to eBird for their fellow birders, researchers, and conservationists. The most exciting part is that it doesn't end here. Global Big Day doesn't have to be just one day a year—at eBird, every day is a big day. Of course, this doesn't mean that you should bird 24 hours a day and never sleep, just that eBirding gives you that same birding fun and community—every day of the year.
Birds connect us. eBird connects birders. We can't wait to see what you continue to find—and share. Save the date for 9 May for next year's Global Big Day, and have a bird-filled rest of May! We'll see you out there.