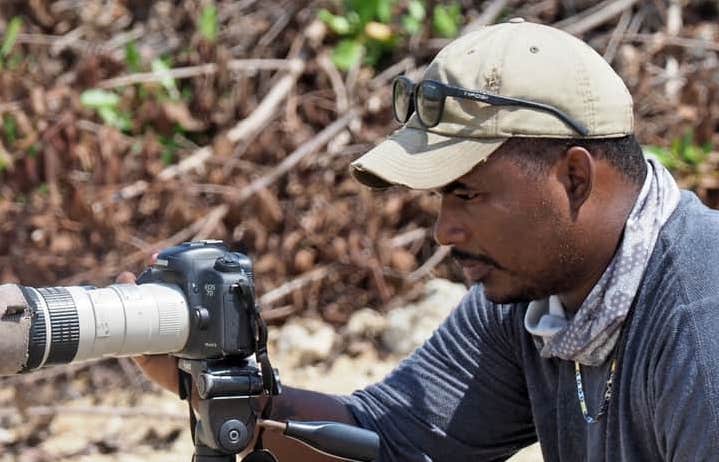 Please join us in congratulating Francis Canto Jr. of Belize City, Belize, winner of the July 2020 eBird Challenge, sponsored by Carl Zeiss Sports Optics. Francis's name was drawn randomly from the 4,781 eBirders who submitted at least 31 eligible eBird checklists in July. Francis will receive a new ZEISS Conquest HD 8×42 binocular for his eBirding efforts. Here's Francis's birding story:
Being an avid birder, photographer, and bird guide eBird has become a necessity. I now use the app daily to submit my sightings, whether it be from my backyard in Belize City to the foothills of the Maya Mountains. I use it to plan my birding trips around the species I need for my life list or birds I need to photograph. eBird makes it so easy! with just a few clicks I can see observations from all over the world, right at my fingertips.
I was late in joining the amazing world of birding. It all started back in 2015, I visited Lamanai Outpost Lodge one of the best birding lodges in the country. There I met many of their guides who were great birders, I was amazed by their vast knowledge of the birds we were seeing and hearing. It was on my way back thank I got bit by the birding bug. We were on the boat cruising along the New River when we came across the most amazing bird I'd have ever seen. This bird was a large raptor, its body was a beautiful rufous coloration, its head a creamy white accented by its black collar. It was no other than the Black-collared Hawk, a bird I never knew existed until that day. That bird had sparked my interest in birds when I got back home the first thing I did was go and buy my first field guide, the Birds of Belize by H. Lee Jones. Soon after a participated in my first birding event, it was the Belize City Urban Bird Watch with the Belize Audubon Society. Being with birders who were passionate and knowledgeable made me realize that birding was the hobby for me, after that it was no turning back.
Since then I've dedicated a lot of my studying the birds of Belize, their habitats, distribution, and seasonality. While learning how to use eBird and correctly submit checklists. Because of this dedication, I was asked to be one of the volunteer eBird reviewers for Belize. Being an eBird reviewer has been a rewarding experience, I've learned so much more about the birds of Belize while making sure the data we have is as accurate as possible. Through eBird I've liaised with 100's of birders assisting them with making corrections on their eBird lists like changing a species, adding correct media, or just changing the time from p.m. to a.m. I'm always happy when a fellow birder emails me back and thanks me for finding a misidentified bird on their checklists, sometimes it turns out to be a lifer for them, how exciting!
Birding has completely changed my life, I've traveled all of Belize and a few places in neighboring Guatemala and Mexico in search of birds. I have met many friends and clients through my profile on eBird, I've photographed over 500 species of birds and I now serve on the Board of Directors for the Belize Audubon Society. I've participated in numerous big days and other birding events. All of this is in part thanks to eBird! I have all my records stored in the eBird database and all of my photos backed up in the Macaulay Library. I plan to keep on submitting lists, photographs, and reviewing records for as long as I can.
In closing, I'd like to thank the entire eBird team for their tireless work in keeping eBird up to date and running smoothly. Thanks to them we have eBird mobile and Merlin, apps I use every day that make birding a lot easier! Thanks again and happy birding!