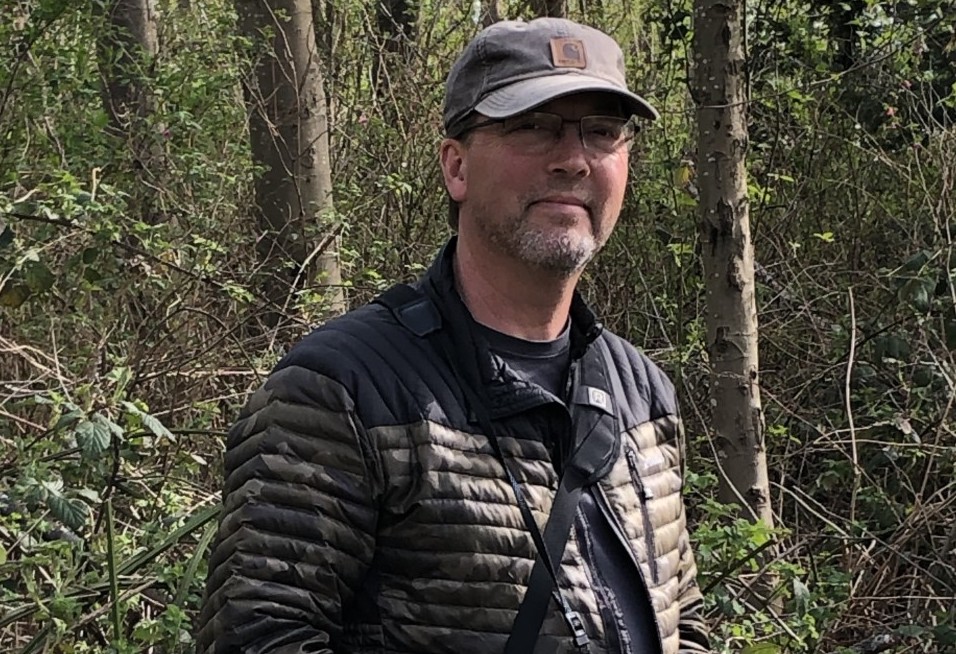 Please join us in congratulating Eric Ellingson of Blaine, Washington, winner of the March 2020 eBird Challenge, sponsored by Carl Zeiss Sports Optics. Eric's name was drawn randomly from the 10,285 eBirders who submitted at least 20 eligible checklists in March using eBird Mobile. Eric will receive a new ZEISS Conquest HD 8×42 binocular for his eBirding efforts. Here's Eric's birding story:
I came to bird watching through photography. I'd purchased a new point & shoot superzoom and wanted to practice before I went on a family trip to Maui. Trumpeter Swans were around at that time and provided a good target. They were a good subject to get an understanding of exposure metering and not get blown-out highlights. It progressed from there through about 5 different upgrades of cameras and lenses over the next ten years. My current setup is the Canon 90D paired with the 100-400L.
Living near the saltwater bays & harbors around Blaine WA, these were my first areas to bird. A monthly bird walk to the local Semiahmoo Spit led by Paul Woodcock with Audubon brought me in contact with other birders. It was on one of these walks I met my partner Marcia. I did not realize until later how great it is to have one's partner also be an avid birder. Many of our trips, outings, and vacations are centered around birding both local and within a few hour plane ride: Oregon, California, Arizona, Texas, Colorado. Our biggest trip yet, Costa Rica, is planned for January of 2021.
I'd really resisted switching from an awesome flip phone to a smartphone. All the great birding apps that were coming out eventually made the switch a no brainer. eBird has become such a big part of my outings. I try to submit lists from my yard and just about everywhere I go. My camera is usually with me. Taking a photo and being able to bring that up on a large monitor at home proves invaluable for identification.
Over the last few years, during a slow time of work for me, I've tried to get 100 species in my county of Whatcom in the first two weeks or at least during January of each year.  Much of the year I have the rare bird alerts and county list birds alert set up. Shooting for 200 species in this county in a year is a decent goal. The repetition of doing this year after year is that it gets me more familiar with the birds, their habitat & behaviors.
I have been part of eBird's beta testing as well. It's been fun to have some input into the formation of such a great and always improving tool.
Where to from here? More listing. More travels. More photos. As to more photos another fun part of eBird has been to submit my photos and see them used in various ways. Photo postings in my Flickr account have also brought in many interesting requests for their use.  The number of photos I'm taking has significantly lessened. It has to be something special, great lighting or some other reason to take the shot nowadays.
The struggle to learn bird calls/songs has been very challenging. The Merlin app in eBird has been great to try to match a song to a bird. Bird recordings of good enough quality to post into eBird is also on my radar.
One of the great things about eBirding is it is a hobby/interest/passion I can take everywhere I go. It goes out in my kayak, skiff, snowshoeing, hiking, walking, driving and even to a visit to the relatives. It takes me into previously unexplored areas locally and odd places like Harlingen Texas where we had an amazing time during the Rio Grande bird festival. Having a tool to record sightings, share these with a worldwide community, find areas to bird and see what's been seen by others is an amazing tool.
The newer features of eBird in the Explore section are proving very worthwhile as well. It makes it easy to see birding hotspots around me, which I've visited recently and which I may not know about.