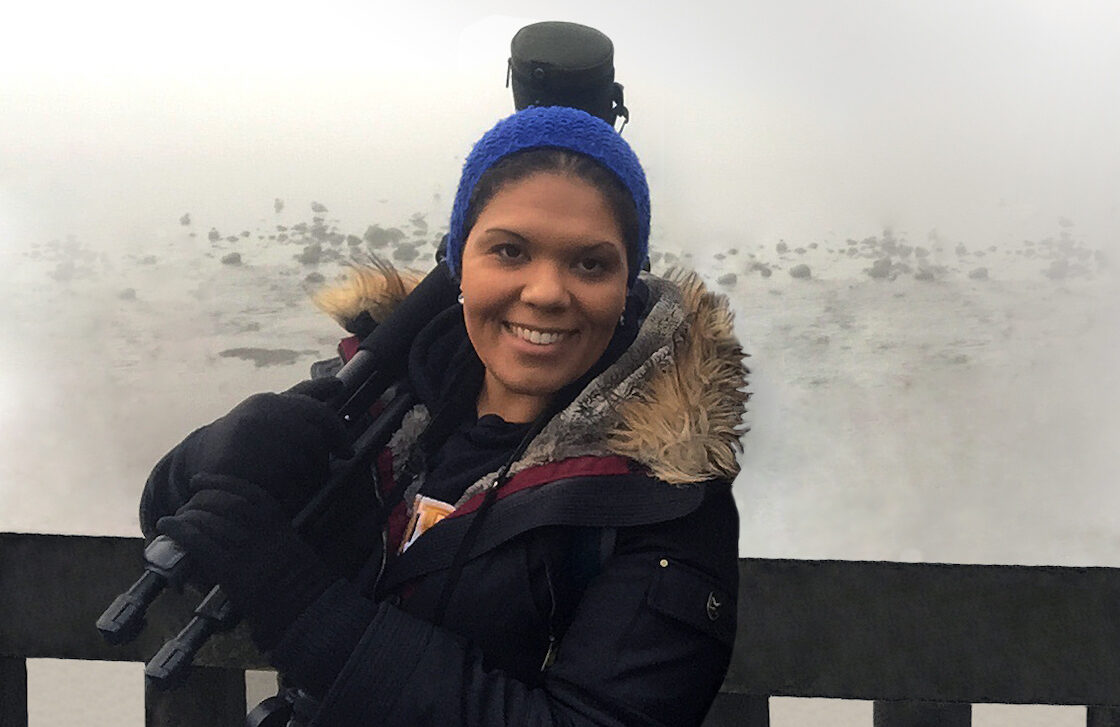 Did you know? There are over 1,800 volunteer eBird reviewers around the world! Volunteer reviewers play an important role ensuring the eBird database remains reliable and accurate for science and conservation (learn more about the eBird review process). eBird is incredibly grateful to our volunteer reviewers for their dedication to eBird's data quality.
The eBird Reviewer Spotlight is a new series to help you get to know eBird's volunteer reviewers a little better. Like eBird Stories, these articles are written in the reviewer's own words and reflect their experiences as reviewers, eBirders, and members of the birding community. In our inaugural Spotlight, Melissa Hafting – eBird reviewer for British Columbia, Canada – discusses her work within the BC birding community and the challenges she has faced as a Black woman birder.
eBird strongly supports Melissa's call for birding organizations to be more equitable and anti-racist. We are committed to building a more diverse, inclusive volunteer review community. If you are interested in volunteering for eBird, please visit the eBird volunteer reviewer page for more information.
eBird Reviewer Spotlight: Melissa Hafting
My name is Melissa Hafting. I am a birder from Vancouver, British Columbia (BC), Canada where I serve as the eBird reviewer over six regions. I am honored to be the first eBird reviewer featured in this new spotlight series. I run the BC Rare Bird Alert where I help birders in BC find rare birds. I believe in a strong sense of community and my passion is bringing people together through birding. I enjoy many ways of birding from twitching to visiting my local patch to photography. I'm also a dedicated conservationist. I enjoy sharing my adventures, young birder trips, and conservation issues at my personal blog Dare To Bird.
I founded the BC Young Birders Program in 2014.  My goal was to show young birders (ages 11-18yrs) from across the province birds they may not see at home and to discuss important conservation issues. I have learned so much from my time with these young birders and they have truly enriched my life. They have inspired me to fight for equality for the upcoming generation and their passion for environmental justice has inspired me even more to protect the environment and its birds. Several youth have gone on to careers in ornithology, biology, and environmental science. I have full confidence the next generation of birders are bringing much needed hope to a conservation-challenged world.
It is vital to mentor youth and promote them in our hobby as they are the future of bird conservation. I strove hard to create a safe and inclusive space for the youth I worked with. The youth I've mentored are from diverse races, sexual orientations, and gender identities, much like the communities we live in. I celebrate diversity in a field that has been traditionally helmed by White men. I am also a biracial birder. I am proudly half Black (Barbadian) and half White (Norwegian).
I'd like to talk about race in birding. I have been silenced in discussing race in birding with claims that racism is a divisive and political issue. It is not. It is a civil rights issue. Due to my skin colour I don't have the luxury of opting out of that conversation. For people of all races and genders to be able to have the same positive experiences while birding, we need to be able to talk openly about the problems Black, Indigenous and Persons of Colour (BIPOC) face. Welcoming us without listening to us is no longer enough. I believe that our birding clubs and organizations and eBird for that matter, need to do more to be inclusive.
I have experienced both sexism and racism while birding. As a Black woman it's been a struggle to break through in the birding community. I had to work extra hard, as BIPOC people tend to, to prove I was worthy and to fit in and succeed. I studied my field guides with fervor every night in order to feel I could nail most bird IDs so people would respect me. While out in the field I heard, "You don't look like a birder," and, "I didn't know Black people liked birding."
I have been called the n-word and some of my white birding friends were called "n-lovers." I have received hate emails. I have been pulled over, harassed and interrogated by law enforcement. Especially hurtful, my bird IDs and corrections have not been taken seriously at times, a microaggression I felt all too well. I never let these things deter my love of birds and my belief that I am entitled to enjoy and revere them as much as anyone else.
It is time for things to change. We must make diversity, equity and inclusion a priority in the birding community. It is no longer enough to be non-racist, we must be anti-racist. We have to call out and not tolerate racist behavior when we see or hear it. We must listen to the voices of BIPOC people. It may not be easy to hear but only through the amplification of our voices can we truly move forward. We must challenge a birding culture of systemic white privilege, the code of silence about discrimination, and no longer accept the status quo. We need to make real commitments to change and explain how we will follow through to achieve them.
We need to make safe spaces for all in nature. For this to happen, we need to encourage diversity in our birding clubs and write boards and committees to ask that they bring in BIPOC people in leadership roles, as guides and as field trip leaders. We must have BIPOC people in the room to explain the issues that matter to them. eBird too has a role to play in recruiting more BIPOC reviewers.
Birding gives me peace, relaxation, joy and hope and I want to help build a community where EVERYONE, no matter what race or creed, is entitled to the gifts of birds and to enjoy them in safety, peace and freedom.
To learn more about Melissa, visit her blog: Dare To Bird