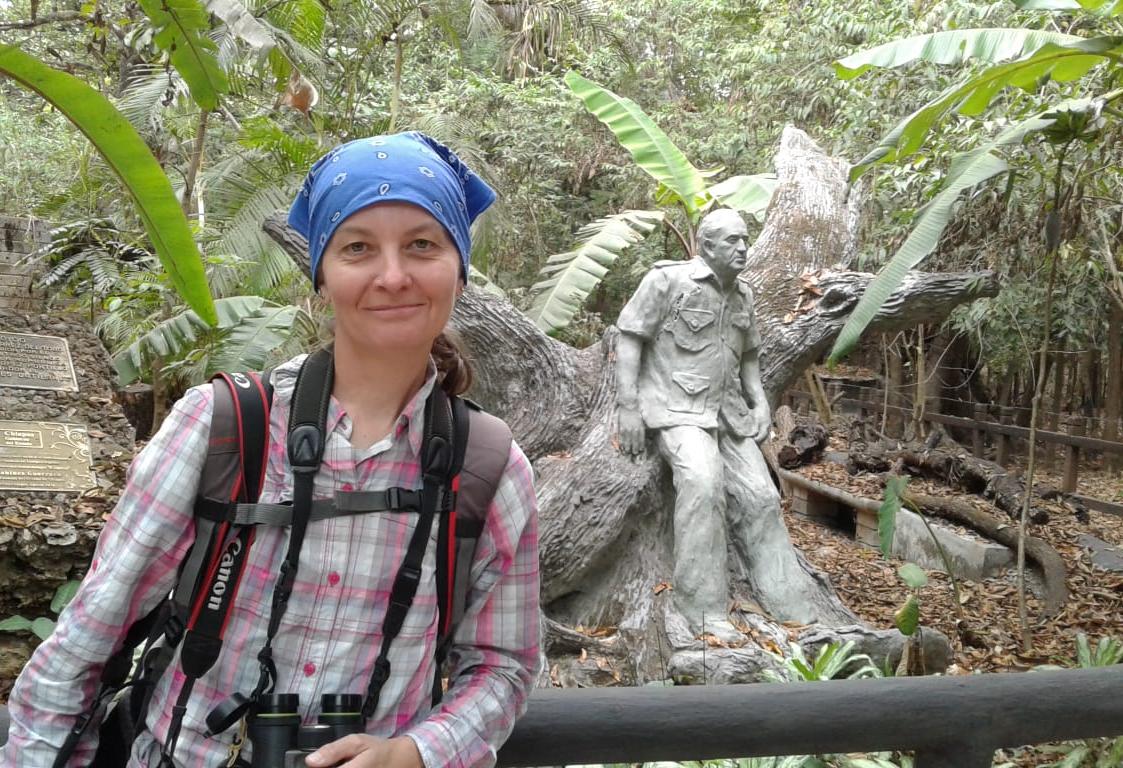 Did you know there are over 2,000 volunteer eBird reviewers around the world? Volunteer reviewers play an important role ensuring the eBird database remains reliable and accurate for science and conservation (learn more about the eBird review process). eBird is incredibly grateful to our volunteer reviewers for their dedication to eBird's data quality.
The eBird Reviewer Spotlight helps you get to know eBird's volunteer reviewers a little better. Like eBird Stories, these articles are written in the reviewer's own words and reflect their experiences as reviewers, eBirders, and members of the birding community. In this spotlight, Francesca Albini, eBird reviewer for Oaxaca, Mexico, describes how she became an eBird reviewer and her long-term efforts to improve eBird data quality in Oaxaca.
eBird Reviewer Spotlight: Francesca Albini

My name is Francesca Albini. I am originally from Italy but I moved to Mexico when I was 21 years old and I have been living in the state of Chiapas since 1997. Currently, I am the eBird reviewer for the state of Oaxaca and the hotspot editor for the state of Chiapas, Mexico. I wish I had become a birder at an earlier stage in life, but fortunately many Neotropical bird species are really hard to miss and I finally found my "spark bird" in a stunning male Mountain Trogon. Back then, there weren't many birders in Mexico, but during the past fifteen years the local birding community has been steadily expanding and many new observers are now entering their sightings into the eBird database.
How did you become an eBird reviewer?
I had been a hotspot editor since 2015, but I had no plans to become an eBird reviewer; this changed when it became apparent that the State of Oaxaca, one of the richest in terms of avian diversity in Mexico, needed a new volunteer reviewer. I live in neighboring Chiapas, but I had birded in several regions of Oaxaca and worked in the Isthmus of Tehuantepec. I still felt that I lacked experience, but the science and conservation aspects of the eBird project really meant a lot to me and I figured that even if I wasn't the biggest expert on local bird species, I might still be able to make a positive contribution.
"I later realized that there are other qualities that might be just as important as expertise for an eBird reviewer, attributes such as an ability to communicate in a respectful way, patience, dedication, lots of free time and an endless desire to learn."
In retrospect, I did not anticipate I would spend such a large portion of my recent life studying the eBird database. It was overwhelming at first, then humbling but fascinating and I gained a renewed appreciation for all the volunteers that help curate eBird records worldwide. I witnessed how the eBird database is only as good as the effort of the local reviewer (or review team) and how it depends on them for reliability. I also realized that things might work differently depending on each region.
How might the review process in Mexico be different than other regions?
In the US, there is a large number of eBirders, the filters (an automated process that determines which observations are 'flagged' for further review) are frequently set at a very fine scale and there might be multiple reviewers covering a single county. In Mexico, one reviewer might tackle one or more states and in most areas filters only exist at state-level. In geographically complex states such as Oaxaca, with so many habitat variations and many range-restricted species, having one filter for the entire state can be quite problematic. For example, the Nava's Wren is endemic to limestone outcrops within humid evergreen forest in far NE Oaxaca. With just one statewide filter, there will be no automatic alert for the birder or the reviewer if it gets incorrectly reported in any other areas of Oaxaca, where it does not occur. The only way to find out about these records is by looking at range maps.
How do you evaluate records?
Errors can happen due to several reasons: it might be something as simple as a typo (such as entering Yellow-billed Cacique instead of Yellow-winged Cacique), a long traveling checklist covering multiple habitats, or genuine ID mistakes. In any case the only way to learn more about any record is by querying the observer. Since my priorities were: taking care of the preexisting review queue, re-building the state-level filter, and reviewing range maps for each taxon, I ended up contacting a large number of observers.
It took a couple of years to assess the most urgent issues and I frequently had to query records that were several years old. Surprisingly, although many observers never responded and some wrote back just to say that they simply didn't remember, a few were able to add notes from old field journals or browsed their photo archives for images that they uploaded to the Macaulay Library. I truly appreciated all the responses I received from birders all around the world!
Of course, there is still a lot of room for data quality improvement. So much still needs to be learned about local bird species and subspecies, and their distribution and seasonality. There are also still relatively few observers and many areas of the state lack coverage. But we received some very good news too! The eBird Team has recently divided Mexico into municipalities. Reviewers will now be able to create more refined filters and eventually a more precise database.
What can eBirders do to help with the review process?
As an eBirder there are many things that you can do to help volunteer reviewers: if possible, try to be aware of limits of distribution and seasonality of the species you are entering; when in doubt, check available resources first. Avoid using imprecise locations. Add documentation, especially media (when possible) even for records that were not flagged; this will facilitate assessing records and ultimately improve our knowledge on local bird species.