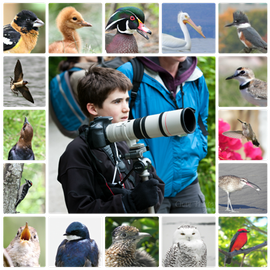 Just before 6:00pm Pacific time on 8 August 2012, Liron Gertsman of Vancouver, British Columbia, submitted the 100 millionth observation to eBird. It was of an American Robin; one of 24 species that Liron saw at the Maplewood Conservation Area that day. The director of the Cornell Lab of Ornithology, John Fitzpatrick said, "This is a true milestone in the history of field ornithology and citizen science. The power of so much data is only just beginning to be recognized around the world. I look forward to the time when even 100,000,000 observations seems like a quaint number! With eBird taking off so spectacularly now, that day is not so far off, and we are starting to discover some amazing new patterns about the natural world thanks to all these thousands of volunteer observers."
As we approached 100 million records, we offered two contests: one awarding the person who submitted the 100,000,000th observation, and another for a checklist drawn at random. We would like to congratulate Liron Gertsman of Vancouver, British Columbia, who submitted our 100 millionth observation, and Chuck Heikkinen of Madison, Wisconsin, who submitted the checklist that we drew at random.
When we wrote to Liron, he responded via email: "Wow! I am really surprised by this news! I read the post on eBird in July and I can't believe that my observation was the 100th million. Thanks so much! P.S. I know it will appear a bit surprising that I'm 12 years old". He's correct – we never would have guessed that he is a pre-teen given the very high quality of his eBird data. His eBird lists always report all species and he often includes notes on individual birds as well as information on breeding behavior. Liron is a model eBirder who just as well could have been featured as our eBirder of the month. Here is Liron's 
complete checklist
 containing the American Robin to mark eBird's 100,000,000th record.
Liron also shared his thoughts about eBird: "eBird is a website where birders can report their bird sightings after each time they go birding. Because eBird is an international website, when people submit observations, the migration of bird species is tracked, therefore teaching us more about certain bird species and their migration. eBird also allows people to see the decline and increase in bird populations across the world on amazing charts and graphs, or surprising news about bird species around the world. Every time I come back from birding outings, I go online to eBird, and submit what I saw that day. Then I might look at what other people have recently seen nearby. I really find it incredible that one site can have users from around the world sharing what they see and looking at what other people see.  I often rely on eBird to set my destinations for bird watching and that's a big impact that eBird has on my birding life.
Thanks to all people who help run eBird."
Liron also has a nature photography blog:
Chuck Heikkinen submitted the checklist that we drew at random from Horicon NWR—Old Marsh Rd on 28 July 2012. Chuck is one of Wisconsin's most active eBirders, having entered over 500 of his own lists from Wisconsin for the first 7 months of 2012. In addition to his own records, Chuck is entering historical data for Madison area birders William Hilsenhoff and Dorothy Rocha. Chuck is also extremely active in an effort to bring in all historical data from Sam Robbins' monumental Wisconsin Birdlife into eBird. Nick Anich, part of our Wisconsin eBird Team, writes: "Chuck has been a data-entry beast, and has entered data for about 210 species, which is 100 more than any other volunteer and amounts to about 1900 individual records!" We couldn't agree more with our Wisconsin eBird Team, who said "We can't think of a better birder to be honored. Few people have spent more time getting data into eBird".
Some eBird statistics (as of 13 August 2012)
Total Observations: 100,333,837
Total Number of eBird Checklists: 7,187,076
Total Number of Species: 9,479
Total Number of Observers: 93,040
Total Number of Locations sampled: 1,005,056
Total Hours of effort-based eBirding: 7,537,608 (860 years)
Remaining countries with no eBird data: Bouvet
Island, Equatorial Guinea, Tokelau, Wallis and
Futuna, Heard Island and McDonald Islands.
Prizes
In celebration of eBird's one-year anniversary of being global, we selected three of our favorite books from Europe. Each of these is difficult to find in North America, but well worth the effort.
Liron also won an opportunity to go birding with Andrew Farnsworth (BirdCast leader and Team Sapsucker member) in British Columbia (given all the birds that Liron is seeing, we think it may be more of a reward for Andrew). Additional prizes for Liron include photographs taken by Brian Sullivan and Tim Lenz, a CD to the Birds of the Pacific Northwest, and some chocolate to help keep energy levels high during a quiet day of eBirding!