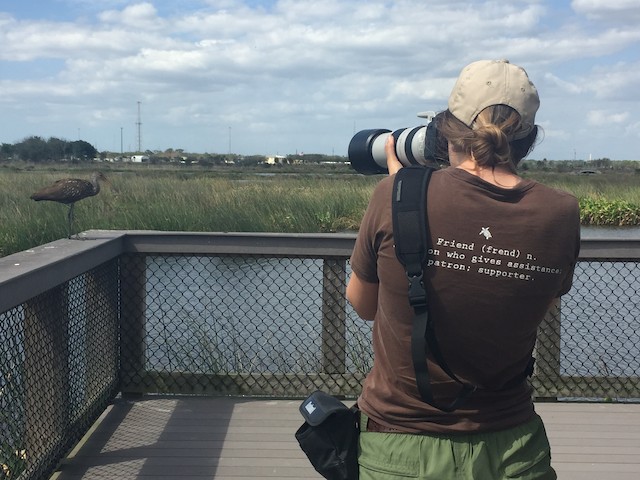 If you're spending more time online than outside these days, now is a great opportunity to explore the revolutionary abundance animations and seasonal abundance maps released by the eBird Science team earlier this year. Nearly 180,000 eBirders made these spectacular maps possible.  One person stood out from the crowd, a birder whose observations supported the data products for 599 of the 610 species. "I can't believe that I helped out with so many species," says Nicole Koeltzow a birder from Tennessee who contributed data for the greatest number of species in the new eBird Science data products.
We sat down with Koeltzow to find out more about what eBird means to her.
Koeltzow didn't start birding until 2011 and back then she was recording her observations in a notebook. It wasn't until 2014 when she was on a pelagic trip that someone told her about eBird. Koeltzow said, "I liked how you could put your list online for everyone to look at." At first, Koeltzow said, "I wasn't a chaser." But something changed and her competitive nature was stoked. Sparked by the American Birding Association's (ABA) 700 Bird Club she seriously started noting every bird she saw. One year she managed to see 500 bird species she says "without really trying."
To really challenge herself, she decided to try to see 600 species by May 12th, her birthday. That winter she started birding as normal going after species she'd not seen before. But by May 12th, Koeltzow spotted 609 species. She was shocked that she had tallied that many species. Her friends started telling her that she should compete in the ABA big year competition and urged her to quit her seasonal field biology job. "It all sort of happened by accident," Koeltzow said. "I never intended to do a big year, but after spotting more than 600 species by May 12th, I decided why not." In 2018, Koetlzow won the big year competition. She spotted 831 species in the ABA area, making her the youngest woman to have won the competition. Congrats Nicole!
Koeltzow continues to watch birds every day. She has a thousand plus day streak going and doesn't plan on stopping. Her new goal—see at least 100 bird species in every state. Koeltzow says, "I have seven more states to go."
What personal birding goals do you have? Whether they are big or small, challenge yourself to submit complete checklists following eBird's best practices. Complete checklists are lists that you submit while watching birds as your primary activity. These lists are the MOST valuable for eBird's Status and Trends data products.
Thank you. Nicole Koeltzow for sharing your passion for birding and helping us better understand bird populations. Everyone's contributions support eBird Science!