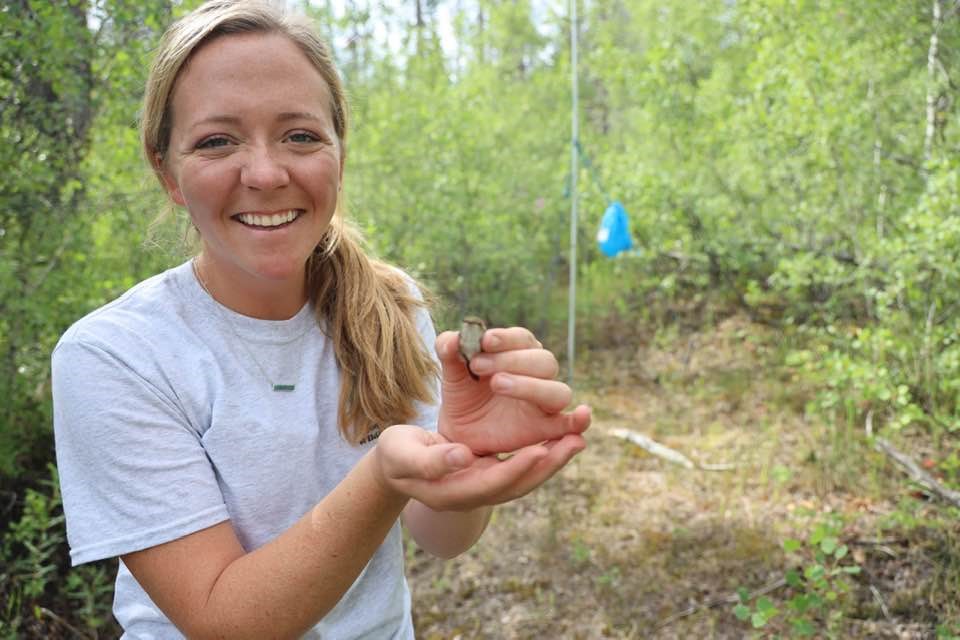 I woke up early on a Tuesday morning in July to a text, "Bring rubber boots if you have them or at least shoes that you don't mind getting wet. The site is a little mushy in places". I was going to meet Vanna, a wildlife biologist for Montana Fish, Wildlife & Parks, at her study site in the Mount Haggin Wildlife Management Area. She has been studying bird populations in the area for 9 years now and I was excited to witness her methods of capturing and banding birds at the site.  I wasn't entirely sure what to expect from the day, besides wet feet!
I drove from Helena toward Anaconda and turned when I saw the Anaconda Smelter stack, one of the tallest free-standing brick structures in the world! I drove past the stack and soon encountered a sign for the Mount Haggin Wildlife Management Area. After crossing a cattle guard and driving about a mile up a dirt road I found Vanna's truck pulled off to the side. When I arrived, Vanna emerged from an Aspen stand waving excitedly. She led me into a clearing where she had water and snacks. 
I mentioned the Smelter Stack and she explained its significance to the work she is doing here. Mount Haggin is an area that has experienced years of environmental damage from logging, mining, and smelting. Some areas were so degraded that they could not have recovered on their own. Multiple restoration and remediation projects are underway to help restore natural vegetation which can slow erosion and provide habitat for wildlife. While the recovery process is slow and there is still a lot of progress to be made, biologists are seeing improvement and are seeing the return of wildlife species to the area. This is the focus of Vanna's study. The return of different species of songbirds to the Mount Haggin area as the ecosystem continues to recover and change. 
Vanna's site spans the young aspen stand that we are sitting in the middle of. When the smelter shut off in the 80s, this Aspen stand began to grow and flourish. "I want to monitor the habitat changes over time. There will be different species of birds that will come in and use this habitat as the Aspen stand matures. Right now, we are catching a lot of birds that are cup nesters such as dusky flycatchers, warbling vireos, and several different warbler species that don't necessarily require mature trees." Her theory is that as the Aspen stand matures she will observe more cavity nesters such as woodpeckers and chickadees. There is also a willow stand near her site. She suspects that as that stand matures alongside the aspen grove she will catch more species that require robust riparian (stream-side) stands of trees. Overall, her findings will be a way to monitor the habitat change over time through the birds that choose to breed and nest here.
So how does she find out which species are around? By mist-netting! She sets up 9 nets that are spread out around the site. The nets are thin and light and designed to safely capture any bird that flies into them. We went around and checked all the nets about 5 or 6 different times, taking a break at the snack clearing between each round. When we came upon a net that had a bird in it, Vanna would carefully remove it and get to work identifying its species, sex, and age. To do this she uses the "bird bible" which is an extremely detailed book that covers different body metrics. Each species of bird has a unique molting pattern for example. Looking at that pattern can help define how old they are. They can also look at the skull as an indicator of age. 
Vanna takes detailed notes of each species that she captures and puts a small band on the bird's leg. This band has a unique identification number which she records. The hope when you band a bird is that it gets recaptured somewhere. She says that whether it is in her station or another biologist's station, a recapture can give scientists a lot of information. "If that happens, then we have just connected two dots in that bird's life story". And Vanna is starting to see some of these stories unfold. She recently re-captured both a Black-capped chickadee and Swainson's thrush that she had originally banded back in 2015. The fact that they have chosen this site to come back to means that it has the resources they need to breed and survive. And that says a lot for the health of the ecosystem.  
Vanna also recently caught a fox sparrow and a willow flycatcher. These are species that have very specific habitat needs when picking an area to nest and breed in. Her hope is that she will continue to see and to re-capture these species. "Those are the types of birds that we can point to and say that the restoration work that has been happening here over the past decade is starting to trend in the right direction".  
Overall that day, we caught many different species including both rufous and calliope hummingbirds, warbling vireos, and yellow warblers. It was amazing to see the care and detail that went into Vanna's work. As I drove back to Helena that afternoon I thought about all that I had learned and experienced that day. My favorite part was holding a tiny rufous hummingbird in my hand. I couldn't help but imagine that bird's life story and feel lucky that we got to document one small moment of it. It was certainly an experience worth getting my feet wet for. 
All photos by MT WILD