Birding kicks off in 2020 with bird races, bird surveys, and many other birding events! A great way to meet other bird watchers is by going to such events. Not only do you get to meet fellow birders but you also get to meet experts and local birders who can help you to see more birds. Here is a list of events happening in India for January 2020
Birding Events:
The Asian Waterbird Census (AWC) takes place every January. By using eBird and filling an additional site form, one can take part in this multi-country effort to document the state of our wetlands and waterbirds. Running since 1987, this survey includes wetlands of any type including mangroves, estuaries, lakes, tanks, reservoirs, rivers, marshland and even wet paddies.
More details on how to take part is on the Bird Count India page for the AWC.
Big Bird Day 2020 is on 12 January! It is an annual event to watch and count birds. For details on how to participate please see the events page here.
Delhi
The Big Bird Day is also held in NCR on 12 January 2020. For more details contact: Nikhil Devasar <devasar@gmail.com>
Gujarat
On 12 Jan 2020 is the Ahmedabad Bird Race. For more information about this and registration, see here.
Karnataka
The 14th edition of Bangalore Bird Race will take place on 19 January 2020. Please register your teams here. The last date for registration is 10 Jan 2020. For those who are not familiar with what Bangalore Bird Race is all about, please see the link here. For any queries, contact bangalorebirdrace@gmail.com
The Annual Mid-Winter Waterfowl Census for Bangalore is planned to be held during the months of January & February 2020.
An orientation and planning session is also being organised for all participants. A training workshop for all participants will be held on 4 January 2020 from 9.30 am to 1 pm at Venkatappa Art Gallery. See here to register.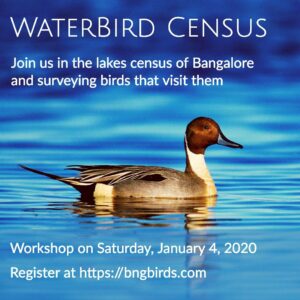 The Kaiga Bird Marathon,  another popular event – which takes place as usual in the forested environs of Kaiga will be held on 11 and 12 January 2020. Details coming soon.
The 10th edition of Manipal Bird Day takes place on 2 February 2020.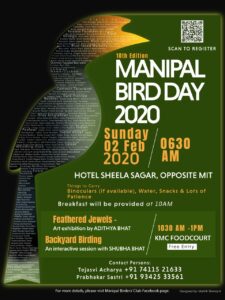 The Mysore Winter Bird Monitoring Program will take place on 12 January 2020. Details coming soon.
Kerala
The Kole Bird Survey (a part of Asian Wetland Census) will b held on 4- 5 January 2020.
Location: Academy of Climate Change Education and Research (ACCER)
Please see the schedule below:
04/01/2020-03:30 PM
Introduction on AWC & Kole Wetlands by PO Nameer
Identification of waterbirds by Vivek Chandran
Counting large flocks of birds by ES Praveen
05/01/2020
Survey of waterbirds – vehicles start @ 5:30 am from ACCER
Meeting & Data Analysis @ 12:30PM
Lunch
For further queries, please contact Sreekumar ER, Phone: 94003 14481
Madhya Pradesh
A heads-up for a couple of surveys in Madhya Pradesh in February: Satpura Bird Survey, 6- 9 February 2020.  Please see here to register. For further queries please contact Rajesh Mangal- 95848 84666, Surendra Bagada 91316 78295 or email satupurabirdsurvey2020@gmail.com 2020
The 2nd bird survey in Gandhi Sagar Wildlife Sanctuary is from 31 Jan- 2 February 2019.  Please see here to register.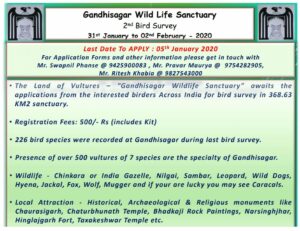 Maharashtra
The 33rd annual gathering of the Maharashtra Rajya Pakshimitra Sammelan is to be held between 11th and 12th of January 2020, at Revdanda (Alibaug) and is organised by 'Amazing Nature'. For more details and online registration please contact 99675 69570 (between 1800- 2200 hrs)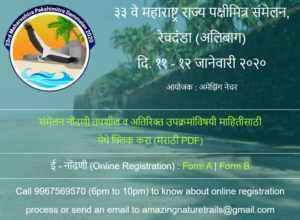 The 5th edition of the annual Dombivli Bird Race in Mumbai takes place on 26 January 2020.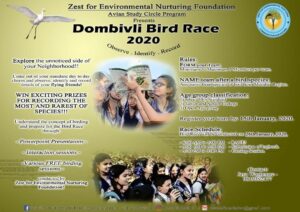 Tamil Nadu
If you are in Tamil Nadu, do not forget to celebrate the harvest by taking part in the Pongal Bird Count which will be held on 16-19 January 2020.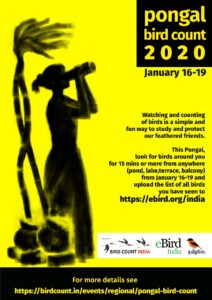 The 13th Chennai Bird Race also takes place on 26 Jan 2020. See here to register. The last day to register is 22 Jan 2020.
This month there are quite a few bird walks happening to explore Tamiraparani's wetlands. See the poster here: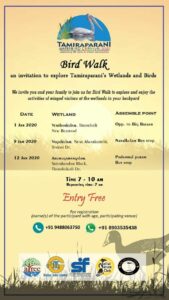 Uttarkhand
The 6th edition of Uttarakhand Spring Bird Festival will be held from 7- 9 February 2020 at Pawalgarh, Uttarakhand.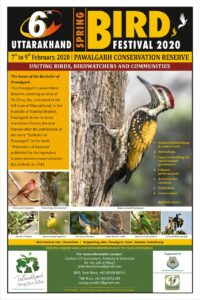 Regular Events:
There is also a list of birding events (mostly walks) that are conducted on a regular schedule (typically weekly or monthly) by various birding groups across the country. Take a look to see if there is something happening near you!
Challenges
If you enjoy challenges, do take a look at some of the global challenges set for this new year.
The January 2020 eBirding Challenge for India puts the AWC in focus and requires one to survey at least 5 wetlands this month.
Take a look at the yearly challenge for India for 2020
There is also the global eBirder of the Month challenge as well as the global Checklist-a-day Challenge to look forward to.
Happy birding and may 2020 bring a lot of birds and birding your way!
Are you organizing a birding event soon?
If so, please drop a line to skimmer@birdcount.org so that we can include it in our monthly "What's On in Birding" updates.