It's a chilly Saturday morning in November (and December, January, February, March, and April). Twenty or so dedicated volunteers are freezing their finger-tips and getting windswept faces as they diligently scan the landscape through binoculars and scopes. What has brought them to these brisk shores? They are fulfilling the important mission of monitoring waterfowl and other birds in the West End of Lake Ontario Important Bird and Biodiversity Area.
What is an "IBA"?
The Important Bird and Biodiversity Areas Program aims to identify, monitor, and conserve the world's most essential habitat for birds and other wildlife. The program is led by BirdLife International. Over 12,000 IBAs have been identified in 120 countries forming the world's largest network of sites for biodiversity. Six hundred sites in Canada have been designated as IBAs as they host large congregations of birds (comprising 1% or more of a species' continental or global population), and/or for Species at Risk. An example of a congregation is the more than 10,000 Long-tailed Ducks (1% of the population in Canada and the U.S.) that regularly depend on the West End of Lake Ontario IBA in the winter. In the last ten years, as many as 56,851 Long-tailed Ducks have been counted in the IBA in a single day!
Capturing and visualizing bird data
Monitoring populations of trigger species (ones for which the IBA designation was made) at each IBA is vital for conservation planning, and ultimately preserving birds and their habitat. Volunteering with the IBA Canada Program is a great opportunity to get outside, and the West End of Lake Ontario is an example of an IBA where excellent birding can be enjoyed through the winter. The main goal of volunteers at this site is to maintain up-to-date records of waterfowl counts.
The IBA Protocol for eBird Canada comes in very handy here. The Caretaker (on-the-ground steward for the IBA) has coordinated more than 20 volunteers to monitor designated sections along the lake (see map below). Without the IBA Protocol, each list that a volunteer submits to eBird would individually make it into the IBA database, since it falls within the boundary. However, the protocol allows us to reliably combine multiple checklists from the same day in the same IBA.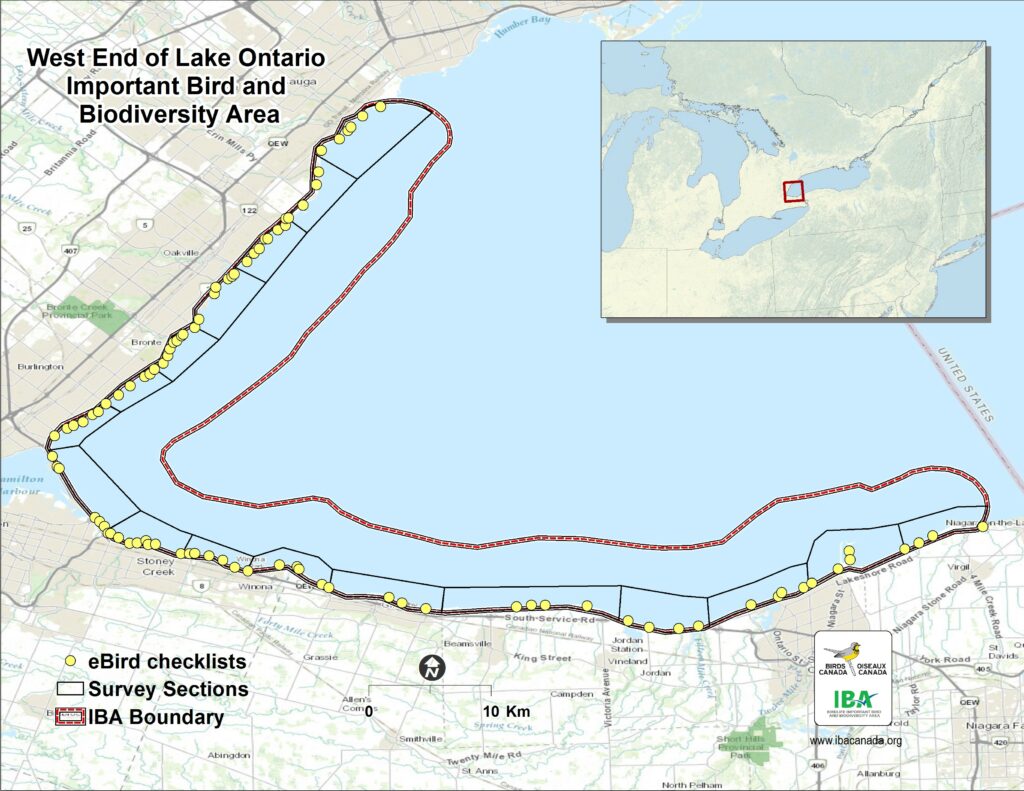 To share one example, an individual checklist reported 398 Red-necked Grebes (almost 1% of the continental population) – already an impressive count. Since the volunteers all used the eBird IBA protocol, we were able to combine 65 checklists for the day to give a total of 2413 Red-necked Grebes, a new high count for the IBA (the highest seen since 1963 in the area, and more than 5% of the species' continental population)! When combined, these data inform the IBA Site Summary tables on the IBA Canada website with the most accurate and up-to-date data.
In this way, eBird has been essential in the collection of data for IBAs. Further, IBAs in Canada have been fully integrated into eBird tools and outputs, greatly expanding the visualization capacity of the IBA program. Data can be chosen for each IBA, and viewed in the form of bar charts, line graphs for species, first and last seen, arrivals and departures, and more, plus this is all downloadable data. Here are a couple examples of the rich data you can pull from this integration:
Bar chart for the West End of Lake Ontario IBA
High counts for all species seen in the West End of Lake Ontario IBA
Two IBA/eBird partnership updates
None of this is new (in the last decade or so, eBird has fully integrated IBAs in the United States, Mexico, Nicaragua, Peru, and the Caribbean), but there are some exciting updates. Canadian IBA boundaries are now up-to-date, and there are a few new IBAs as well (Frontenac and Pei lay sheesh kow in Ontario, Ellice-Archie and Spy Hill Community Pastures in Manitoba and Saskatchewan). Boundaries aren't visible on eBird, but all submitted checklists and outputs now reflect new polygons, adjustments, and name changes.
Get birding at IBAs
Let's back up to those frozen fingers. If you can get them working the field, and are an IBA volunteer, you can now submit a checklist using the IBA Canada Protocol on the eBird Mobile app, available for Android and iOS. This can save Caretakers and fellow volunteers a lot of time after the survey, by recording observations as they happen. If the app is linked to the eBird Canada portal (in settings) before starting the checklist it is very easy to select IBA Canada Protocol as the observation type, just like when submitting a checklist on the website.
If you'd like to plan a survey and use the IBA Protocol, please read the full IBA Canada Protocol and contact your regional coordinator. If you are new to IBAs and want more information about the program or would like to get involved, visit www.ibacanada.org. To see and share IBA stories and photos please follow or like the IBA Canada Facebook group.