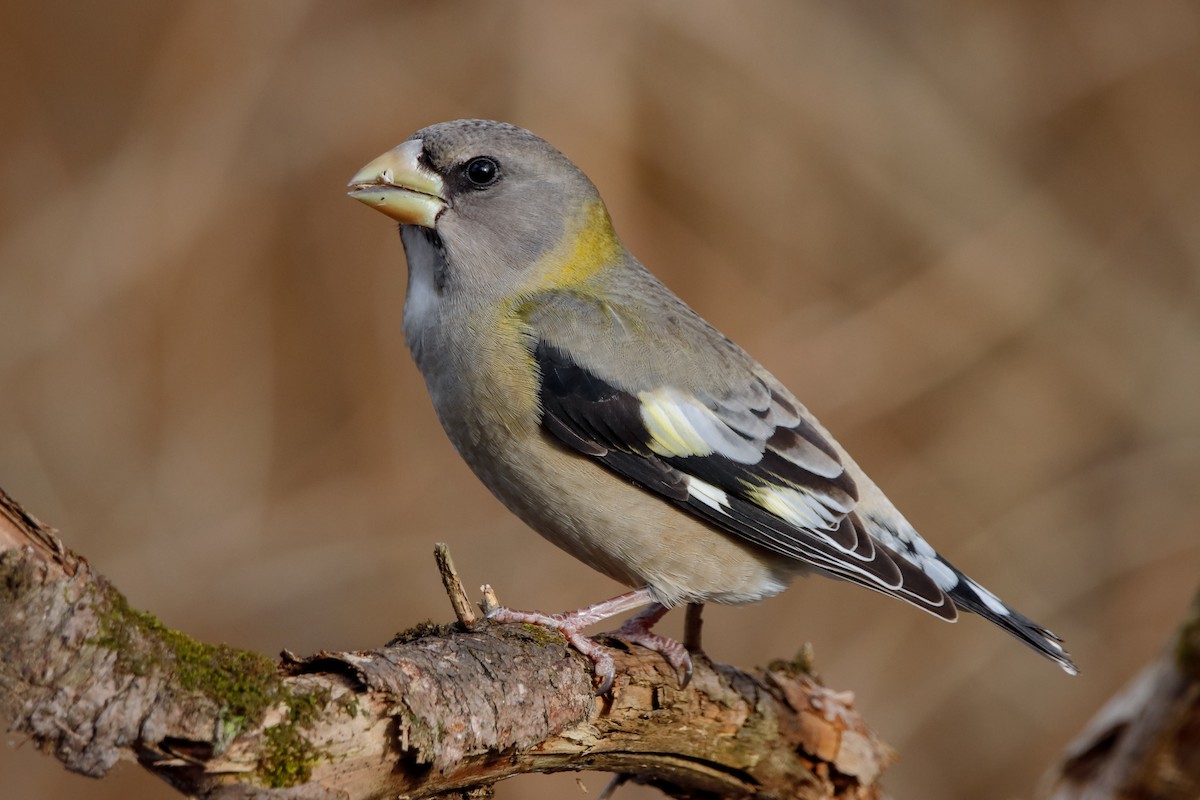 What a year. COVID of course was the dominating news of 2020, and it had an impact on birders and how they used eBird. Like many of you, we had to restrict our movements and social activities to curb the spread of the virus, and lockdowns early in the pandemic certainly made participation in various bird monitoring programs more difficult. For many of us, this provided a motivation to explore and find a new appreciation of our local patches.
As the first regional eBird portal in the world, eBird Canada had tremendous growth in participation from new and existing Canadian eBirders in 2020. In Canada, 1,306,915 checklists were submitted (an increase of 34.3 % from 2019) by 28,058 ebirders (an increase of 29% from 2019).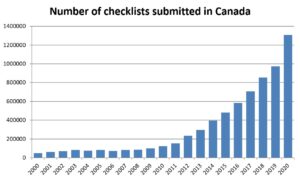 At least three provinces saw an increase exceeding or approaching 40% over 2019 (Alberta, Québec and Ontario), while a few provinces and territories instead saw a decline in submissions, including a 77% decline in Nunavut (from 1022 to 239 checklists). In northern regions, and perhaps to some degree in the Atlantic provinces, restrictions on tourism due to COVID may perhaps explain this decline. The most populated provinces also saw the largest relative growth, perhaps a sign that people decided to spend more time exploring their local patches as travel opportunities became severely limited, something that is likely to continue for at least a portion of 2021. Globally, more than 915 million bird sightings have now been entered into eBird worldwide, including 169 million submitted in 2020 alone.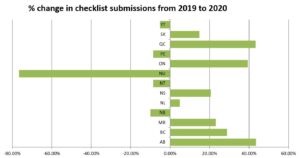 The Superflight
After what many people perceived as a relatively slow winter in 2019-20, many regions reported an influx of northern birds earlier in the fall. This included a super-flight of irruptive finches, the likes of which we hadn't seen in decades. High numbers of nearly all 'winter finches' and irruptive allies (Blue Jays, Red-breasted Nuthatches, and Bohemian Waxwings) were reported earlier in the fall season, especially across the eastern parts of the country. Numbers had dropped quite a bit by the end of December, although a number of birds lingered on in many regions for several of those species.
Canadian Firsts
There were four new potential additions to the Canadian list in 2020, three in British Columbia, and one in Yukon Territory, plus an additional record from BC in 2019 that was recently accepted by the BC Rare Birds Committee that we've included below. The 2020 records are provisional and have yet to be officially reviewed by the rarity committees, but are well documented in eBird.
First, a Gray-tailed Tattler was found on 23 June (J. Bertrands and C. Kelly) in Kitimat, and observed and photographed by several observers until at least 26 June. There has only been a handful of US records away from Alaska, both on the east and west coast in Hawaii, California, Washington, Maine and Massachusetts. There is obviously a lot of unexplored coast in BC, but there are nonetheless very few records along the Gulf of Alaska, suggesting that this is likely not a regular visitor.
The second new addition was a stunning Red-backed Shrike at Powell River on 24 October (I. Van Veen). This truly remarkable record is perhaps only the second one for North America, after a record in Gambell, St. Lawrence Island, Alaska in October 2017. This is a bird that is a rarity even anywhere in Eastern Asia, so its presence in British Columbia is quite unexpected. The bird was observed and photographed by many at least until 30 October.
BC was also host to a potential Canadian first Common Pochard, a male first reported on 14 November 2020 in Victoria (J. Wells). Photos by other observers later confirmed that the bird had actually been present at the site since at least the 8 November and was last reported on 27 November. Astonishingly, a second Common Pochard, this time a female, was discovered at Parksville-Qualicum on 23 December (M. Yip). An earlier record of a male of this species in Québec in 2008, was deemed of uncertain origin by the Bird Records Committee.
A fourth new addition in 2020 was a well documented Hawfinch at Haines Junction, Yukon Territory, first discovered on 14 December (W. Riedl). Although the bird was first reported visiting a feeder, it was very unreliable, and only observed by a few people on 29 and 30 December. The closest records come from Anchorage, AK, approximately 650 km to the west. This is the first North American record of this widespread Eurasian species away from Alaska (if you exclude a stowaway bird that hitched a ride on a ship to Santa Barbara, California in 2016).
Finally, we would be remiss not to mention that the first Canadian record of Yellow-browed Warbler reported on 18 October 2019 in Victoria (G. Newell) was only officially added to the provincial list in 2020 after a review by the BC Bird Records Committee. Although perhaps a bit less unexpected than the shrike, this is a species that has only been found a few times outside of the Bering Sea islands.

Thank you!
We would like to end our quick year end review by saying a heartfelt thank you to all eBird Canada reviewers and participants. The success of this program in 2020 could not have been accomplished without the dedication of countless volunteers across the country. From all of us at Team eBird Canada – thank you, merci!
Special thanks to Stu Mackenzie for reviewing and providing suggestions for this article.
eBird Canada is managed by Birds Canada and is a collaborative project between The Cornell Lab of Ornithology and Regroupement QuébecOiseaux. eBird Canada features a regional portal of eBird that provides content and articles relevant to Canadian birders in both English and French. Users can explore photos, audio recordings and rare birds reported in Canada, and will also find a unique survey protocol designed for Canadian Important Bird and Biodiversity Areas.