It is time for our third Atlas challenge!
We're excited to announce this one as we have another awesome book up for grabs.
During February one lucky Atlaser will win a signed copy of Oscar Thomas's new book, "A Naturalist's Guide to the Birds of New Zealand" by simply contributing to the New Zealand Bird Atlas. The winner will be randomly drawn from everyone who qualifies.
To qualify, all you have to do is submit 28 or more complete checklists during the month of February to qualify for the draw. These checklists must include counts for every species reported (no X's!) and should follow the best practices outlined here.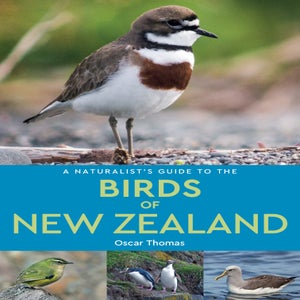 Oscar Thomas has for many years spent his time volunteering for conservation organizations, advocating and raising awareness of New Zealand's unique wildlife, traversing the country in search of as many different birds as he could see and photograph. This photographic identification guide to 239 bird species in New Zealand, including the most commonly seen, unique and endemic species, is perfect for resident and visitor alike. High-quality photographs from one of New Zealand's youngest nature photographers are accompanied by detailed species descriptions, which include nomenclature, size, distribution, habits and habitat. The user-friendly introduction covers climate, vegetation, biogeography and the key sites for viewing the listed species. Also included is an all-important checklist of all of the birds of New Zealand encompassing, for each species, its common and scientific name, as well as IUCN status.
Oscar is an avid Atlaser, often submitting beautifully illustrated checklists with his stunning photography. We're grateful to him for kindly donating a signed copy of his book as the prize for this challenge and also being part of this awesome Atlasing community.
The Atlas team were away in the field on expeditions for most of December and January so we apologise for the delay in announcing our December 2020 challenge winner. Please join us in congratulating Paul Cuming – winner of the December 2020 NZ Bird Atlas challenge! Paul's name was drawn randomly from the Atlasers who submitted checklists to at least 10 Atlas grid squares in December. Eligible checklists were those that were complete, included counts for every species reported (no X's!) and submitted to the NZ Bird Atlas portal. Paul submitted data to a total of 17 grid squares in the month period, a fantastic effort and his NZ Bird Atlas T-shirt will be on its way in the post to him very soon. Paul is the Regional Rep for Bay of Plenty, and his efforts were part of the wider Atlas community's, which continues to grow each month.
In January we hit grand total of 100,000 complete Atlas checklists submitted, which is unbelievable considering we are just 19 months into this 5 year project. With 41 months still left of the Atlas, let's keep working together to inspire more people to get involved and continue to gather checklists from as many squares and habitats as we can across the country. This is the final month of the Summer season, and with over 28,000 checklists having been submitted to the Atlas portal for the cumulative summer season so far, we are continuing to see increases in effort. We're all keen to use the longer days and warmer weather to explore some new territory beyond our home squares and have some awesome Atlas adventures and birding escapades.
Check out our article on setting some personal Atlas resolutions for 2021 here. This includes using the Explore functions on the Atlas portal to check tools such as the Atlas Effort Map to help pick out squares you can go to and enter data into. Use the drop down menus to try look for squares with little diurnal effort, low numbers of checklists, low numbers of species as well as nocturnal effort for the Summer as shown below: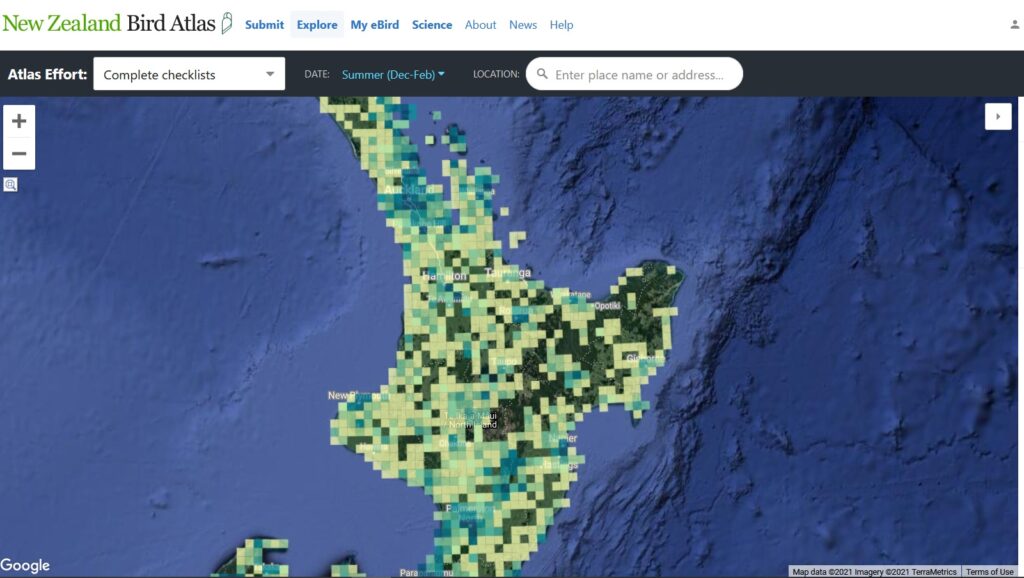 Don't forget that the number of individuals observed is one of the most valuable aspects of your checklists. Reporting accurate counts in your complete checklists significantly raises their scientific value, helping researchers understand not just where birds are, but how many there are as well. This information is essential for tracking changes in bird populations over time through relative abundance modelling to produce modelled outputs like the ones on the eBird Science tab.
Let us know how you are getting on with the Atlas challenge, feel free to share your Atlasing adventures on social media or send us an email, we're always keen to hear how you're getting on.
Happy Atlasing!
NZ Bird Atlas Team
Pat, Dan, Sam and Mike