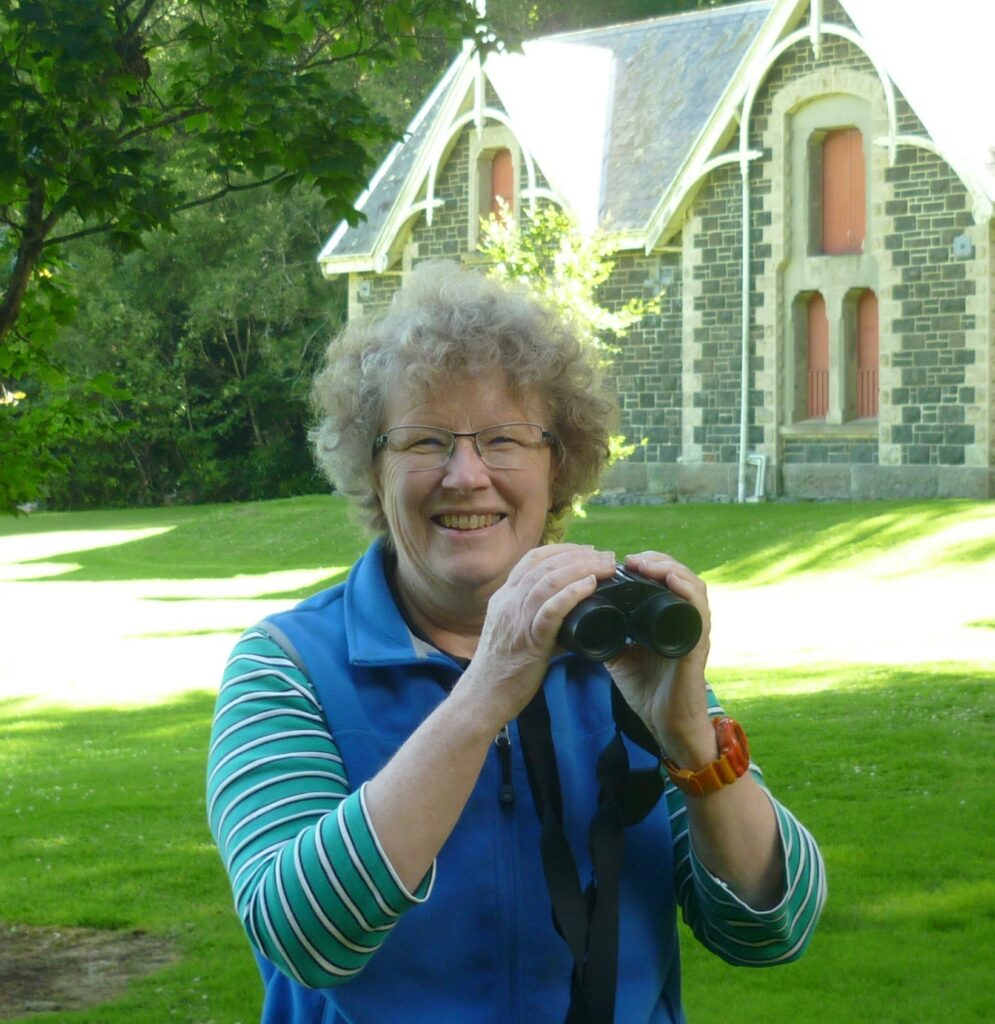 Mary Thompson, Regional Rep for Otago and long term Birds NZ member, kindly let us interview and feature her as our third 'Atlaser' Profile.
Can you tell us a bit about your background, how long you've been birding and what first got you interested in birds?
My first memory of loving birds was when my father lifted me up when I was 3 or 4 years old to see a blackbird's nest with chicks in it. My childhood was lived in Richmond, Nelson, surrounded by birds: kereru (NZ Pigeon) in the tree lucerne, silvereyes flocking at the feeder, white-faced herons (we called them blue herons then) nesting in the gums, morepork calling at night. My professional career was as a lecturer in biochemistry but when I retired I studied for a Certificate in Ornithology, which is where my heart is. I have been a member of Birds NZ since the early 1990s and am now Regional Rep for Otago.
What is your most memorable bird sighting?
A bird sighting that I well remember is early on one warm, calm summer morning when we were canoeing on Lake Waihola; the reflections were superb, but not much bird activity, and we are always hoping to spot a bittern there one day. We were just cruising past the raupo when I spotted a tiny bird, brown and grey and stripey – I knew instantly it was a marsh crake even though I had never seen one before. It's mate appeared too and we watched for several minutes as they fed and preened oblivious to our watching them.
Spotting rarely-seen birds is a rarity for me. I have seen bittern only 3 times and did find a breeding attempt of glossy ibis at Wainono lagoon, but mostly my sightings are of the usual birds, but watching them also gives me pleasure.
How long have you been using eBird, and why do you think citizen science projects like the Atlas are important?
I have been adding my checklists to eBird since 2008. With the introduction of eBird it has meant that all our bird sightings, be they rare or common ones, can add to ornithological knowledge. Now with Birds NZ nation-wide Bird Atlas project every sighting, anywhere at anytime is contributing to finding the current occurrence of birds in NZ and helping conservation planning. Because the data is able to be collected digitally via the eBird app, location, numbers and species are easy to record.
Birdwatching can be done individually but I think we get a lot more enjoyment from going on field trips with like-minded people. The Otago Region is holding monthly trips to survey squares for the Atlas to encourage more people to get involved in 'Atlasing'.