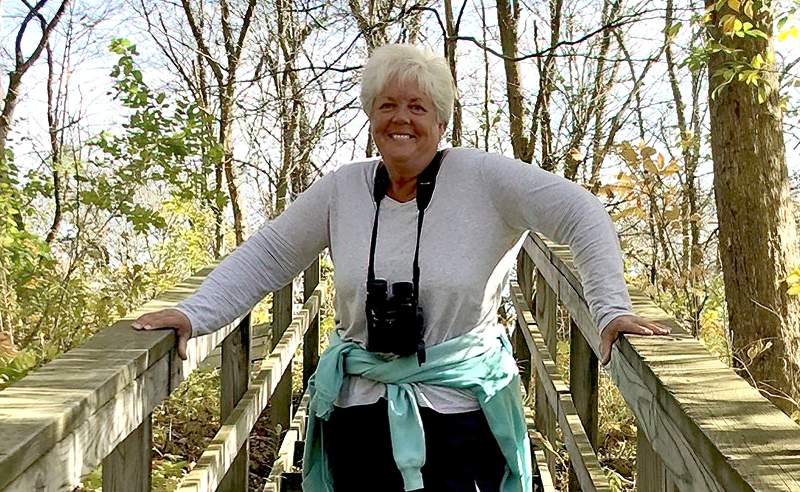 The first annual Big Atlas Weekend was a success with 435 atlasers in NY documenting 206 species and submitting 1888 checklists the weekend of June 25-27! We held several challenges in different categories and randomly selected from eligible checklists to choose winners. Winners received a free course of their choosing from the Cornell Lab's Bird Academy. Congratulations to Sue Barth for submitting a complete checklist of 5 minutes or more in a priority block with no visits!
Name
Sue Barth
Hometown
Erie County. I grew up in Clarence and moved to Orchard Park after I got married nearly 40 years ago.
Role with the Atlas

One of the three Regional Coordinators for the western region of the state. I am focused mainly on Erie, Niagara, and parts of Orleans, Genesee, and Wyoming counties.
How I started birding
About 12 years ago, I bought a new camera lens to use at my niece's wedding. I practiced in the yard and photographed a Tufted Titmouse. When I enlarged it on my computer screen, I fell in love with my little spark bird! (I probably shouldn't admit this, but I thought it might be a baby Blue Jay!) Anyway, I was hooked immediately, I bought feeders for the yard, and little by little expanded my search for birds.
Favorite birds
I have so many but I'll list a few…every species of cuckoo! Many warblers, including Golden-winged, Cerulean, and Prairie. Red-shouldered Hawk, Ruffed Grouse, Bohemian Waxwing, Blue-headed Vireo, Yellow-bellied Flycatcher, and Gray Silky-flycatcher.
Motivation
My arm was twisted a bit! But I'm so glad I gave in because it's been a very rewarding experience already.
Prior experience
None.
What are you most excited for
Looking over the trends of expansion and decline as it applies to each species. With all the mountains of data that is being collected, we should get a firm grip on what is happening in "bird world". I'm also excited to see how atlasing is positively affecting some of the birders I know. Many have already told me how much they've learned and how their eyes have been opened to a whole new way of approaching birding. I expect this third atlas is already changing and enriching the lives of many birders that will last a lifetime.
Favorite non-birding thing to do
Playing euchre.